Irish Dessert Blonde Brownies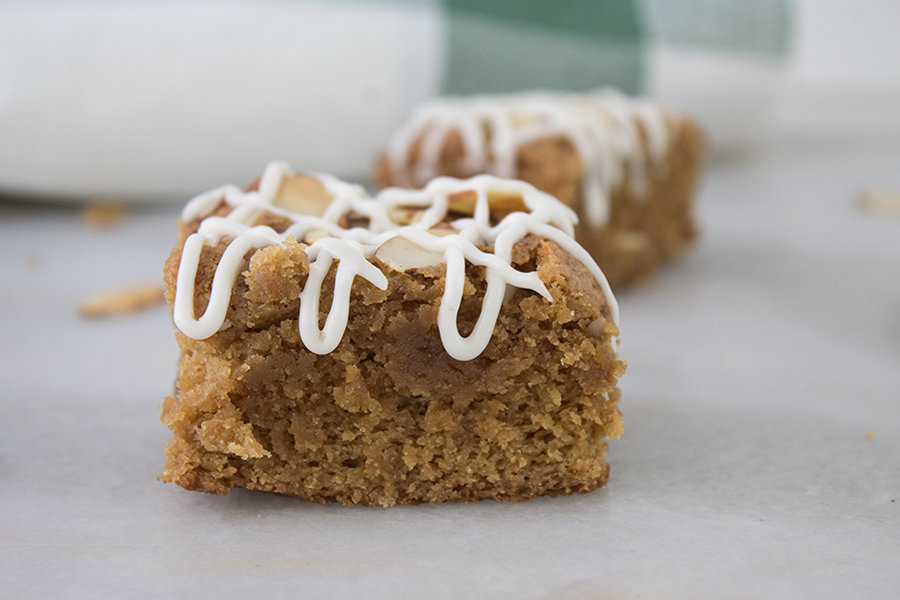 Blonde Brownies are one of my favorite treats. What makes this brownie recipe an Irish dessert is the addition of Irish Whiskey in the glaze.
You're welcome. 😉
This recipe was given to me by a friend a few years ago. The original recipe calls for a few tablespoons of freshly ground coffee in the mix. I do not like coffee-flavored anything, so I omit that ingredient when I make it for myself. Without it, it's more of a basic blonde brownie recipe.
I'm sure if you like coffee flavor, it would taste amazing combined with the hint of Irish whiskey in the icing glaze.
St. Patrick's Day is one of my favorite holidays but other than Irish soda bread, Irish dessert choices are pretty limited. I have a sweet tooth, so this rich brownie recipe is my preferred dessert.
Making the Blonde Brownies
This blonde brownie recipe is topped with sliced almonds giving it another layer of flavor. If anyone has nut allergies, that can also be omitted. The recipe is easily customizable in general. My oldest daughter and I are both rather picky eaters so most recipes I make whether dinner or dessert are usually things I can easily change up.
I have a divided baking pan I use just for brownies. The reason for that is, when they're done you don't have to cut them up. The pan is designed to give you perfectly cut brownies. If you use one of those, be sure to grease it well. The blonde brownies are a bit stickier than regular brownies are. I grease mine with Pam Spray so it gets into all the corners of the pan.
Here is how it looked before going into the oven.
How To Make The Irish Glaze
After the brownies are cooled off and removed from the pan, it's time to make the icing. It only takes three ingredients to make the glaze. I bought a tiny bottle of Irish whiskey because I only needed it for this recipe.
Though the recipe calls for 3/4 cup of the confectioner's sugar, add it a little at a time. You may not need all of it. The consistency should be thick but not so thick that you can't pour it.
You can use a spoon to drizzle it on or put it into a pastry bag with a small round tip. I used the pasty bag for these.
Pour the glaze on the brownies in a criss-cross pattern and be generous with it, there's whiskey in there. 😉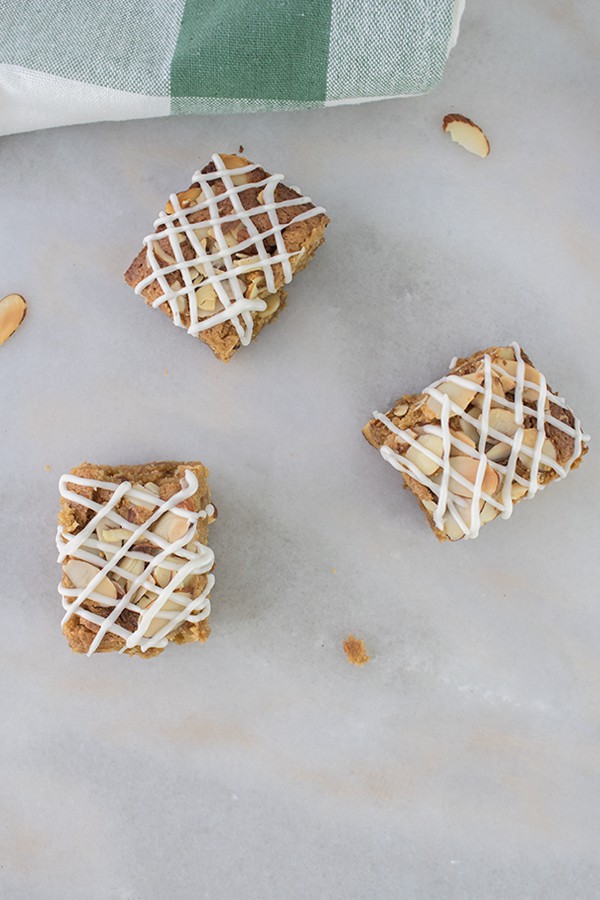 Vanilla ice cream would make an amazing topping on these as well. You could use that in place of the glaze if desired. A warm caramel topping would be delicious drizzled over vanilla ice cream. As I mentioned, these are easily customized to your preferences.
My husband isn't a big cake or brownie eater, but after tasting one of these he had a second.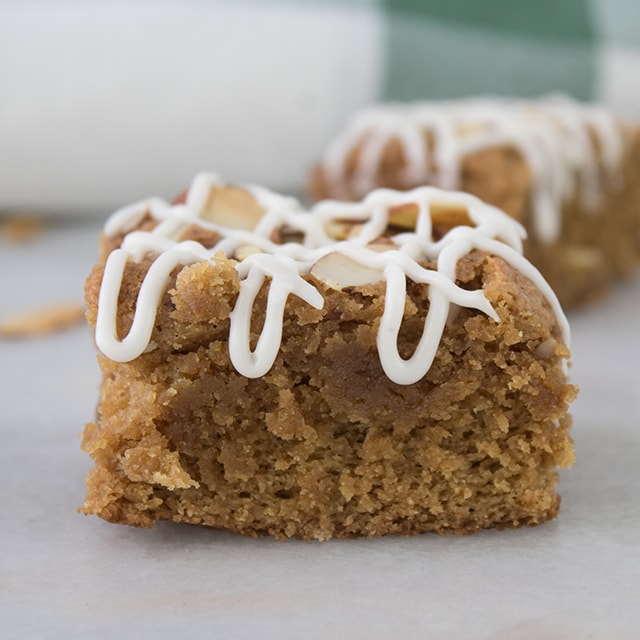 If you'd like to start off St. Patrick's Day with a healthy dose of green, check out our Pineapple Spinach Smoothie Recipe here. It's so delicious you won't believe it's healthy!
You can print this Blonde Brownie recipe below.
Enjoy!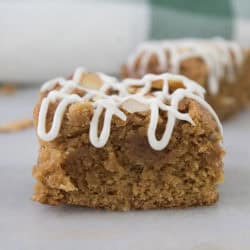 Irish Dessert Blonde Brownies
A delicious Irish dessert that consisits of a simple blonde brownie recipe with an Irish twist!
Ingredients
2

sticks

unsalted butter

2

cups

flour

1

teaspoon

baking powder

1/4

teaspoon

baking soda

2

cups

packed light brown sugar

2

large eggs

1

teaspoon

vanilla extract

1/2

cup

sliced almonds

3

tablespoons

freshly ground coffee

optional
For The Glaze
1

tablespoon

melted butter

warm

2

tablespoons

Irish whiskey

3/4

cup

confectioner's sugar

sifted
Instructions
Preheat oven to 350 degrees. Butter a 9 X 13 inch baking pan and line with parchment paper so that it overhangs on all sides. Butter parchment. Whisk together flour, baking powder, and baking soda.

Melt butter, and pour into a mixing bowl with brown sugar, ground coffee, and 1 tablespoon salt. Stir to combine. Stir in eggs and vanilla extract. Stir in flour mixture until just combined. Pour batter into pan, and sprinkle with almonds. Bake 27-30 minutes depending on how chewy you like your blondies. A shorter baking time results in a chewier blondie. Let cool compeltley.

To make the glaze: Whish together butter and whiskey. Gradually whish in confectioners' sugar until glaze is thich but pourable. You may not need all the sugar. Using a spoon or a pastry bag with a small round tip, drizzle glaze over the blondies. LEt glaze dry 1 hour. Cut blongies into 2-inch squares. Blondies can be stored at room temperature for up to 2 days.
Notes
The ground coffee and almond topping can each be omitted if desired.
Please Pin: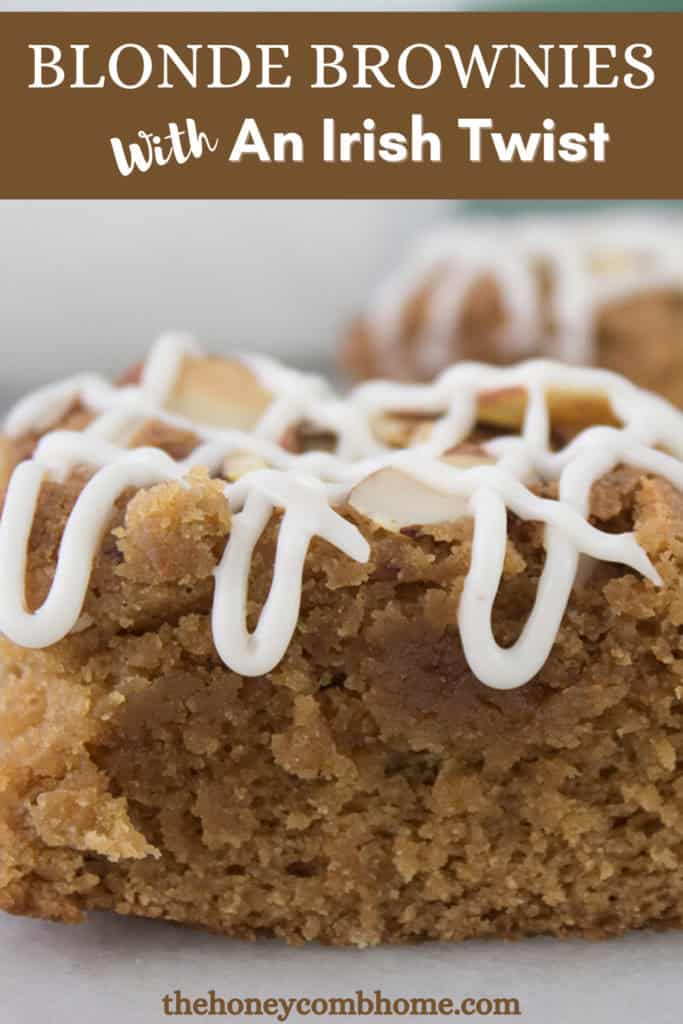 *This post may contain affiliate links, you can read my full disclosure here.