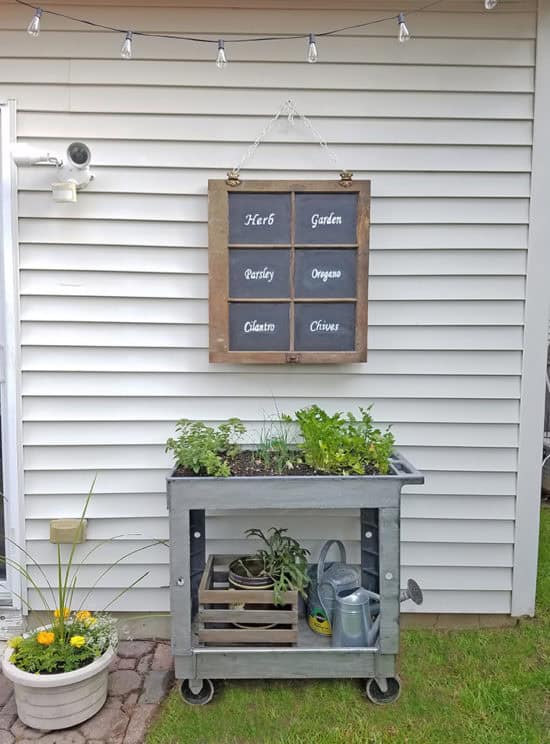 You may remember that I had been using this little cart as a bar cart in my house for the last few years. But when I found a vintage sideboard at an antique store that better fit the space and offered more storage, I moved this cart outside. I knew I'd reuse it out here. A few years ago my mother and I went on a tour of historic homes near us and in one of the yards they had a raised herb garden. I have wanted one ever since, and this little cart was the perfect way to get it, and just in time to share for a group Garden Tour I'm participating in with my blogging friends (more on that below).
My husband drilled a few small drainage holes in the top of it for me. Then I filled it up with potting soil.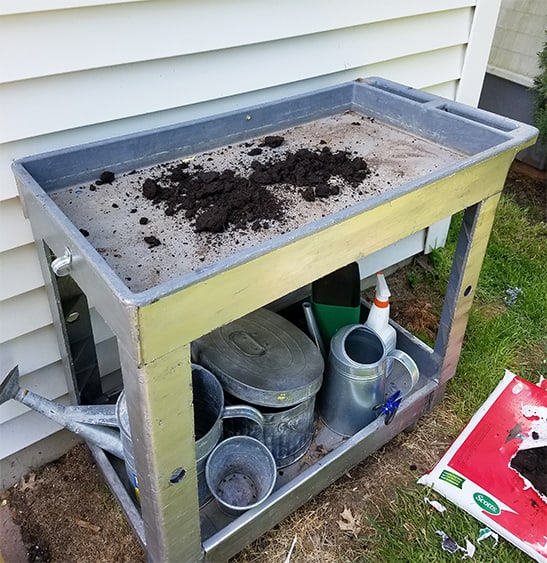 I arranged the herbs while still in their pots until I had an arrangement I liked before planting.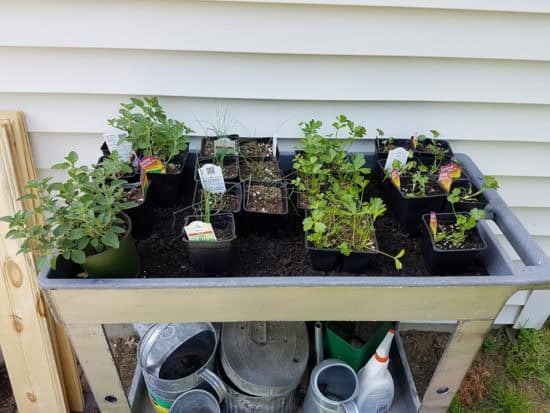 The cart looked little a little sad on its own, so I wanted to hang something above it. I had this old window in my house (you can see what it looked like before here) that I had picked up at a flea market. It wasn't really of any use just sitting on my dresser, so I decided to give this a little makeover and make it a herb garden sign. The window frame was painted white on one side, but the front of it was this perfectly weathered wood.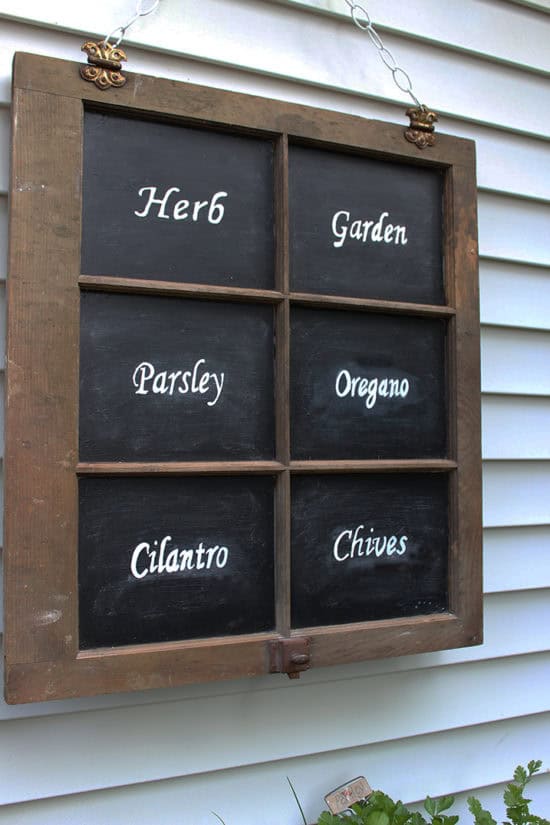 I painted each of the window panes with chalkboard paint, and used the transfer method for my lettering (I'll write another post on how to do that soon). Usually, I will use a permanent chalk marker for these types of projects, but this time I bought semi-permanent chalkboard markers* in case I want to plant different herbs next year.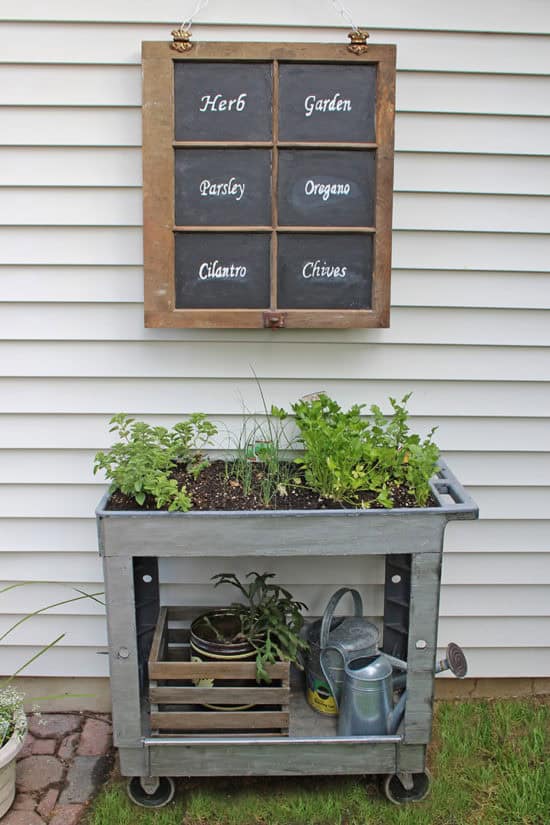 I tried growing a herb garden in my yard before, and usually it doesn't end well, but this year they are flourishing in this space.
I also added Orchid Potting Mix to my herb garden, on top of the soil. It's basically just mulch that makes your plants look prettier. I've used it in my houseplants before, but my cats like to swat it out of the pots and play with it so I only use it outside now. You can see it better in the picture below.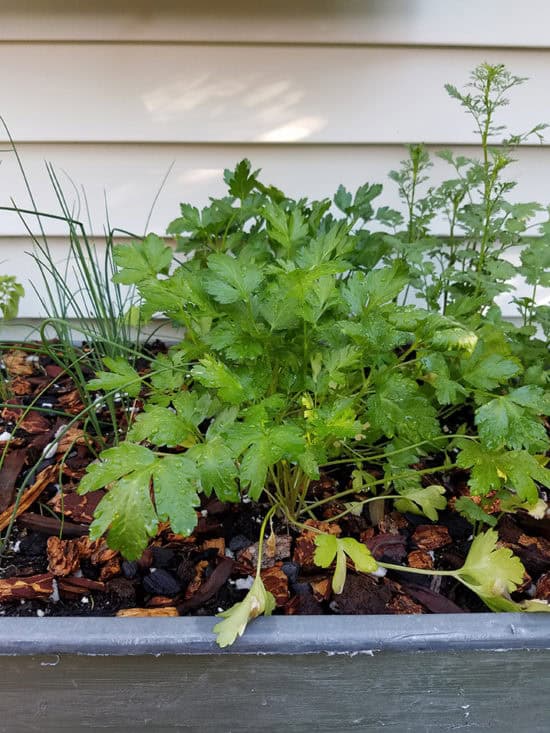 I have a new light fixture to hang in place of that ugly motion sensor light, but my husband hasn't gotten around to that project yet.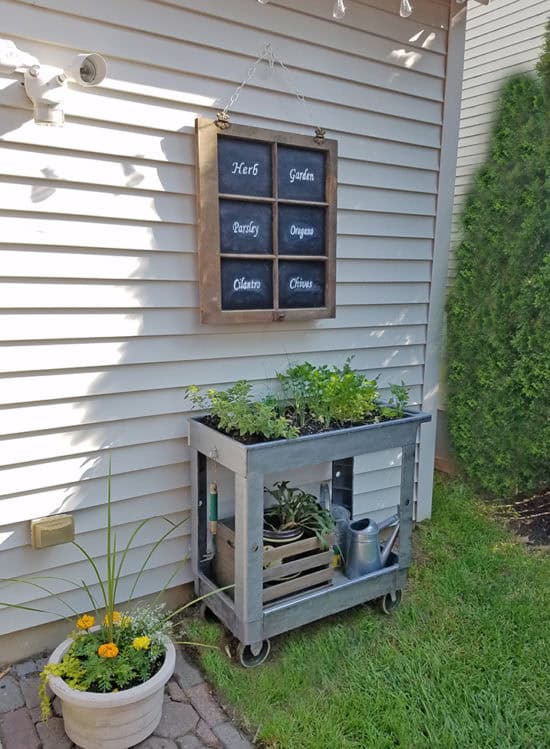 Click on any of the links below to see what my friends are up to in their gardens this year. You can also see my side yard makeover from last year here.
*This post contains affiliate links, you can read my full disclosure here.