Vintage Sideboard Gets a Rustic Farmhouse Makeover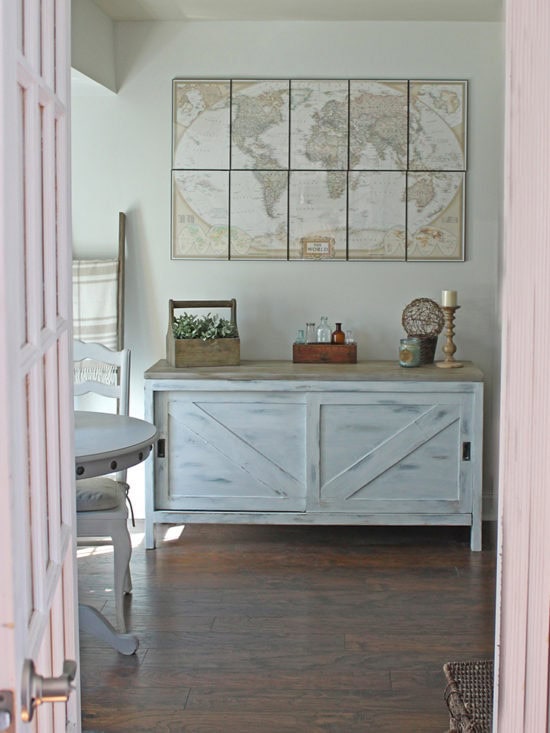 I should have called this post Rustic Sideboard Makeover from Hell. It started out great. I love flipping furniture probably more than and other DIY type project. But somewhere along the way on this one, things went south on me.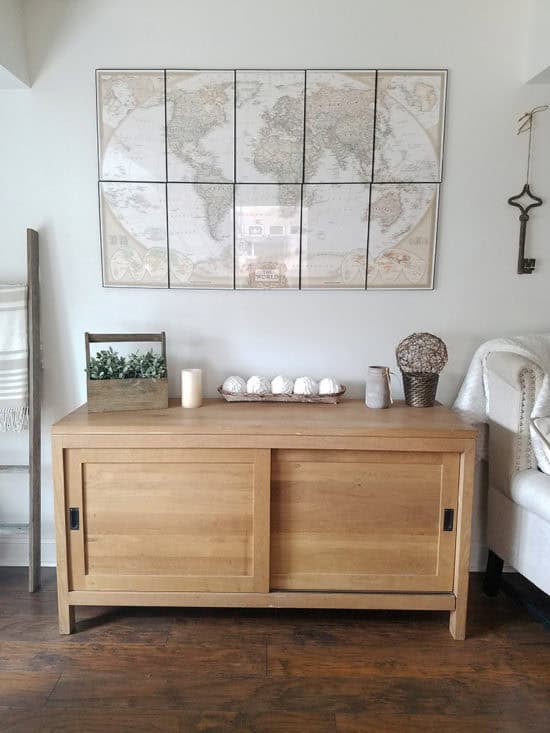 I shared this picture of my sideboard a few weeks ago. I picked it up at an antique store for only $50. I knew from the start I would need to make it over. I didn't like the wood tone and I wanted to turn those sliding doors into barn doors, which I did. That was the easy part. My husband cut two pieces of our leftover luan (which we used for shiplap in our kitchen). I added gorilla glue to the back and held it in place on the doors with painters tape until it was set.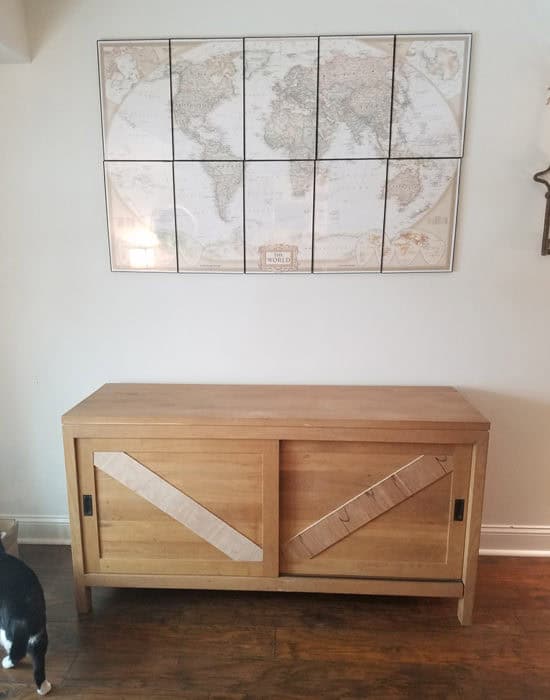 I wanted to try something different on this piece by giving it a layered paint look. I started out painting it with the concealer from Fusion Mineral paints. The concealer is recommended when you want to paint a lighter color over a darker one.
Then I painted over the concealer with  Inglenook Blue from Fusion's Classic Collection. It's a really pretty soft blue.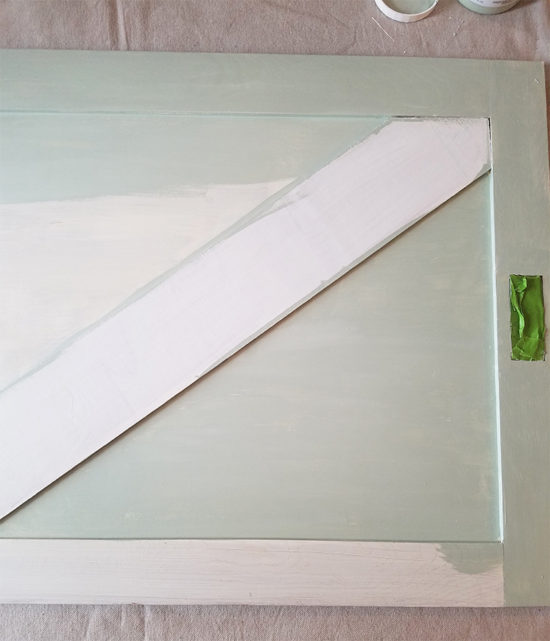 Next I added the Homestead Blue (also from the Classic Collection) that I had used on side table makeover. I brushed it on in random sections.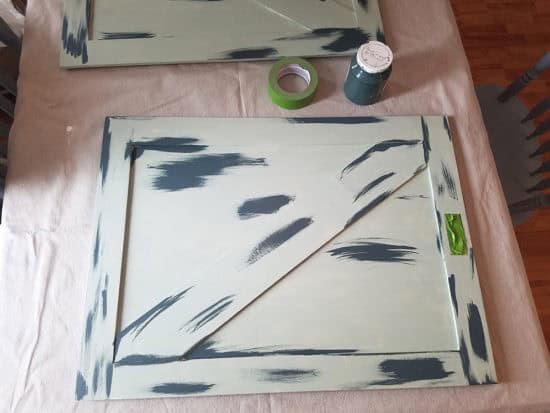 I did the entire piece the same way.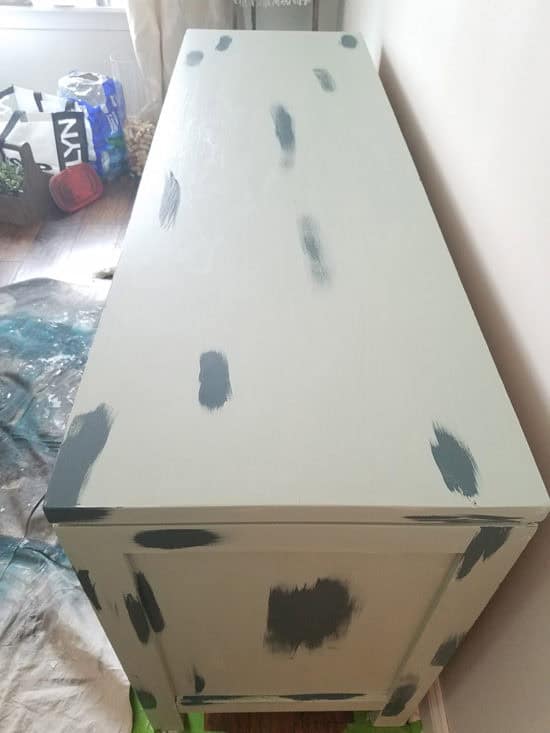 After that was dried, I painted over the entire piece with Fusion white paint, called Picket Fence. Next, I got out the sander and sanded it down in random spots to reveal the blue colors underneath. I did like how it looked at this point and I should've stopped there.
The finish was really beautiful, but what was bothering me was how it looked under my large map art.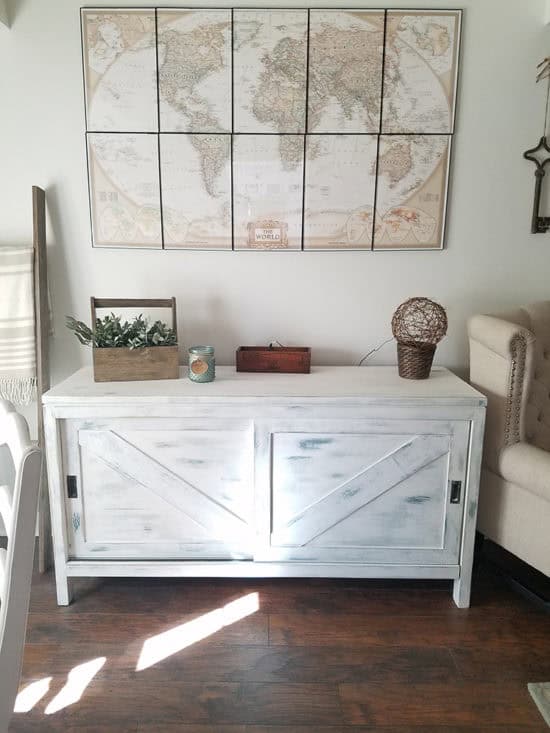 It wasn't terrible but it the color just wasn't "right" under the map. I left it alone for a week or two before I decided that some dark wax might be the answer. You guys, this is where it gets ugly. I used what was left of some dark chalk wax that I had on hand. I used it on the whole sideboard. Once I finished and really looked at it, I realized how truly horrible it looked. I can't even show you a picture, it was that bad.
I've used this dark wax many times before so I'm not really sure what exactly went wrong this time. Maybe I shouldn't have combined Fusion paints with another brand of wax? Maybe dark wax doesn't look good over layered paint? Whatever the issue, I was horrified. To make matters worse, I did this on a day I was pressed for time and had to live with it for another week or two before I could go back and start all over again. I prayed no one would come to visit before I had time to redo this!
One thing I realized was that the piece did look better under the map when it was wood toned, even with the bad staining. So I started from scratch repainting the entire thing. Instead of the concealer this time, I used chalk paint in gray as the base because I knew that it would cover up the wax.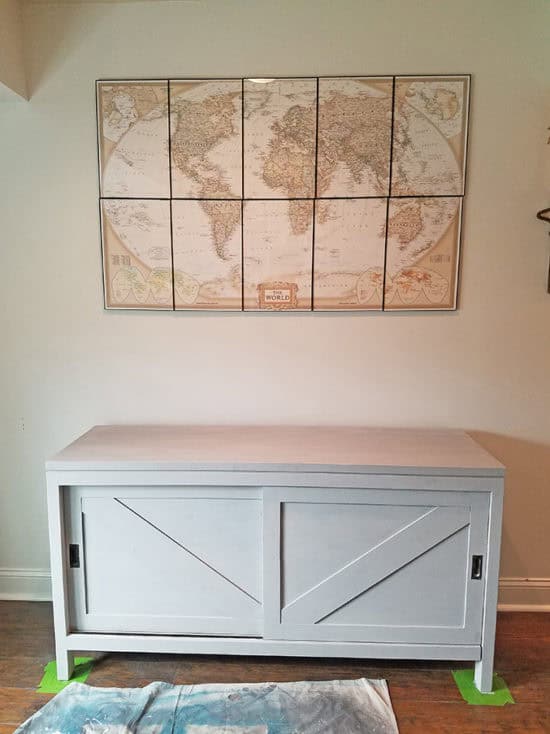 Then I used the same Fusion paints,  layering it just as I did the first time. A full coat of Inglenook Blue, followed by spots of Homestead Blue, and lastly a full coat of Picket Fence. To balance out the map, I waxed only the top of the sideboard this time around. (Why didn't I think of that before?)   I resanded the bottom half, and finally my sideboard makeover from hell was finally complete. That trio of colors from Fusion Mineral Paint really worked well together for that layered, distressed look.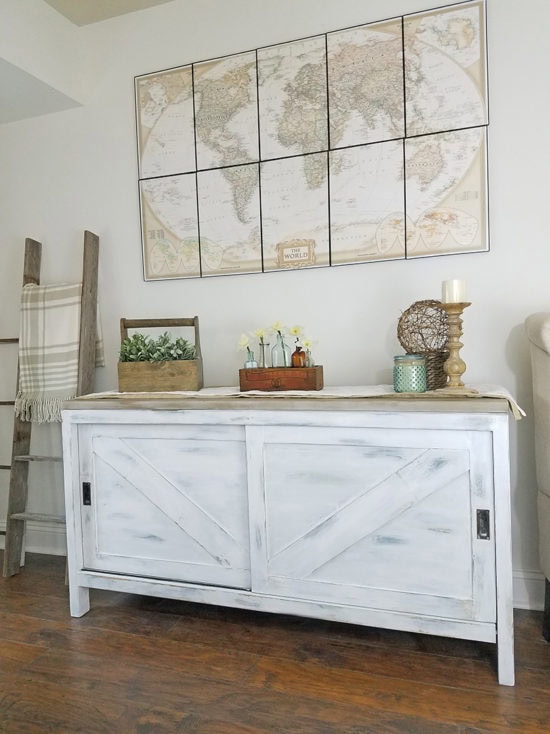 Here is a close up of the finish after the first round.
And this is a better look after round 2. There isn't quite as much blue showing through as the first time around.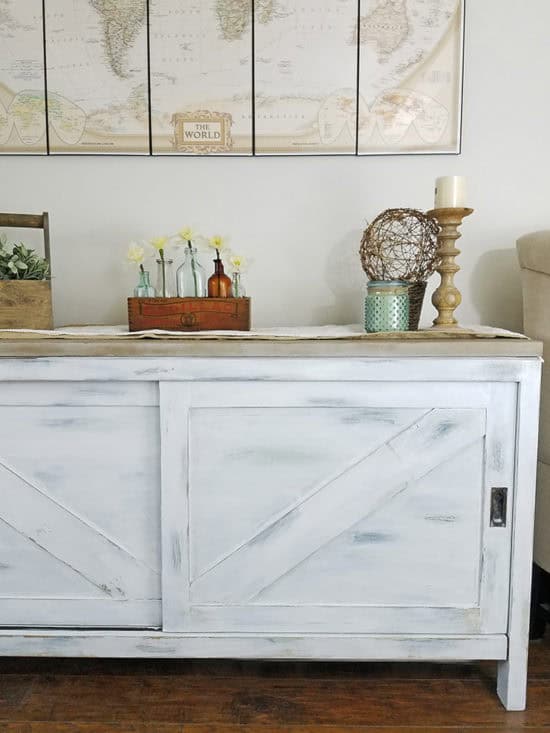 Although I liked the distressing better after round 1, it definitely looks better in the overall space now. I'm looking forward to experimenting more with getting a layered look with Fusion paints. They have a great selection of colors to choose from.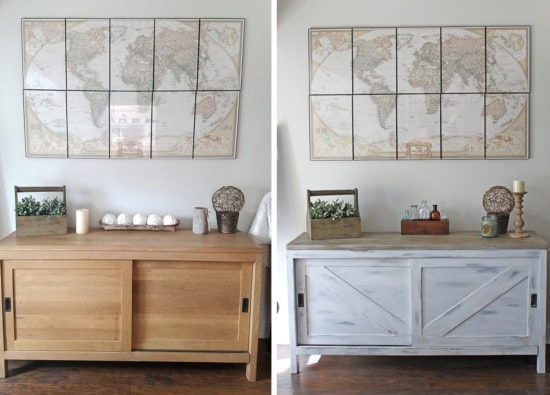 *Thanks to Fusion Mineral Paints for sponsoring the paint for this project. As always, all opinions are 100% my own, read my full disclosure here. Linking up with Between Naps on the Porch.