DIY Granite Countertops – Yes, Really!
I live in a development where all the houses have pretty much the same layout. They were all builder grade basic to start out, and that is one reason I'm always trying to personalize it and add some interest. One of my neighbors was itching to upgrade her kitchen and asked me to help her out with it. She had seen how I painted my niece's kitchen counters and wanted to do something similar to hers. We talked about it and decided to go with the look of granite countertops as opposed the marble look I did at my niece's. The granite is better suited to my neighbor's kitchen and style.
Here is what her kitchen looked like before. She had just replaced the flooring and had someone scheduled to come over and paint the cabinets. My neighbor wasn't ready at this point to spend the money on new counters, or new backsplash so we matched everything to the existing backsplash.
The Giani Granite countertop kit I used last time worked so well that I wanted to use that product again. We decided to go with the Sicilian Sand kit* to compliment her existing color scheme. Here is her kitchen before: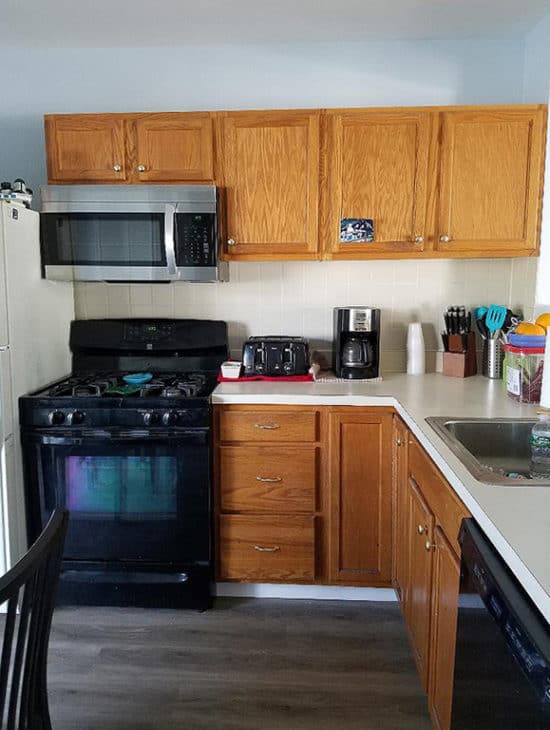 As you can see, it's very similar to what my own kitchen looked like before I remodeled it, it's just flipped. Her's is to the right and mine is to the left.
Supplies Needed to Paint Countertops:
Giani Countertop Kit (We used Sicilian Sand)
Light Sanding Sponge

How to DIY Granite Countertops:
The first step is to clean the existing counters with a brillo pad. This does double duty. It cleans them as well as roughens them up a bit, no sanding required. Then rinse twice with water.
Next, I used painters tape all around the perimeter of where I'd be painting to protect the walls, cabinets, and appliances.
How To Paint Laminate Countertops
Once the area is protected you will prime the counters with the black primer included in the kit. It also comes with the roller to apply it. I used a brush around the edges and where the counters meet the backsplash. Once it's primed, let it dry for 8 hrs. My friend and I were saying we even liked how it looked at this point.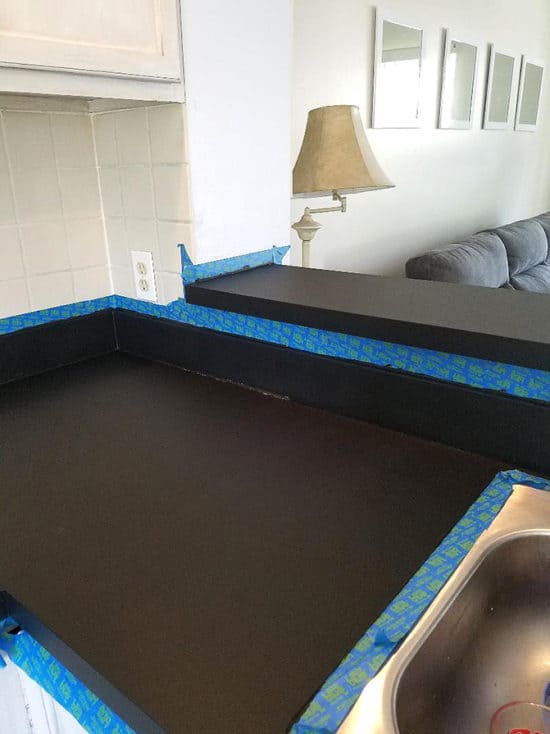 The kits come with 3 accent color paints and a sponge for sponging them on. Open all 3 cans, and pour a little of each into separate trays. Working in 2-foot sections, sponge color 1, then 2, then 3 without letting it dry in between, you want them to blend.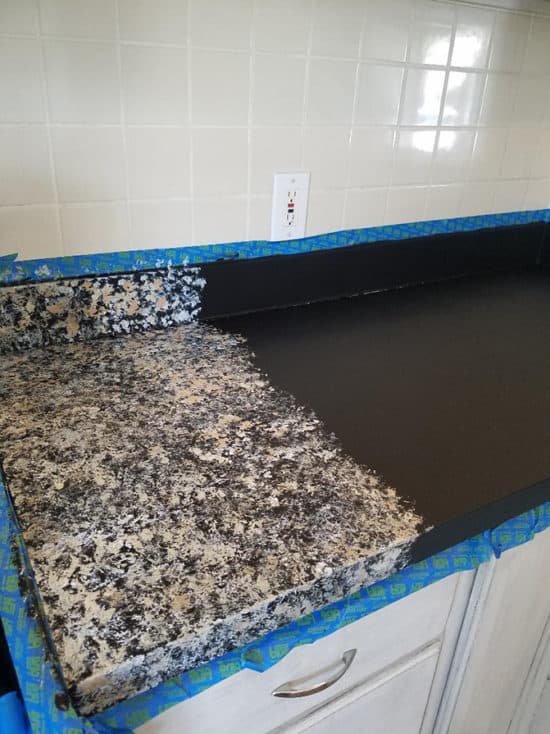 There is no right or wrong way to do this part. You can add as much or as little color as you like. One thing I did notice, was that as I was progressing along and the sponges became more and more saturated it was leaving more paint on the counters. I had to go back and touch up some of the areas where I started to make it match.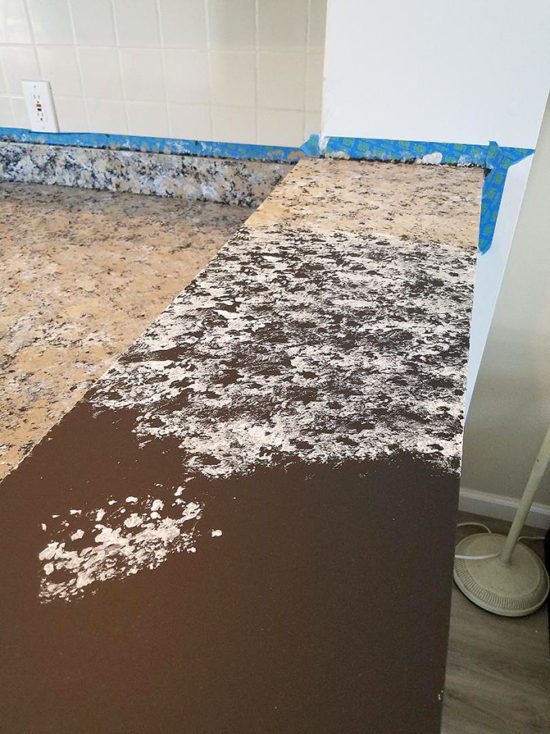 When that is dry, roll on your sealer (also included in the kit). Wait four hours before using a second coat and sand the first coat very lightly first if needed.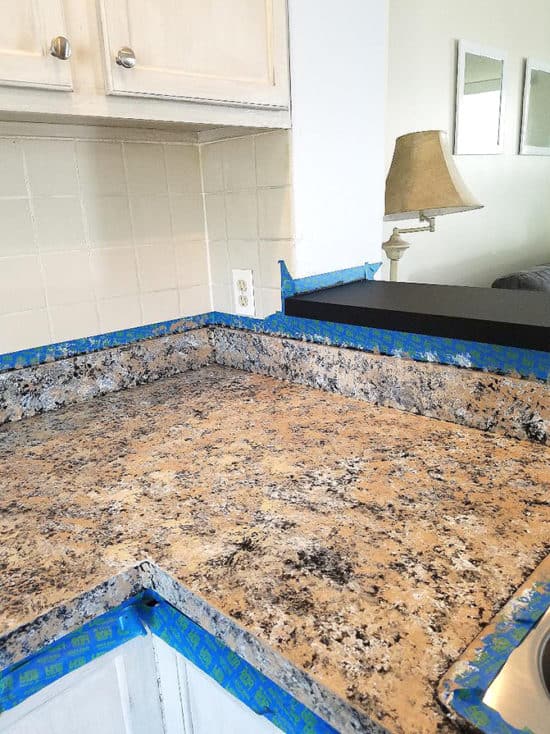 When everything has fully dried, score the painter's tape with a utility knife before removing so you don't pull any paint up with it. That did happen to me in one or two tiny spots. I used a small, flat artist's brush to touch up those spots.
Paint That Looks Like Granite Countertops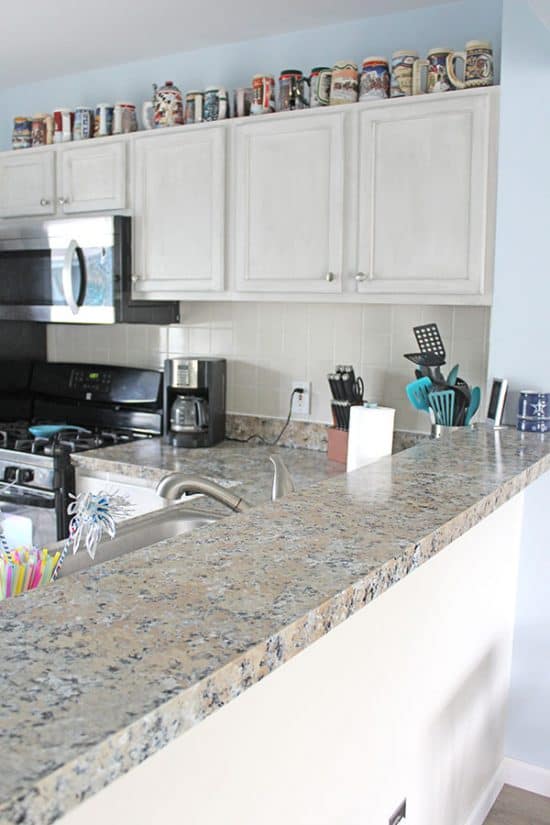 Isn't that amazing? This paint really gives the look of granite countertops!
Keep in mind that real granite countertops are natural stone so the pattern is never exact. This should help alleviate any fears you might have about trying this yourself.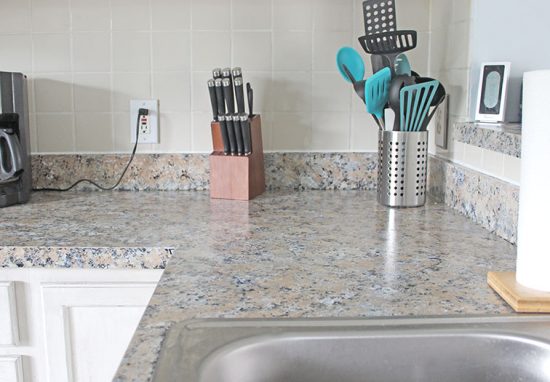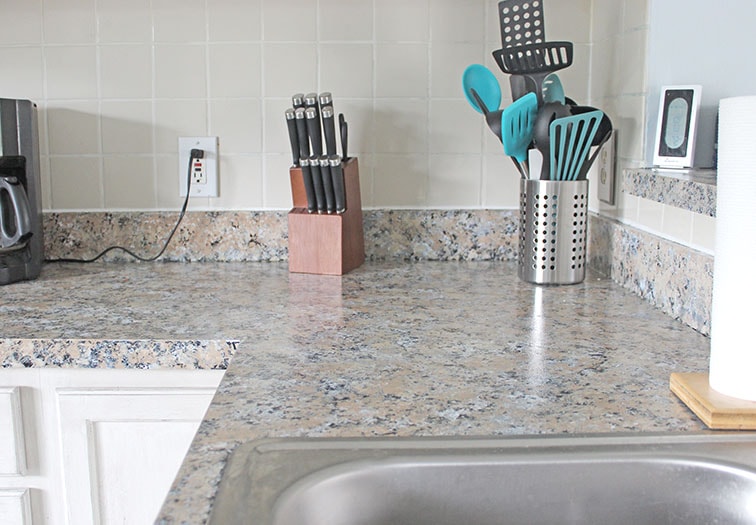 Here is a full side by side before and after. Can you believe the difference here using only paint?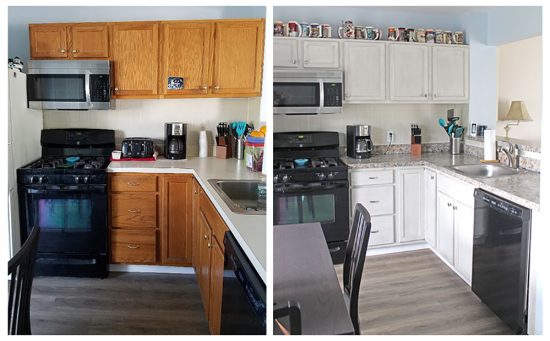 Using a kit to achieve granite countertops is such a great alternative if you can't afford to update your existing counters right now. I highly recommend giving it a try. Especially if you have laminate counters, you really have nothing to lose! If you do try it, I also recommend reading the instructions on how to care for them. Even though the topcoat is solid, you don't want to use abrasive cleaners on them so that they last as long as possible.
However, if you are getting ready to upgrade your counters, check out this post which contains everything you need to know before buying kitchen countertops.