DIY Disasters You Have to See!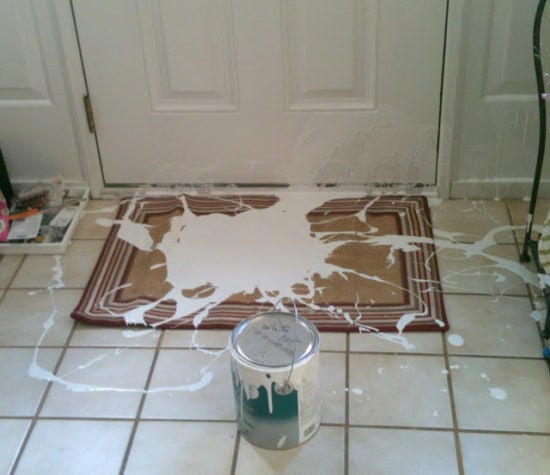 As home decor bloggers, we post tons of pretty pictures. But often times, things go wrong behind the scenes that you don't see. I had a conversation with a blogging friend recently in which we were trading some of our DIY disasters with each other, and I realized that DIY bloggers must have many stories like this to tell. I thought it would be fun to read about some of those today for a change.
This gorgeous bathroom is from my friend Rachel at Craving Some Creativity. Sadly, after completing it, she had a major issue when the mirrors starting cracking. Rachel said "This project is pretty embarrassing since we do a lot of heavy DIY projects and remodels. Mirrors are expensive so to save money on our bathroom reno, we repurposed the old mirror by cutting and framing it. After a week, they started cracking. I can't be sure if our mirror cutting caused this or the wood framing warped or if it was because we glued it, but we will definitely have to hire the glass specialty pros to create 2 new ones."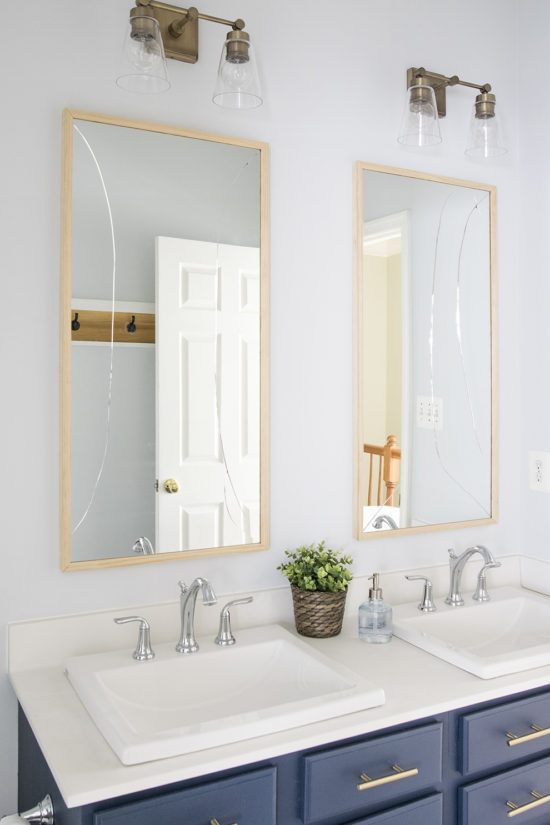 Tiling a bathroom is a TON of work. Unfortunately for my friend Kati at Houseful of Handmade, it turned into triple the work with her grout nightmare. She learned the hard way to wipe the grout as you go along so that it doesn't set. It took her 6.5 hours to scrape dried grout off of her beautiful subway tiles. It all worked out in the end, you can see her beautiful bathroom here.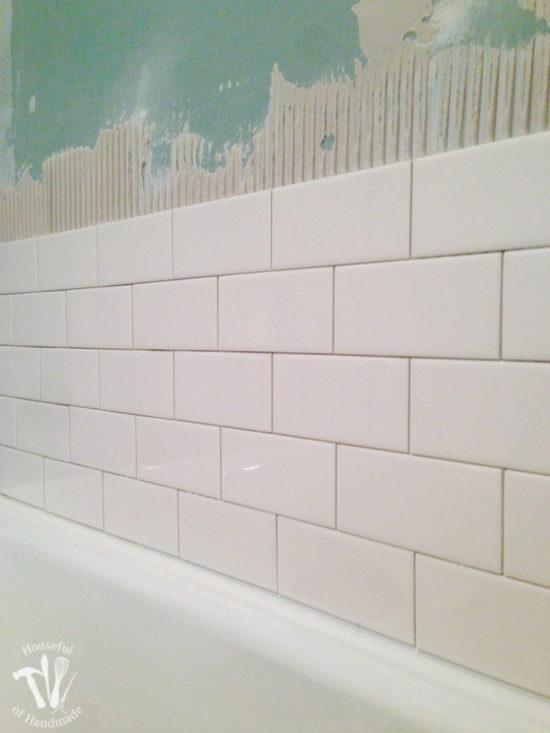 My friend Deb from Seeking Lavender Lane loved the idea of a gallery wall behind her sofa, but wanted to take it up a notch and have a built-in gallery wall. Her DIY disaster happened when they cut into the wall to install it and found tons of pipes and wires inside! Luckily, she got creative with Plan B, and in the end it turned out beautiful!
Another thing we love as home decor blogger is a good room challenge. That being said, sometimes behind the scenes can be super stressful. Pulling off a room makeover in a few weeks is no joke. So when my friend Kim from Knock it Off Kim told me about the stencil project that had to be redone during her challenge, I really felt for her! Once she got this stencil up on the wall she knew it wasn't the look she was going for. She ended up completely redoing the whole thing and the end result was amazing!
Another lesson learned: don't forget to prime! Debra from Shoppe No 5 scored a beautiful vintage table from a thrift store and was eager to give it a new look with paint. She ended up making so much more work for herself when she skipped the primer and found the old finish seeping through her fresh paint. She had to sand it all off and start over from square one.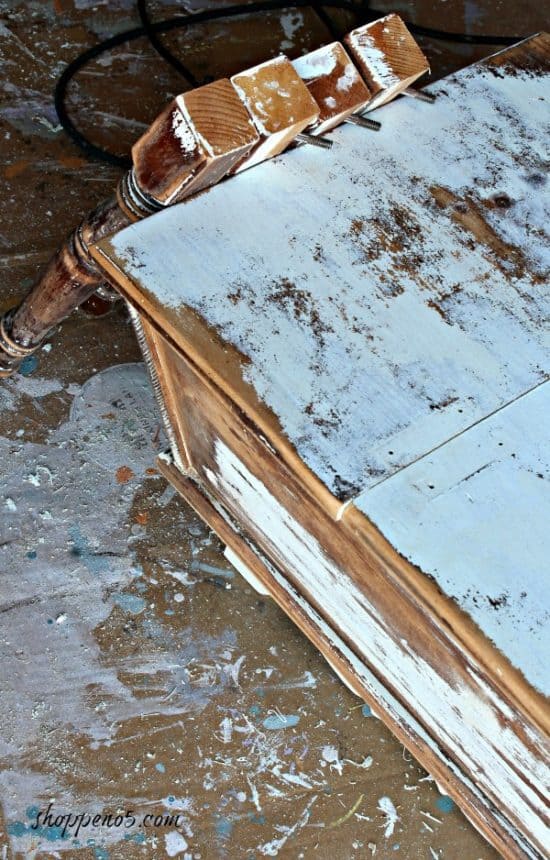 In fact, when you buy pieces from an thrift store, you really don't know what you're getting. My friend Vicki (and her daughter Jenn) from 2 Bees in A Pod had a vision in her head for a stunning old hutch she found recently. Once she got it home, she starting cleaning it up and much to her horror, it was beyond filthy! This project actually brought her to tears after hours and hours of cleaning, when she finally started to prime and found grease spots were still showing through the paint! This is another one I can relate to, as this exact thing happened to me when I purchased stock cabinets from a thrift store during my kitchen makeover. Hopefully, my friends are now shedding tears of joy because the finished hutch is amazing!
The thing we probably do the most of as DIY bloggers is painting. Paint spills happen, just ask Lisa from Shine Your Light blog. Not only did she spill paint all over her floor, it also got all over her door, and worst of all her good jeans!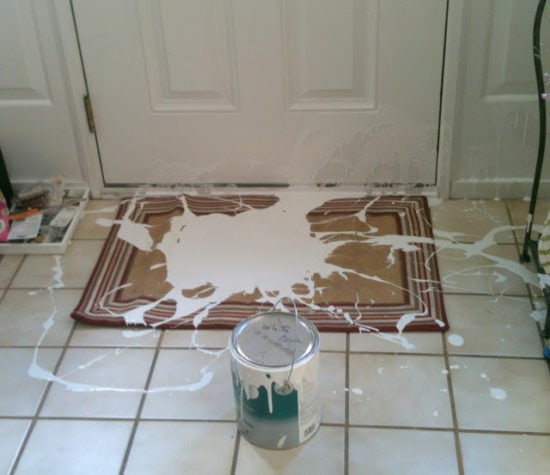 I've had a few DIY disasters of my own around here, but the worst one by far was an issue I had when painting my niece's kitchen countertops. We used a countertop painting kit, and they came out amazing initially. Until we decided to take it one step further and add a glaze over them to achieve a high shine finish. That stupid $20 box of glaze cost me about 4 days of my life when it left indents on the counters as it started to set. I was horrified! I had to go back over there 3 more times to reglaze and fill them in for a smooth finish. While the glaze did give it the high shine finish we were dreaming of, if I had this one to do over I would skip that part.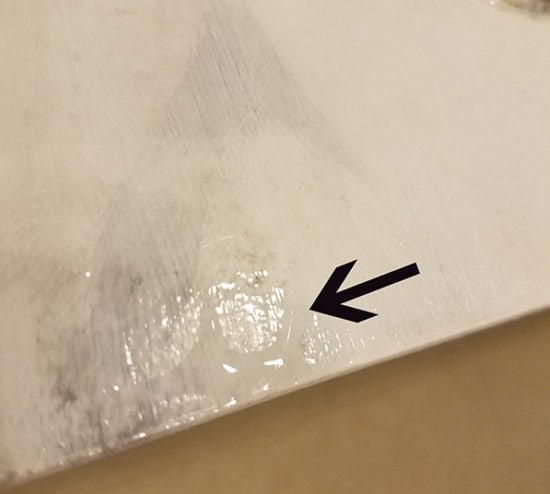 Sometimes even the smallest of projects can send us over the edge. My friend Meg from Green With Decor had issues with her stenciled tray project. She envisioned a monogram over a striped background for this project. Painting stripes is time consuming, and when her stenciling didn't go as planned, she had to redo the whole project!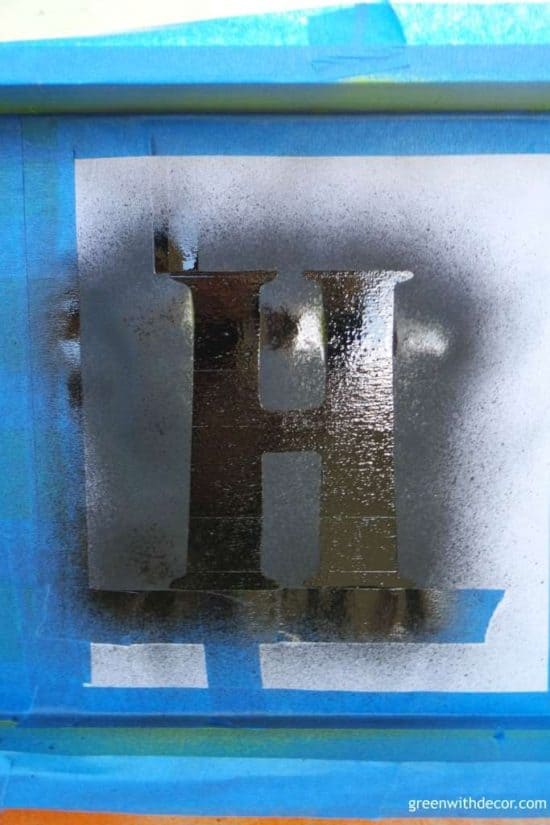 A small project of mine that was a lesson in patience were my DIY no-sew Christmas stockings a few years back. In the end they turned out nice and I was able to laugh about it, but it was frustrating while it was happening!
I hope you enjoyed a look at these DIY disasters today, a big thanks to my friends for sharing theirs!