Decorative Register Covers
Details matter in all spaces but I think they're even more important in smaller spaces. Case in point today is decorative register covers.
We have an odd size, large register in our kitchen. It's bothered me since we've lived here. This is what it looked like before.
I considered DIY'ing a new one but never really found a way to do it. So when I came across this company called floor registers n vents I decided to finally have one made for me.
The process involved going back and forth via email to create the custom register. I provided photos and measurements. They had me confirm that my existing cover was fully removable when they saw mine had attached clips in the photos.
They recommended a laser-cut wood pattern in a maple veneer that I could paint to match the wall. For the laser cut options, there are 26 patterns to choose from.
Once we had the details figured out, the process was quick and I had the decorative register cover in about 2 weeks.
I brought it outside and gave it a few coats of Rust-oleum Lacquer spray paint in white.
For installation of decorative heating registers, it will depend on how yours is already set up. Because I had metal clips attached to my old register, that wasn't an option for the new one.
We figured out the simplest way to attach mine while still having it be removable for changing out the filter was to use adhesive magnetic strips.
I attached them to the new register cover and simply put in in place.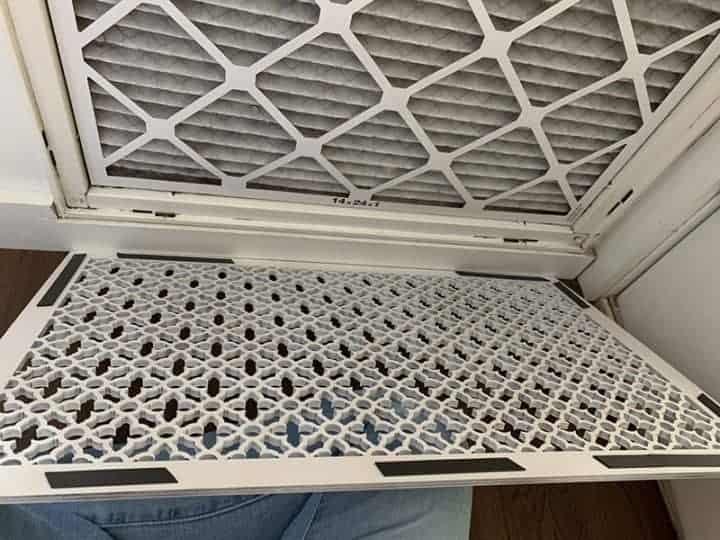 Update: After a few months, the magnets didn't hold up as well as I hoped. I removed them and used velcro strips instead. I attached one square in each corner and that is working much better!
Installation really doesn't get any easier than that! It's pretty amazing what a difference it makes.
Whenever I finally get around to making changes like this I always wonder why I didn't do it sooner!
You guys know I'm a fan of small changes with big impact, and this one fits that category.
If you're interested in upgrading to decorative register covers, I would recommend floor registers n vents. They were extremely helpful and easy to work with. They made it super easy for me.