Painting Plastic Pots To Look Like Cement
When it comes to painting plastic pots to look like cement, there are several ways it can be done. I'll show you today how I did it but will note some other ways at the end.
For my plastic planter, I wanted the quickest and easiest way. I had a few boxwoods that needed to be transplanted. This old green pot was a perfect size but I really didn't like the color.
I love the look of cement planters but I don't like the weight. I'm constantly transplanting and moving pots and don't like lugging heavy planters around.
Paint That Looks Like Concrete
For this pot, I used a fine textured spray paint in the color granite. The paint is designed to give the look of stone.
I started with the inside first. When spraying inside, I only sprayed it about 1/4 of the way down. I didn't want to spray it all because I didn't know if it would affect the boxwoods when planted. The rest will be covered with potting soil.
Here's how it looked after one coat. You could still see the ugly green coming through a bit. I did about 3-4 coats of the spray paint, letting it dry in between.
The more layers I added, the more textured it looked.
Painting Plastic Pots To Look Aged
When I was spraying this planter, I also had my green spray paint out for another project I was working on. That gave me the idea to spray some green onto the planter to resemble the look of moss on an aged planter. I sprayed the green on mostly near the bottom. After that, I added some white paint too to mimic lime.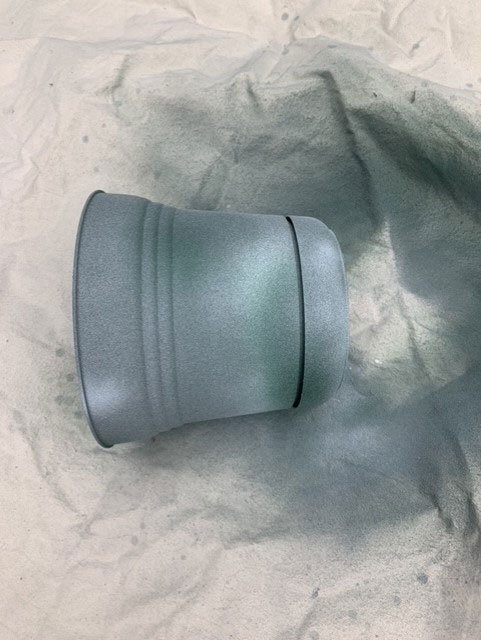 Once all the paint dried, I gave it another light coat of the stone spray paint to make it look more natural.
Here's how it looks close up. Pretty cool, right?
Concrete Effect Paint COlors
I'm really happy with how this came out (and with how quick and easy it was). This paint comes in a few other colors besides the light gray (granite) that I used. You can view those below.
As for my boxwoods, I've been working on trying to propagate them and turn them into topiaries. If this all works out, I'll share more on that in the future.
Two More Ways To paint Plastic Flowerpots To Look Like Concrete
There are many ways you can get the look of concrete when painting plastic pots, but I wanted to share these next two as well because I thought these came out especially good.
Method #2
For this method, they went through several steps, which you can read about here but the main ingredient used is stucco. You can see it's layered and textured and just overall very cool.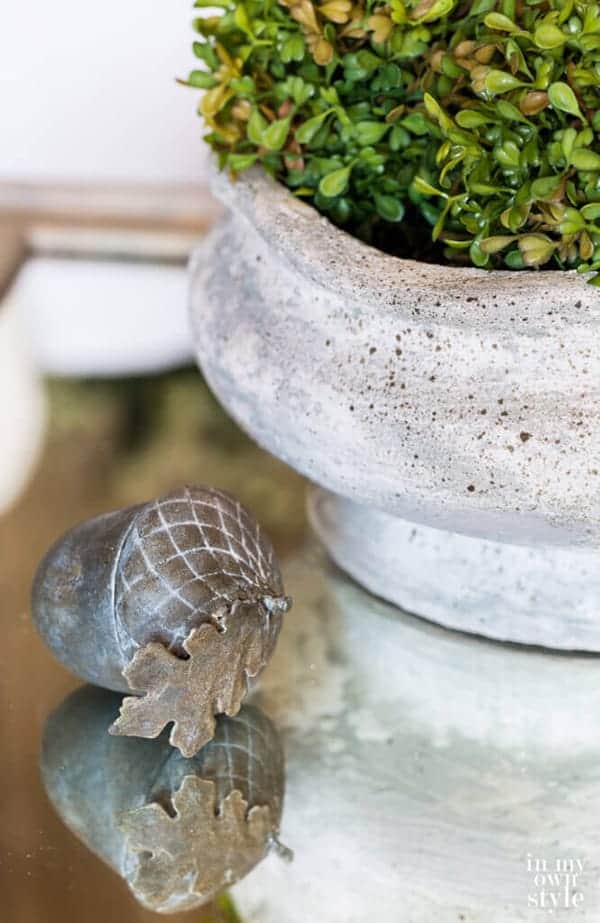 What I love about this one is it's a great upcycle. They started with a bowl that was a great shape but had a not-so-pretty pattern. The bowl wasn't plastic but all of these methods would work on virtually any surface.
Method #3
Another really simple way to get a faux cement pot is to add a textured material to your paint.
One advantage of this method is you can control exactly how much or how little texture you want.
---
YOU MAY ALSO LIKE:
---
---