How to Make DIY Herb Pots
You guys may know by now that I have a thing for herbs. I love herb gardens, herb planters, herb markers, etc. There are just so many fun ways to grow them. Last weekend I made these DIY herb pots,  it was an easy project and I love how they turned out.
I started with simple terra cotta pots* and painted them white using Fusion Mineral Paint in Picket Fence. Next, I measured halfway down the pots to mark the center point. I made the lettering using my Cricut machine. I cut out words for several different herbs because I wasn't sure which ones I was going to use at that point.
I used Cricut adhesive vinyl (I used purple knowing this was going to be removed later) for the lettering and transferred them to the pot using the transfer tape method like I did here. Then I painted over the pots again using chalk paint by Plaid in the color nautical.
Lastly, I used the Cricut weeder tool to remove the adhesive vinyl from the pots, letting the white show through.
They looked cute at that point, but I thought what would add more interest is to wrap the pots with some twine. I used hemp string, it's a little thinner than twine. I attached it with a few drops of hot glue. If you try this project, take your time with this part. Let each spot of glue dry well before wrapping the next loop, and pull the string tight. Here is the finished result.
These would also look cute indoors on a windowsill.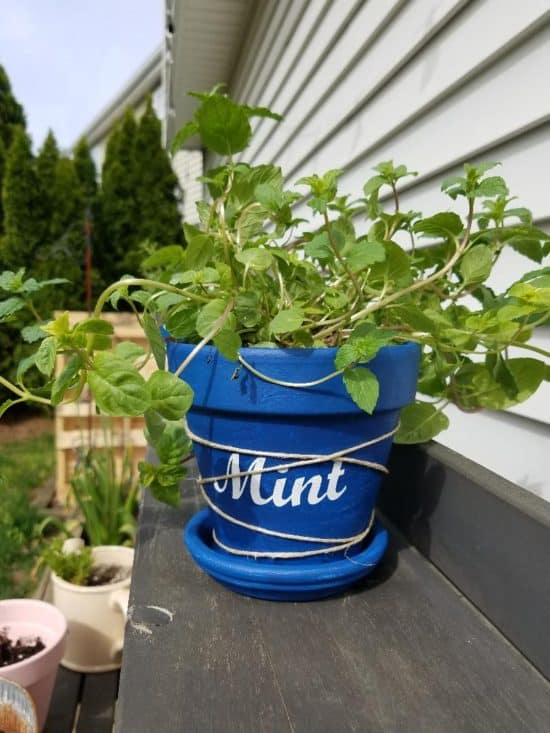 I'm keeping these herb pots in a protected area outside for now because I did not put a sealer on them yet and I am not sure how this chalk paint would hold up if it gets rained on.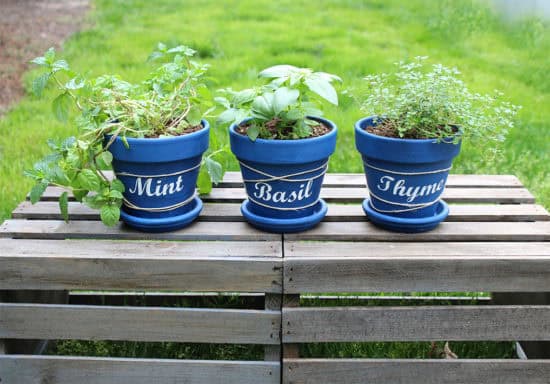 *This post may contain affiliate links, you can read my full disclosure here.