Homemade Body Scrub With Brown Sugar
Lately, I've been having fun experimenting with apothecary. One of my recent creations is a homemade body scrub. It contains brown sugar for exfoliation and I love how it turned out. It also happens to be very simple to make so I thought I'd share this with you today.
The best part is, you probably have all the ingredients needed to make this on hand already.
Supplies Needed for Homemade Body Scrub: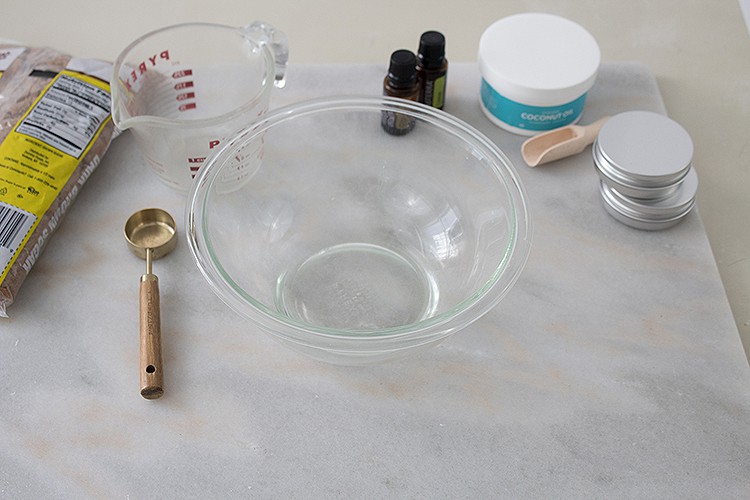 Lime essential oils are known for their cleansing benefits, making it perfect to use in a body scrub. You can also add a few drops of it to your shampoo for extra cleansing properties. Ginger oil is often used for its soothing aroma, making these two essential oils a perfect combo for a body scrub. You can learn more about which essential oils are beneficial to use in my A-Z quick start guide.
This body scrub is so easy to make you guys!
First, mix the brown sugar and coconut oil together in a bowl. Add in your essential oils and stir until blended.
If the mix feels too watery, add about a 1/4 teaspoon of baking soda at a time until you get the consistency you want. Keep in mind, after the mix sits for a bit it will firm up a little more. I added approximately 1/2 teaspoon of baking soda to my mix.
The brown sugar body scrub will not only exfoliate your skin, but it will help soften it as well.
Use this mix once or twice a week to keep your skin smooth and soft. Store the mix in an airtight container. I like these small tins, they're perfect for storing body scrubs and also are cute for giving as gifts. I just noticed they also come in black.
This post may contain affiliate links, you can read my full disclosure here.