Halloween Crescent Roll Recipes
HALLOWEEN CRESCENT ROLL RECIPES ARE FUN AND EASY! CHECK OUT THESE IDEAS RANGING FROM APPETIZERS TO DESSERTS!
Halloween is such a fun occasion to cook and decorate for! Getting into the Halloween spirit is a great way to kick off the holiday season.
Today I'm sharing a round-up of fun Halloween recipes featuring Pillsbury Crescent rolls. Crescent roll dough is so versatile, with so many fun ways to use them, the options are virtually limitless!
You can find the full recipes linked underneath each photo.
crescent roll recipes for Halloween
Who doesn't love themed food for Halloween? From ghosts to goblins, these ideas are not only cute but delicious!
Ghosts
Ghosts are an easy choice for themed snacks and these adorable cheesy ghosts look delicious! First, you add a layer of cheese to the top of each ghost. After baking, use green and black olives to make the eyes and mouths.
This one is such a simple recipe idea!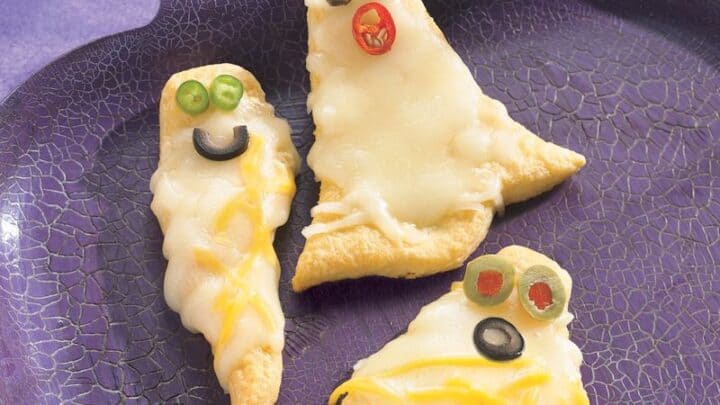 mummies
To make these crescent roll mummy dogs you can use either hot dogs or sausage links. These can even pass for a fun dinner idea. Simply serve them with red sauce, mustard, or ketchup for dipping.
The candy eyes are edible and can be found in stores this time of year.
Another dinner idea is these meatloaf mummies. These may take a fair amount of time but are a great way to get the kids filled up before they start eating candy.
Even adults will love these cute mini pizzas. Use sliced cheese to make the mummy "wraps". This would be a great appetizer idea for this year's Halloween party!
Pumpkins
It wouldn't be Halloween without pumpkins and that includes pumpkin recipes. These are filled with cheese and baked to a golden brown.
They're even pretty enough for a Thanksgiving table.
witch hats
If you're looking for recipes with simple ingredients it doesn't get easier than these crescent roll witch hats. The crescent triangles are perfect for hats!
All you need is a can of crescent dough, sundried tomatoes, and a cookie sheet! Additional ingredients are optional and make this one easy to customize.
These pretty witch hats get an A for presentation! You'd never believe they're filled with salad inside!
This recipe is a good choice if you're looking to get some healthy food into the kids on Halloween. The best part is, you can even do the prep work ahead of time so your kids can grab them and go.
Spider crescent cups
You can use crescent rolls to make crescent cups by simply pressing them into cupcake tins.
I love these adorable spider pizza cups but this is another easy recipe to customize to your family's liking!
For a more adult version, consider filling them with quiche ingredients for a Halloween appetizer.
sweet treats
If you prefer Halloween crescent roll recipes to satisfy a sweet tooth, there's no shortage of those either!
These pumpkins are filled with cream cheese and pumpkin pie filling before being baked to a golden brown. This is an amazing dessert idea even for your more formal parties!
If you need a chocolate fix, try these crescent rolls made with Reese's peanut butter cups. It's a great way to use up leftover Halloween candy.
hocus pocus buns recipe
This hocus pocus buns recipe consists of marshmallows, butter, and cinnamon sugar! Yum!
Lastly, if you're looking for a full Halloween dinner idea, this spider taco ring is perfect. I remember always trying to order pizza on Halloween and the wait times were always so long!
This meal can even be prepped in advance to give you more time for Trick or Treating. To save even more time, line your baking pan with parchment paper first for easy cleanup.
Aren't these Halloween crescent roll recipes so much fun? Be sure and save them for your next Halloween party! Which savory snack is your favorite?
---
YOU MAY ALSO LIKE: