Fireplace Mantel Ideas for Every Home
Isn't it crazy that we are half way through October already? With my house all decked out for fall, I can't help but think in just weeks it will be time to decorate for Christmas! My favorite place to switch up seasonal decorations is on the fireplace mantel. Some of you may have an outdated fireplace that makes you cringe, or maybe no fireplace at all. I've got you covered today with fireplace mantel ideas for every home. There is something in here for everyone no matter what your fireplace situation is right now.
Creating a Fireplace Mantel Where There's None
First, lets look at some creative ideas for adding a fireplace mantel if you don't have a fireplace at all. When we moved into our house, there weren't any fireplaces. Now we have 2! This one is my living room. We found a vintage mantel at a flea market and built a custom surround for it. It's obviously not a working fireplace, but it makes for a beautiful focal point in my living room.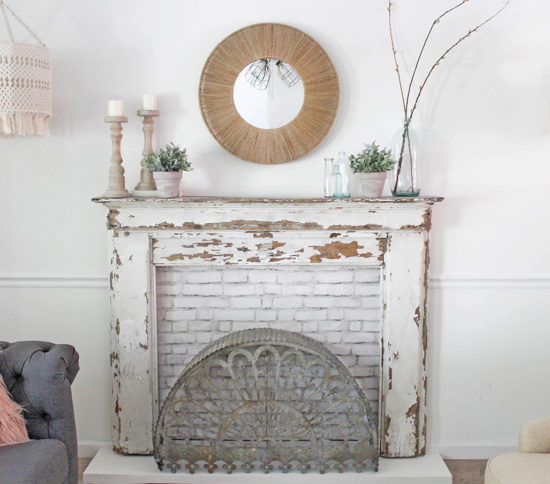 This DIY fireplace is a genius idea. The fireplace was built from scratch and includes hidden storage!
Not interested in building an entire fireplace mantel? No problem! Build your own mantel shelf and hang it on the wall!
Fireplace Mantel Ideas for Renters
Ugly fireplace mantels can be a challenge if you are renting. You would never (I mean really, never!) believe what the before of this fireplace from LED World looked like. AMAZING fireplace transformation!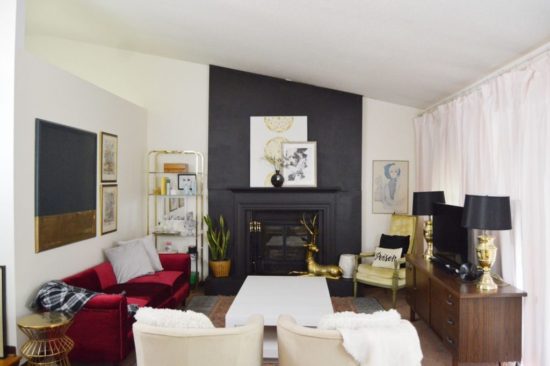 This fireplace was in the living room at a dorm house my daughter rented. It was very dark and depressing. With a few creative and budget-friendly ideas, I gave this fireplace a complete makeover.
Dramatic Fireplace Mantel Makeovers
This fireplace mantel idea was an incredibly bold move. Gretchen painted her outdated fireplace hale navy to match the walls. So dramatic, I love it! (I want to come over and decorate that mantel Gretchen!)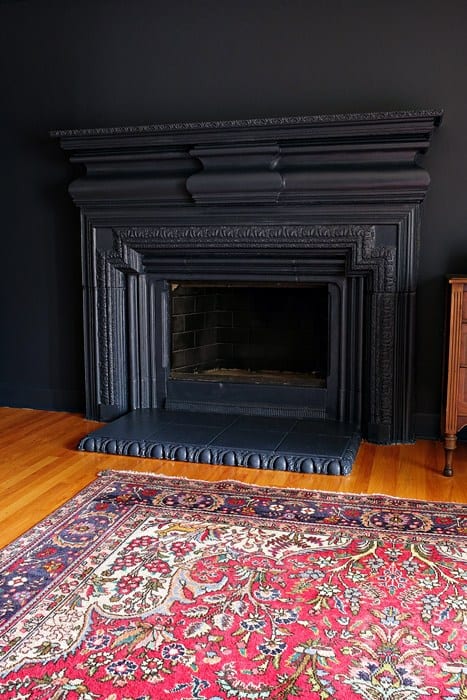 So many homes have those outdated red brick mantels. Update it with paint and a new fireplace mantel shelf like Fresh Crush did with this gorgeous fireplace makeover.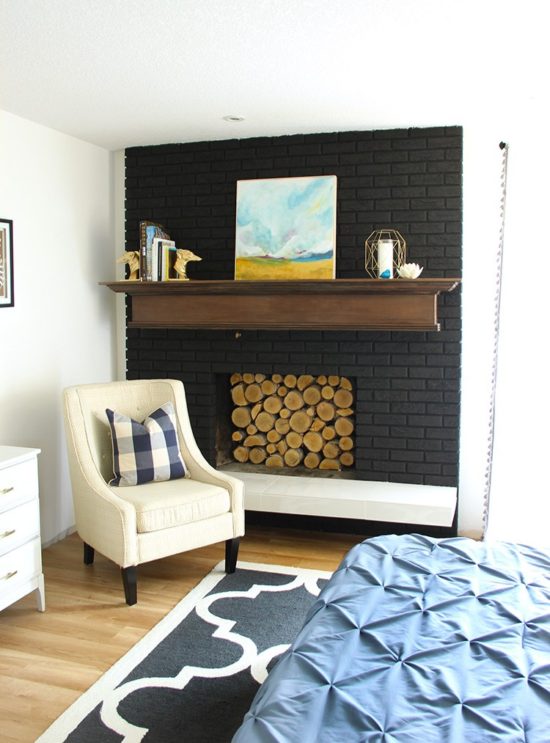 Light and Bright Fireplace Mantels
What once was a plain brick wall behind this fireplace is now remodeled with marble tile and a new mantel shelf.
You'd never believe this fireplace started out as red brick with the ugly brass screen.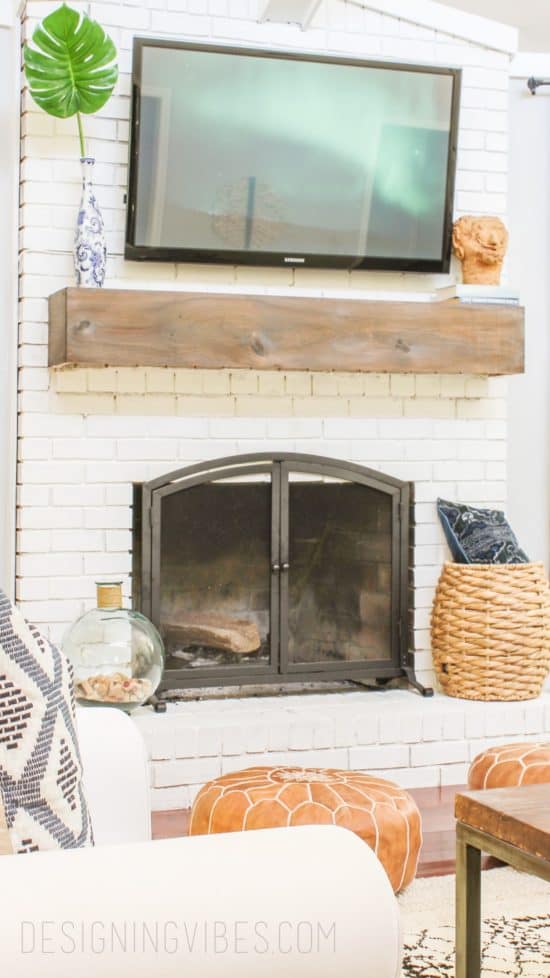 This next one could also go under the "adding a fireplace where there isn't one" category. A few years back, we converted our garage into a family room. This gave me the opportunity to add a feature wall, which includes a fireplace. We used an electric firebox as the insert here.
Fireplace Details
Maybe it's just your hearth that needs updating. Learn how to tile a fireplace hearth over at Shine Your Light Blog, I love the herringbone pattern she chose.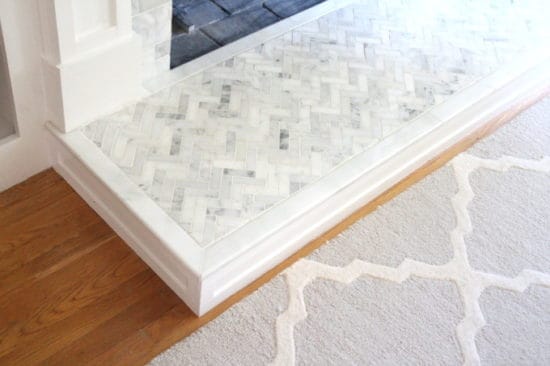 I believe as far as decorating trends go, brass is coming back in a big way – when done right. This fireplace screen in brass is just not working. See how to give this an easy update with major impact!
Often we have to hang our TV's above the mantel when there really isn't anywhere else in the room to put them. Learn how to build a mantel shelf to accommodate a TV here.
Creative Ideas for Fireplace Mantels
I love the idea of using an antique mantel as a headboard, and this one is gorgeous!
I'll leave you with one last amazing idea. Use the mantel as a shelf for a side table with character!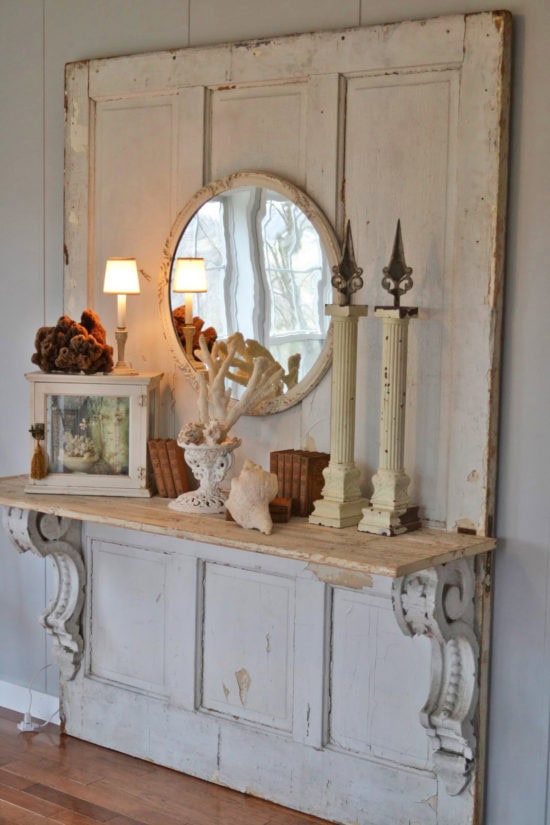 Which idea is your favorite?
Please pin: