13 Stylish End Tables for Your Living Room
I have end tables on the brain lately.
Do you get like that too? When you get so focused on something that you can't move on until you resolve it? I've been browsing online for new end tables and I wanted to share some of my favorites with you today. I've spent a good amount of time online window shopping at Kirklands.com*. Good news for my local NJ friends – you will soon be able to browse through Kirkland's in person! They have two new locations opening on Nov. 4th. One will be in West Long Branch and the second will be in Freehold.
I visited a Kirkland's when I was in Florida earlier this year, so it'll be a treat to have another home store locally to scope out new finds. In honor of the grand openings, all of my end table picks today are from Kirkland's,  I've organized them by style for you.
Farmhouse Style End Tables
Clearly farmhouse/rustic style is what really speaks to me. This first pick would work in almost any space. Isn't it gorgeous?
Sonoma Side Table
This unique little table is my farmhouse runner-up pick. The size makes it small-space friendly.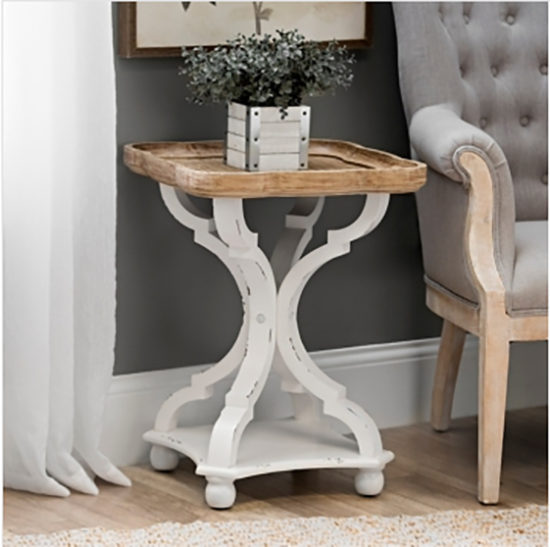 Corina Scalloped Accent Table
Modern End Tables
While farmhouse may be my favorite design style, I do appreciate all types of designs. I'm itching to do a modern style room for someone. Any takers?? I love the sculptural lines on this one. Is sculptural a word or did I just make that up? Not sure!
Natural Arch Teak Wood Side Table
You can never go wrong with hairpin legs.
Hairpin Accent Table
Glam End Tables
Technically I don't think "glam" is a design style, but you get the idea. Glam style reminds me of my niece's taste in decor. Feminine and pretty with a bit of bling.
Mirrored Side Table
This round end table has a mirrored top which makes me think it belongs in the glam category.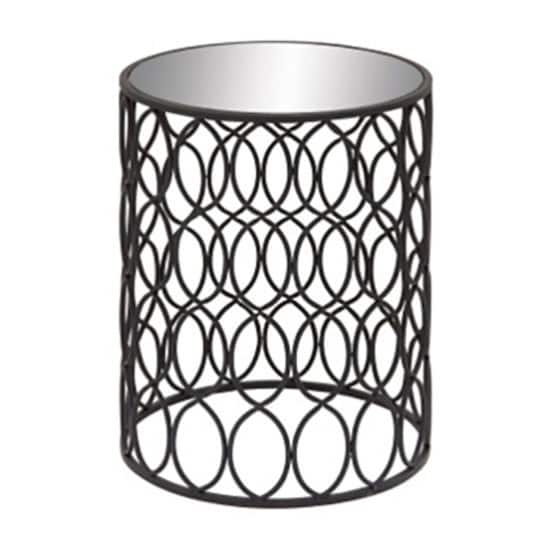 Mirror Ogee Side Table
Natural End Tables
Adding natural elements into a room is always, always a good idea. I'm really loving this woven table. I imagine this in an enclosed porch or in an indoor/outdoor type space.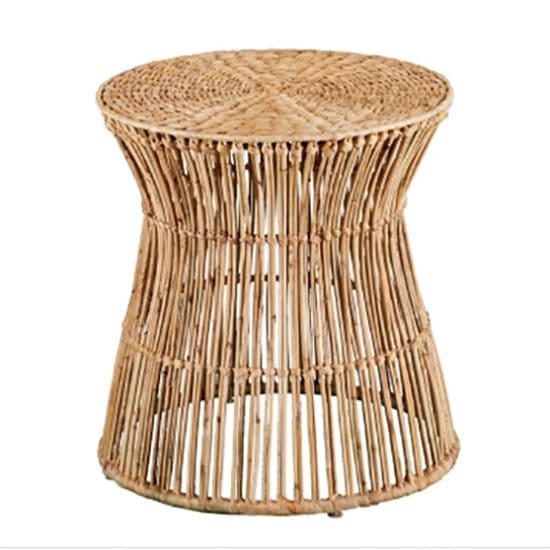 Woven Accent Table
The unfinished look of this wood also gives a beautiful, natural effect.
Fabric Topped Table With Nailhead Trim
End Tables With Storage
I wanted to incorporate end tables with storage on this list. Regardless of the size of the space you live in, more storage space always helps! This first one is narrow, which works well in awkward spaces. It also includes a charging station which is great for hiding all of those wires. It comes in white or blue.
Accent Table with Charging Station
This gorgeous piece also opens to reveal two shelves inside for storage. The mirrored front helps to bounce light around.
Distressed Gray Quatrefoil Side Table
The intricate carving and the beautiful finish on this next one stopped me right in my scrolling tracks. Gorgeous!
Havana Accent Table
Traditional End Tables
Admittedly, traditional is my least favorite design style. Though, I think if it's modernized a bit it can work. Out with the dark, stuffy traditional style of the past! Whenever you can add a bit of black to a space,  it takes the overall design up a notch which is why I really like this end table.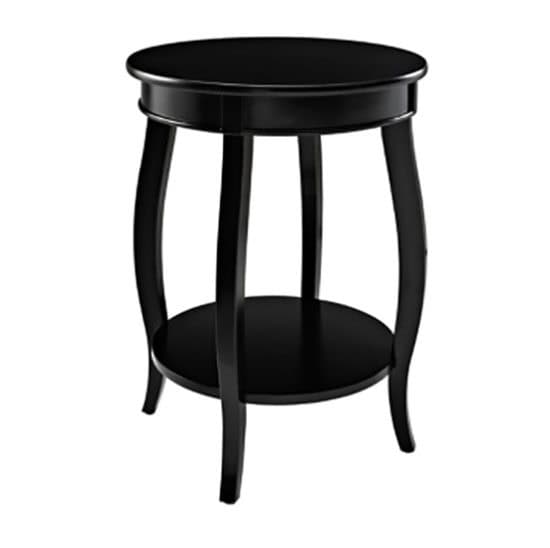 Black Round Accent Table
I also like the idea of a tray-topped table. That little ledge around the sides helps to keep things from sliding off (important if you have curious cats!).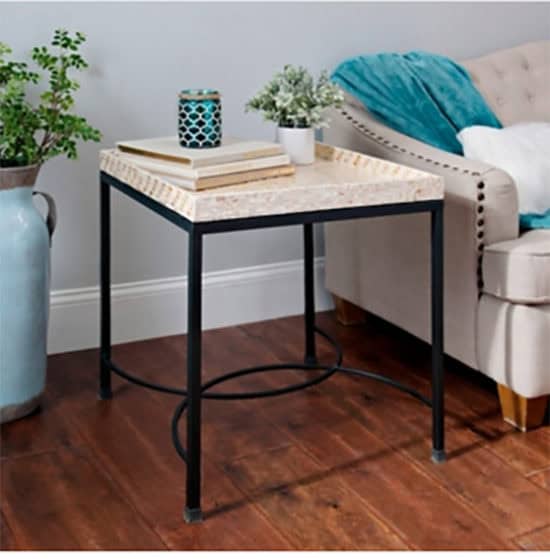 Shell Inlay Accent Table
One other reason I've had end tables on the brain, is because I'm working on a little DIY end table right now. I'll share more on that soon so be sure and stop back to see this one! Hint, it involves a flea market find and hair pin legs!
If you are in the NJ area, be sure to stop by one of Kirkland's grand openings on Nov. 4th! The locations are:  Freehold in the Freehold Raceway Mall and West Long Branch. Of course they have far more to offer than just end tables, stop by and see for yourself!