Easy Easter Egg Flower Craft
Last week when I was talking about my pretty white dishes, I gave you a peek at this Easter egg craft I made recently.
I don't do many small crafts because I prefer big home projects. However, I had this idea for an Easter craft and thought it might be a fun one. Especially if you have kids at home that need to be entertained. Or pulled away from the computer.
What You'll Need for This Easter Egg Flower Craft
I found styrofoam Easter eggs at a local store, which is what sparked this whole idea. You can find similar eggs online here and here. Or you can buy plain white styrofoam eggs and decorate them yourself.
First, you'll need to cut off a portion of the egg to give it the cracked effect. I cut mine with a box cutter from my pink tool kit (I cannot tell you how often that little kit comes in handy!) because that was all I could find. A craft knife would be preferable. Of course, if you're making this with children you'll want to do this part.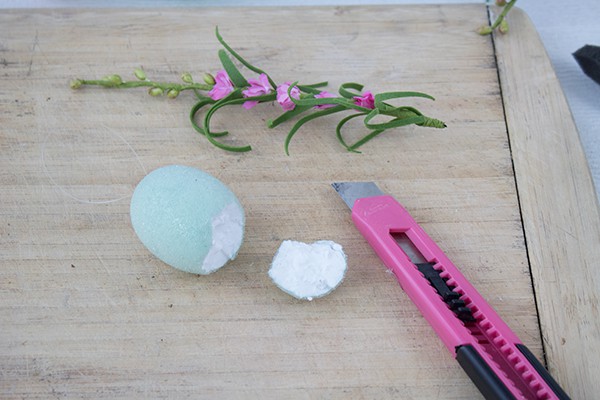 Next, I used the end of a paintbrush to poke a hole down into the top of the egg. This is where you're flower will go. But I found it's easier to add the flower after completing the next step.
This is where you're flower will go. But I found it's easier to add the flower after completing the next step.
Then I painted a thick layer of Modge Podge to the cut top of the egg and stuck moss onto that. It helps to have the moss already separated into small piles for this or it can quickly become a big sticky mess. Just pile the moss on there and don't worry how it looks at this point. The more the better so the glue doesn't stick to your fingers.
Now add your flower and set aside until the glue dries.
In order to get your egg to stand straight on its own, you'll have to shave off some of the bottoms as well. I took it a step further and added a base to mine.
Card stock would be ideal, but I didn't have any so I used a paper plate. To get an even circle, I traced the bottom of a glass onto the plate.
I used hot glue on the bottom of the egg to attach it to the cardboard. I was very generous with the glue so that when I pressed it onto the cardboard it would level out.
Lastly, I painted the rest of the cardboard with Modge Podge and covered it with more moss.
Finally, when everything is dried, you can go back and trim any moss that looks messy.
Isn't that cute?
You could also add names to the eggs to use them as place settings.
I hope you're all staying healthy and safe, have a Happy Easter!
*This post may contain affiliate links, you can read my full disclosure here.