DIY Planter Box From Old Table
You guys, I have the coolest DIY idea for you today. I cannot take any credit for this one, though! My friend made this DIY planter box and it was so creative I asked her if I could share it here.
A little backstory on my friend Diana. Several years ago she was redoing her bathroom. She had some guys helping her tile the shower. One day in the beginning of the tiling, they had to cancel on her. She looked at the saw sitting in her bathroom and the pile of tiles and decided to do it herself.
She had never tiled before. Not only did she do an amazing job, but I believe she only incorrectly cut one piece of tile that day! Impressive!
Back to this project. Diana had a wooden picnic table in her yard that was not weathering well. We both have learned the hard way that outdoor furniture doesn't always hold up. I restored my wooden outdoor table last year and by the end of summer, it was completely weathered again.
They always look great when new, if only they stayed this way.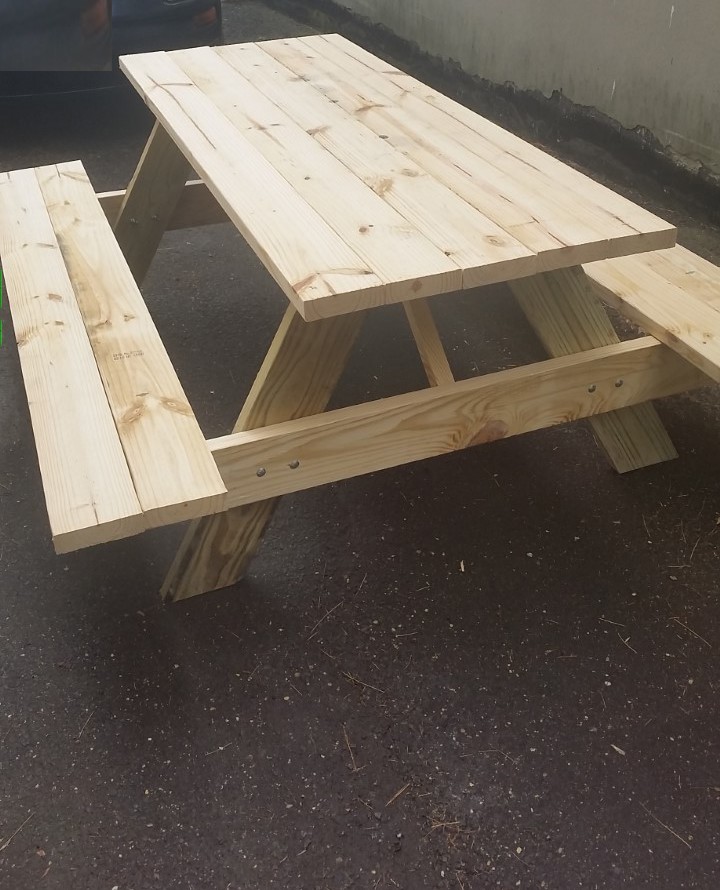 For Diana's table, we tried last year to give it a new look with a fun stencil. The stencil came out great but overall the table still looked bad. We chalked it up to a failed DIY.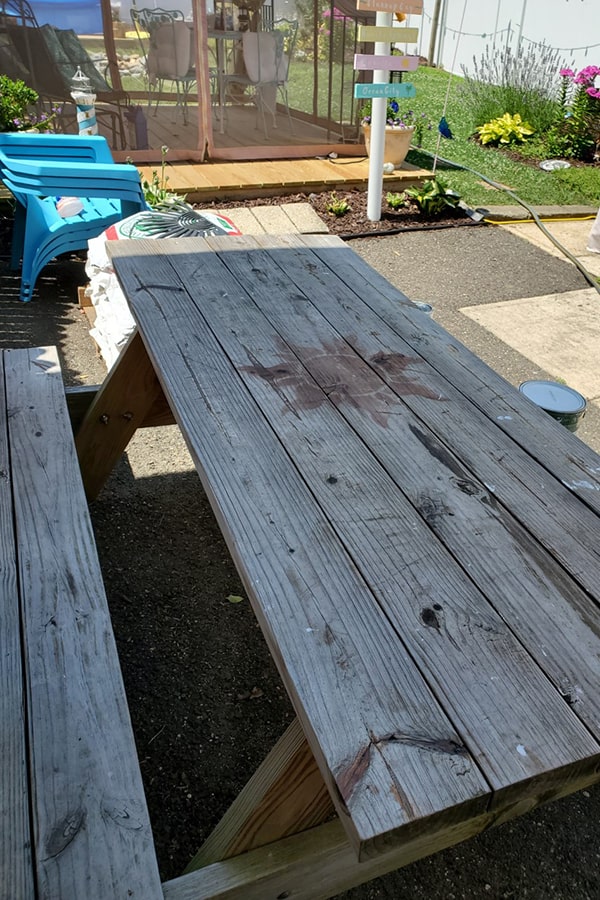 Next, she repainted and stenciled the table with a fun beach theme. Diana is a total coastal-loving beach girl. This was better, but she still didn't love it.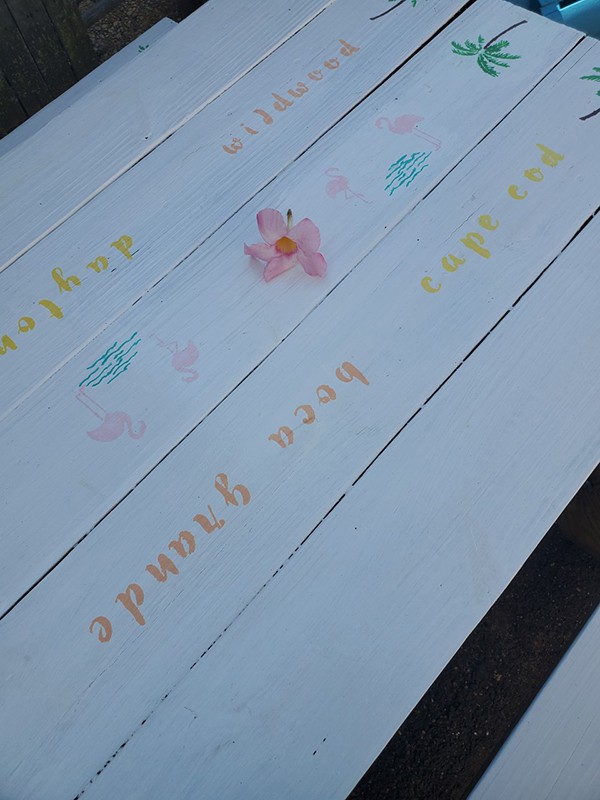 Fast forward to take three on this table. For this one, with the help of her father, Diana completely deconstructed the table. Her father and she used the wood to construct a herb planter box.
First, her dad helped her cut up the existing table. She held the table while he began cutting in with a saw. Diana said you definitely need two people for this part so the table doesn't collapse while cutting.
Next, they built a simple frame. They put it together one board at a time until they reached their desired height. For the top board, they cut it on an angle so it would face the sun.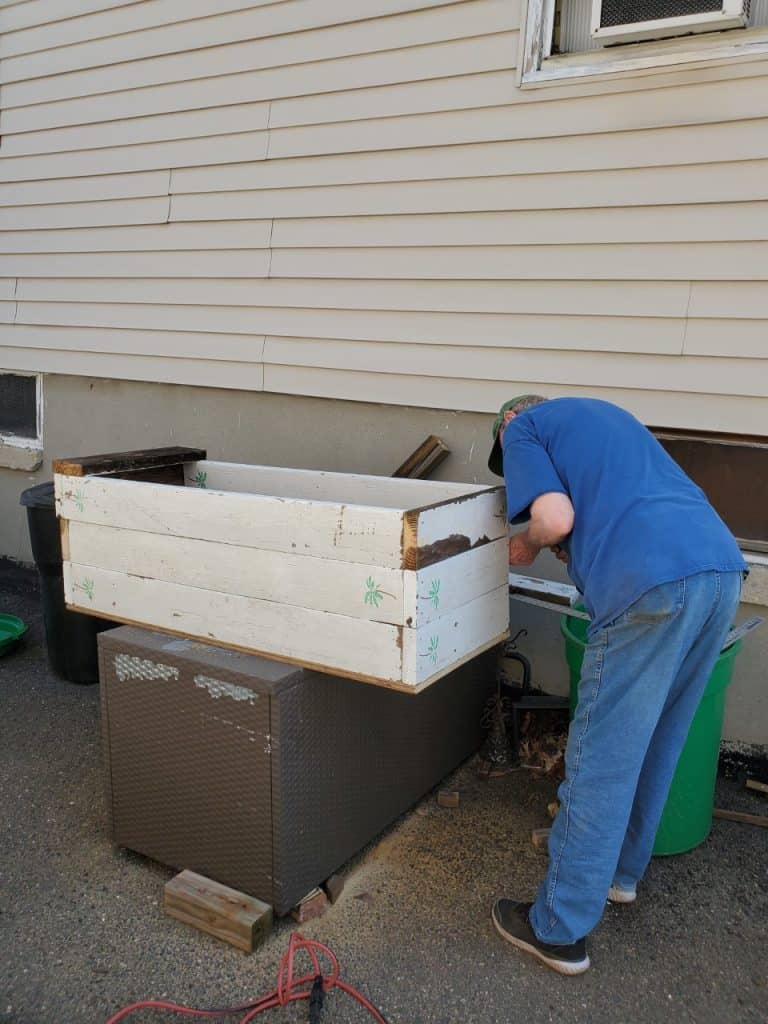 For the base, they used a spare piece of plywood and drilled holes in it for drainage.
Once the frame and the base were assembled, they added a layer of rocks in the bottom. Over that is a piece of landscape cloth.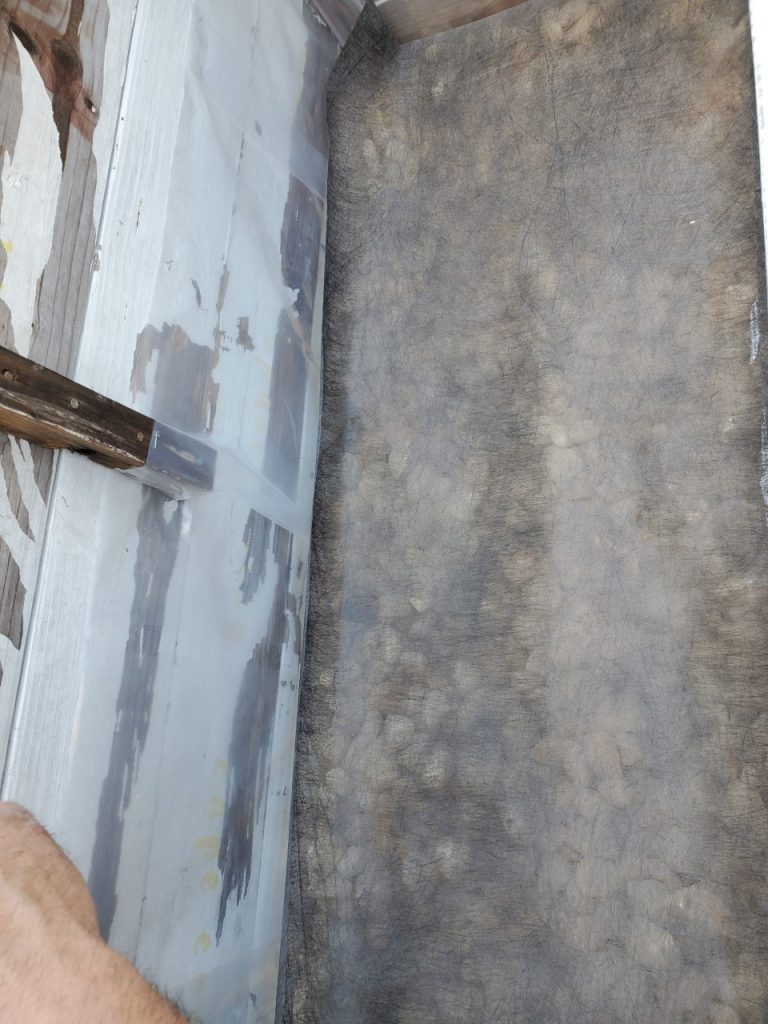 Then they added the soil over top of the landscape cloth.
For the lid, they used simple brackets to hold it secure and square.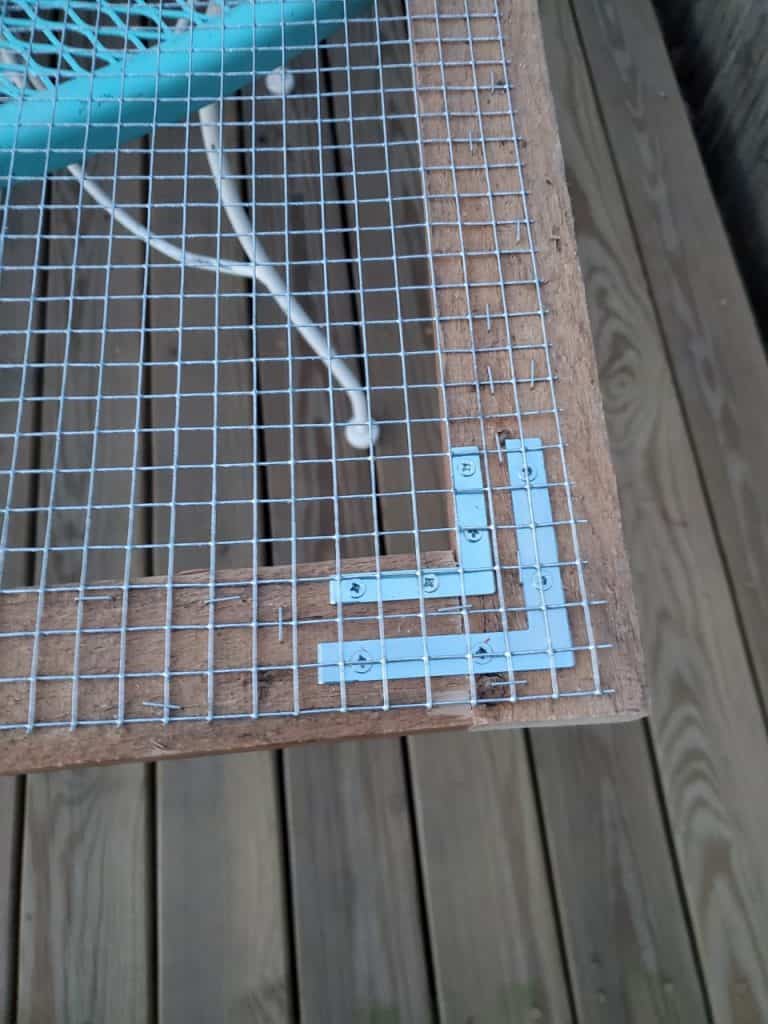 She wanted to keep birds out of her plantings so they attached wire to the cover frame. Rather than chicken wire, they used a fine wire to keep birds out. Apparently, birds can get through regular chicken wire and get trapped, not an issue Diana was interested in dealing with!
On the planter box they used a piano hinge to attach it to the lid. They also constructed legs from the old picnic table so that it would be a raised garden planter.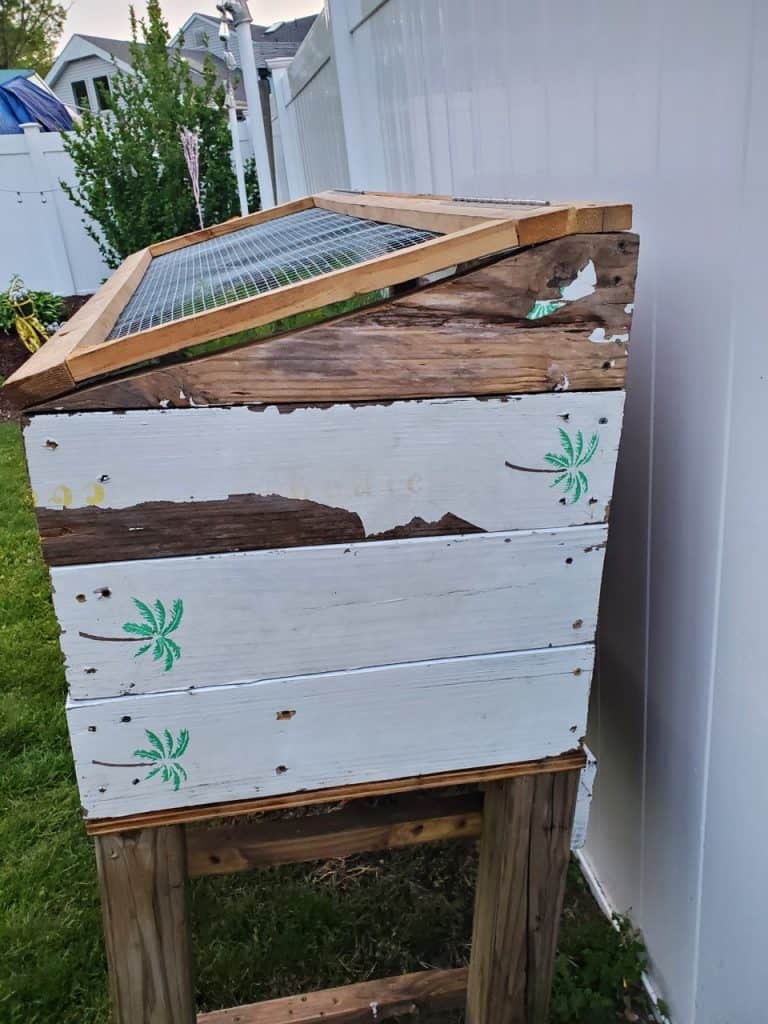 Isn't that awesome?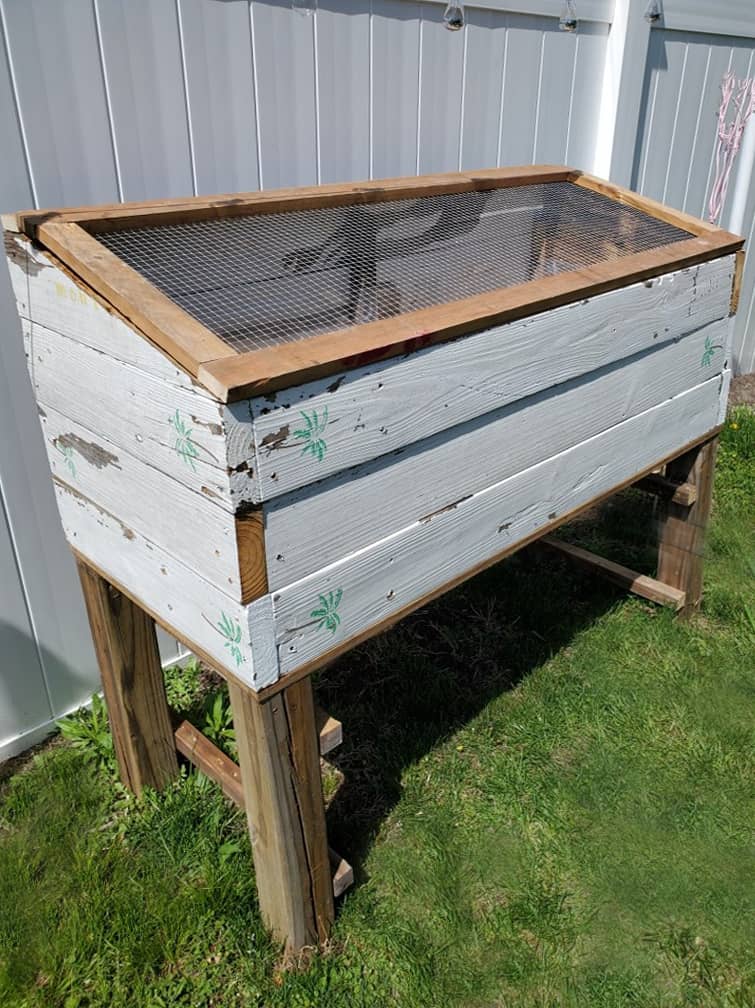 With some help from her mom, Diana planted herbs and strawberries in her new DIY planter box.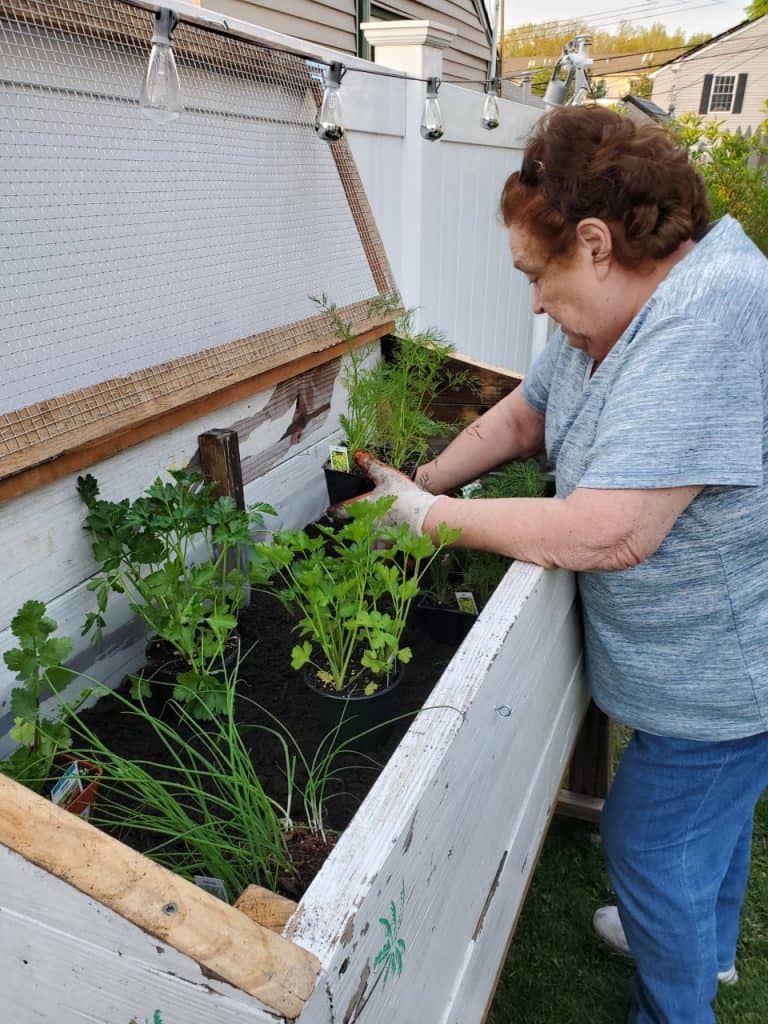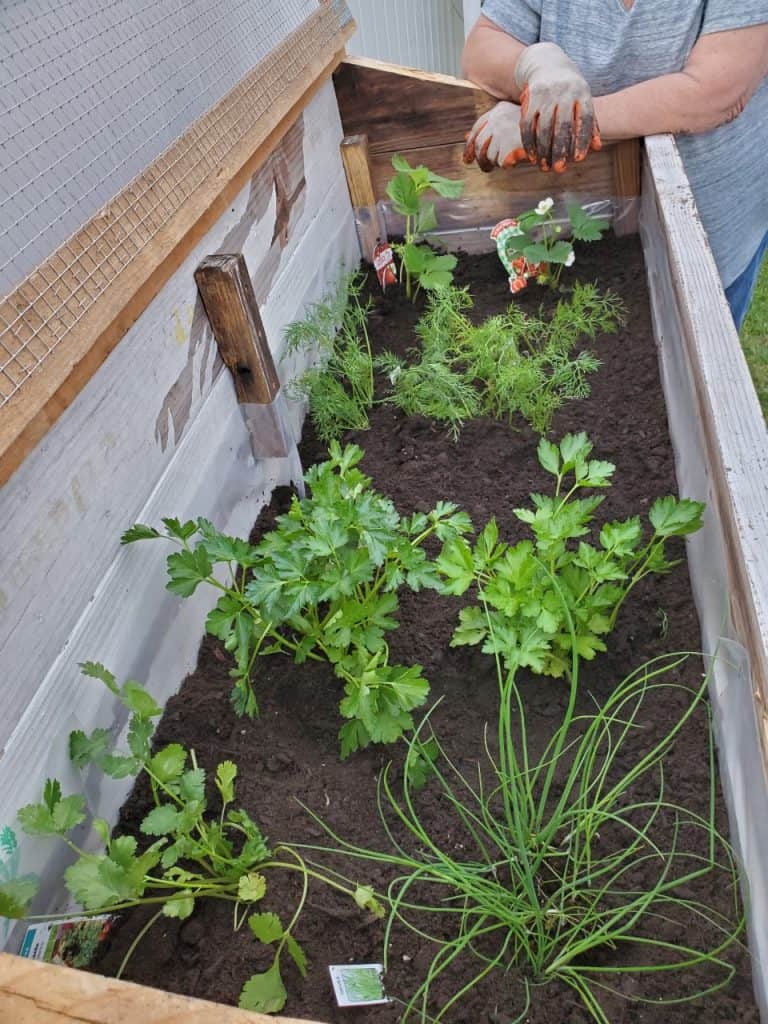 Keeping with her beach-loving theme, they used seashells as garden markers to identify what they planted. (These driftwood garden markers are cute too!)
The best thing about this project is not only was Diana able to turn that table into something she now loves, but she did it with the help of her family. She really treasures her new DIY planter box now!
She calls it making lemonade out of lemons. Don't we all have a few lemons around we'd love to update?