DIY Personalized Pet Food Mat
This shop has been compensated by Collective Bias, Inc. and its advertiser. All opinions are mine alone. #IAMSCat #CollectiveBias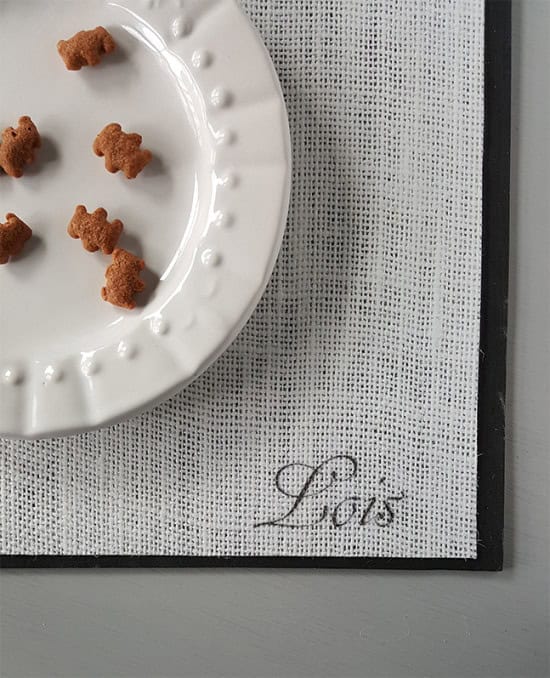 My family shares a mutual love for animals. My husband and I both grew up always having  animals around. I'm sure I can speak for us both when I say we couldn't image living in a house without pets. It's no surprise that our oldest daughter has a super charged love of animals. She has worked part-time in a vet's office she started high school. She is now in college studying all aspects of animal sciences. Pre-vet, companion animal science, research and animal nutrition to name a few. We currently have a dog and two rescued cats.
While I would never sacrifice my pets comfort and convenience for the sake of home decor, I did want to make the feeding area in my kitchen look a little nicer since we are currently remodeling in there.
Only one of my cats eats in here, the other is fed in another room due to different dietary needs. So I made the personalized pet food mat for my cat, Lois.
Supplies needed:
laminated burlap 
foam piece
Mod Podge
Clear Acrylic Spray
Printer
I picked up laminated burlap at Wal-Mart to use as the top of the pet food mat.
To personalize it, I created several different graphics in Photoshop, I ended up using this cute fish graphic, which I centered on the page, and then I added my cat's name to the bottom corner. If you don't have Photoshop, you can try PicMonkey, which is a free online photo editor.
I printed it out first on paper to make sure it was lined up correctly before printing on the burlap. I was concerned the burlap wouldn't work in my printer, because I had an problem printing on fabric while working on another project. I'm happy to say, this burlap worked perfectly in my printer.
I picked up foam pieces at Wal-Mart that were just slightly larger than my burlap pieces. I chose to use a foam backing so that it would not slide around my kitchen floor. I used Mod Podge (which is non-toxic) in a matte finish around the perimeter of the burlap to adhere it to the foam.
The top of the mat needed to be sealed with something so the ink won't wash off during cleaning. I tried using the Mod Podge for this but it smeared the ink. Instead, I would recommend a clear spray acrylic (that is pet safe, of course). Mod Podge does come in a spray form as well.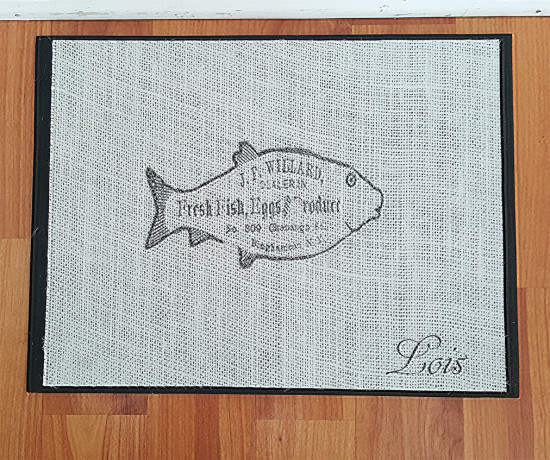 I noticed while I was at Wal-Mart that IAMS™  now offers cat food and treats based on specific dietary needs for cats. I picked up IAMS™ Proactive Healthy Adult cat food for her. Pet food has to have 2 things in order for me to buy it:  first, real meat has to be the #1 ingredient and second, it has to be made in the USA. This food meets my requirements as well as my cats dietary needs. I also picked up some IAMS™Hairball Control treats while I was at Wal-Mart as well as  the Oral Care treats because Lois is prone to tooth decay.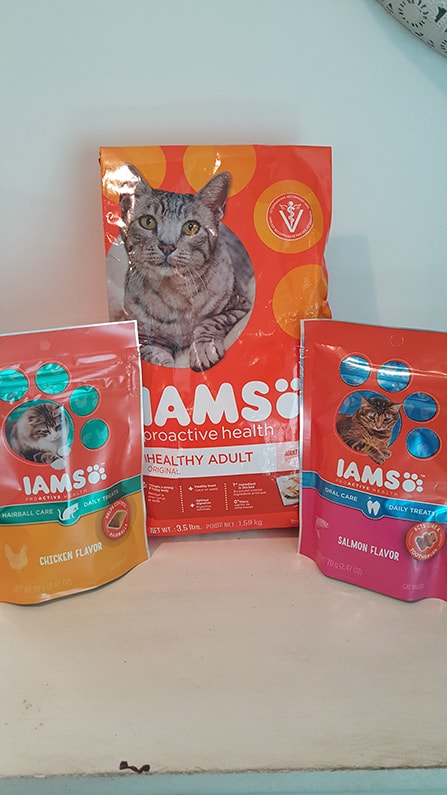 I served Lois her treats at her new feeding station.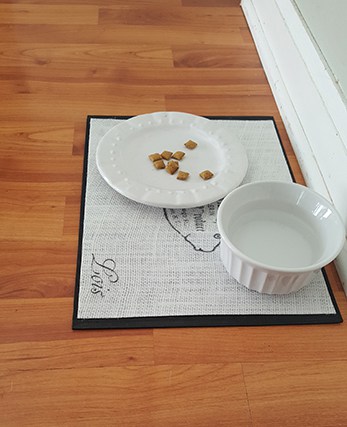 My other cat, Nelson, photo-bombed Lois' photo shoot. His dietary needs require IAMS™ Optimal Weight cat food, which is why he is fed separately.
She is quite happy with the treats and her new personalized pet food mat.
You can find all varieties of the IAMS™ cat food and the treats, in the pet care section of your local Wal-Mart.
See for yourself the difference IAMS™  can make by visiting HappyPetHappyHome.com. Don't forget to use the hashtag #IAMSCat when sharing your cat's photos on social media for a chance to be featured there!