Simple Spring Centerpiece
Happy St. Patrick's Day! If you missed my St. Patrick's Home Tour be sure and check that out. Easter is right around the corner, it kind of snuck up on me this year! I'm  keeping my Easter decorations minimal for that reason, and leaning more towards Spring decorating in general.
This was a quick little centerpiece I put together to brighten up my table for Spring. I picked up my little rustic box at a flea market and I love it. It's a very versatile decorating accessory. It's like my favorite pair of jeans that can be dressed up or down, there are endless ways to use it! I found a similar sized rustic box on Amazon, shown below.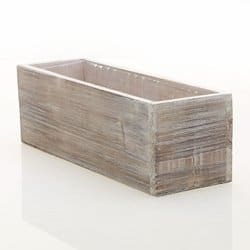 I added 3 mason jars inside my box to hold water for the flowers. I tucked a few faux floral sprigs and the speckled eggs around the jars that were in my Easter decor stash. You could easily find a few Spring touches to add to your centerpiece at the craft store or even the dollar store. Also check the dollar spot at Target for some great finds.
I picked up 4 bunches of the daffodils at the grocery store, they were only $2 a bunch. I put two bunches in the middle jar and one bunch in each of the end jars. I love how festive they are for Spring! There is no better way to brighten up your space than with a some fresh flowers or greenery.
Sometimes the easiest little decorating ideas are my favorite-this centerpiece took less that 10 minutes and only $8 to put together. I like to keep it simple when I can!
 This post contains an affiliate link
linking up with Between Naps on the Porch