Cheeseburger Bites Crescent Roll Appetizers
I was making these crescent roll appetizers for my husband and I the other day and it occurred to me how perfect these would be for the Superbowl. They're little cheeseburger bites and only take 5 ingredients to make.
I first had these years ago at a friends house (it may have been a Superbowl party) and I haven't made them in a long time. They're pretty basic, which I like when cooking because my family and I all have very different tastes. Basic recipes are easier to customize to your liking. You could make these bacon cheeseburger bites by adding bacon bits, or chop up your favorite burger toppings and throw them into the mix.
Ingredients Needed for Crescent Roll Appetizers: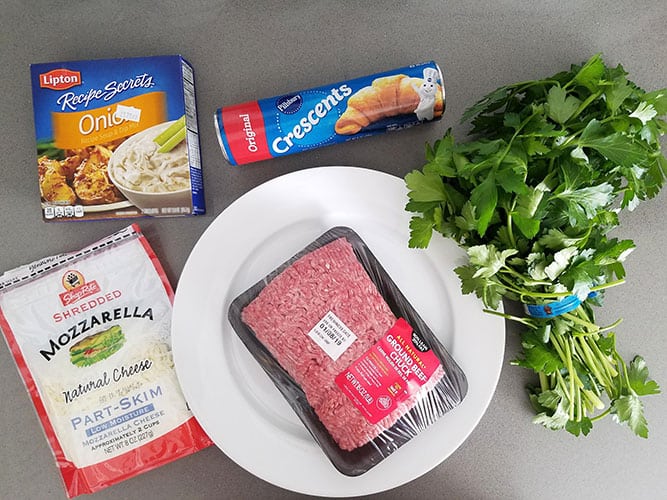 First, fry up the meat. While that is cooking, chop up the parsley. Once the meat is browned through, drain the fat and put it back in the pan. Next, add the Lipton onion soup mix to the meat with approximately 1/4 water, cook until the water reduces. When it's reduced, stir in your shredded cheese.
Set up your baking sheet, I lined mine with parchment paper to keep the crescent rolls from sticking. If you ever struggle with opening those types of cans that the crescent rolls come in, I found the easiest way to do it. One day when I was getting a bit annoyed trying to pry one open with a spoon, I took the can and banged it on the edge of the counter and it popped right open! Sort of like cracking an egg on the edge of a bowl, but with a little more force.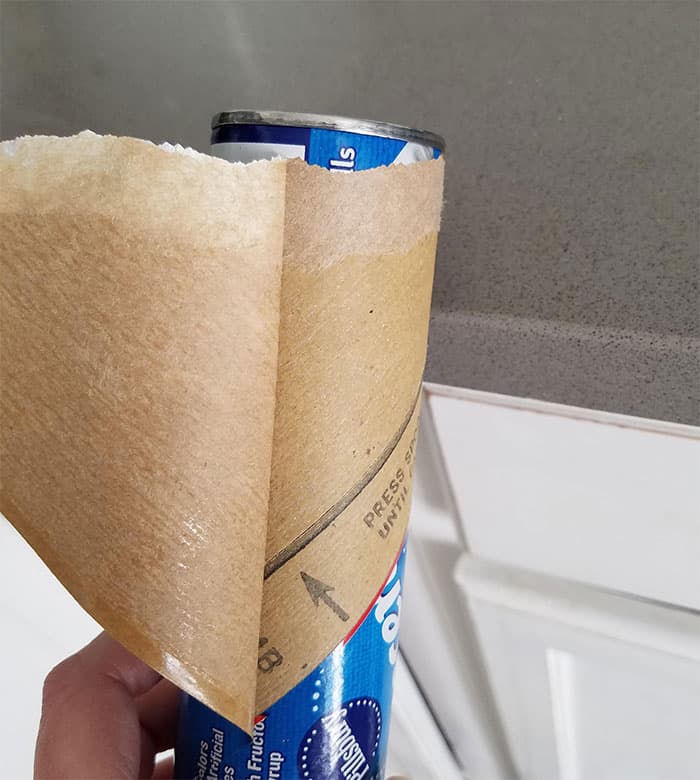 Each can of crescent rolls have 8 triangle shaped crescents, I used 2 cans to make these. You could also cut those in half to make these smaller bites that will go further. Spoon the meat mixture onto each crescent and top with a pinch of chopped parsley.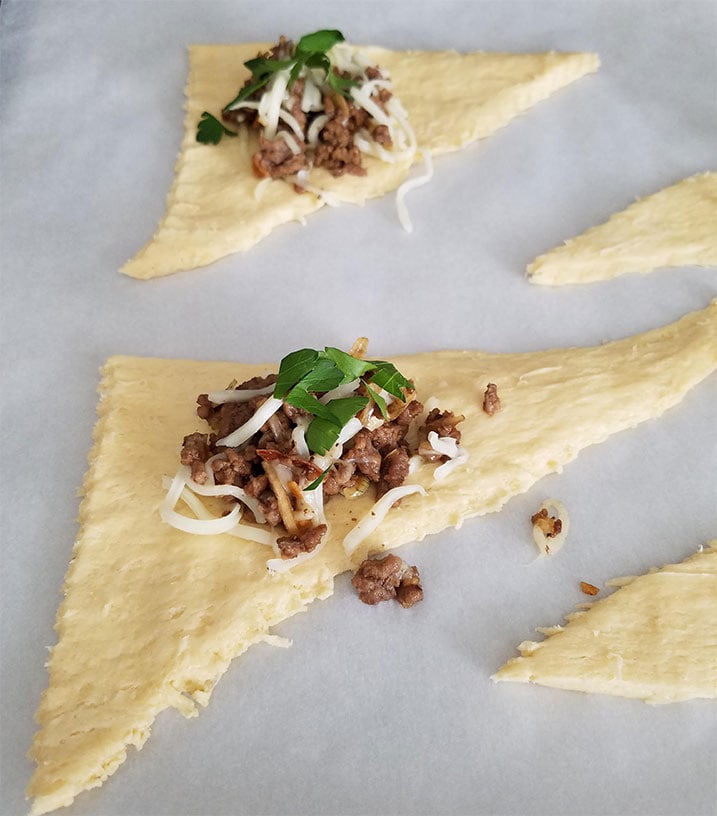 Last, wrap them up like little burritos and bake at 375 degrees for 10-12 minutes or until the rolls are browned.
The onion mix gives these crescent roll appetizers just the right amount of flavor. I served these with the usual cheeseburger toppings on the side as well as a chipotle sauce, which my husband loves.
I used two cans of crescent rolls and still had some of the cooked meat left over. For every pound of meat, you'll probably need 3 cans of the crescent rolls.
These are so good, they're really a bit addicting. Enjoy!
Linking up with BNOTP.
Cheeseburger Bites Crescent Roll Appetizers
These delicious cheeseburger bites with onion flavor wrapped in crescent rolls are the perfect appetizer for your next gathering.
Ingredients
1

lb

Chop Meat

1

pkg

Lipton Onion Soup Mix

1

8 oz pkg

Shredded Mozzarella Cheese

1

bunch

fresh parsley

chopped

3

cans

Pillsbury Crescent Rolls
Instructions
Preheat oven to 375 degrees.

Fry the chop meat until thoroughly cooked through. While that is cooking, chop your parsley. Drain the meat and return to pan. Add the Lipton onion soup mix and approximately 1/4 cup of water. Cook on medium until the water is reduced. Turn off heat, stir in shredded cheese.

Unroll the crescent rolls and place on your baking sheet. Spoon meat mixture into the center of each roll and sprinkle the parsley on top. Wrap the rolls like burritos.

Bake for approximately 10-12 minutes or until the rolls are browned. Serve with your favorite condiments.