10 Hacks to Make Spring Cleaning Easier!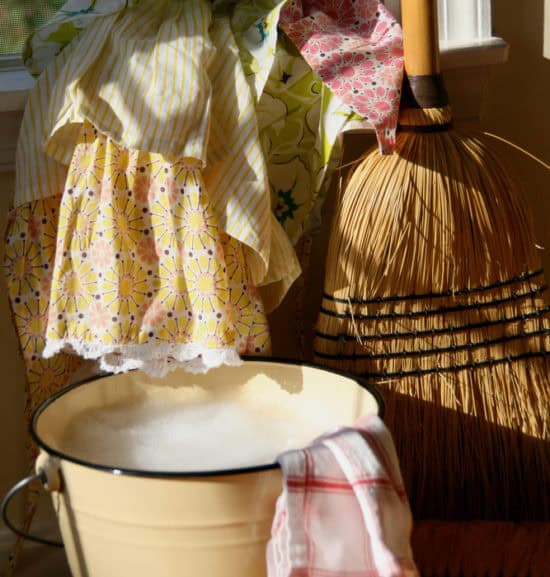 Image via Flickr
I've never really gotten into the whole Spring cleaning kick. For some reason, I always do my big cleaning in the Fall. I feel like when the temperatures are dropping and the holidays are coming is the best time for a clean sweep. But I'm backwards like that.
This year, I am feeling the Spring cleaning bug. I've mentioned before that I'm really not that organized, but I think I have finally found a way to get and stay organized. To keep it from being too overwhelming, I've decided to dedicate 30 minutes to 1 hour each day that I'm off and just do one area. Whether that be a laundry room shelf, or a corner of the bedroom, or even just one dresser drawer it seems to be working.
Once the decluttering is complete, I will begin a heavy-duty cleaning which has got me thinking about ways to make cleaning easier. I've rounded up some spring cleaning hacks from around the web and from my sister-in-law, who might actually be the queen of clean!
Cleaning Tools
My sister-in-law has this Shark steam mop* and she loves it. I think she's onto something with this, because not only does it make mopping so quick and easy, I just read an article that says wet mopping your wood floors really isn't good for them. It also sanitizes without using chemicals, so it's safe for kids and pets.
After my kitchen makeover, she also recommended that I pick up these stainless steel wipes for cleaning my appliances. She uses them to clean her appliances in a flash, and also mentioned that once the appliances are wiped down she will use them on other surfaces for a quick clean.
One tool I have that is a great little invention is the lint lizard. It actually attaches to your vacuum hose. You take out the lint trap in your dryer and put this little hose down in there to vacuum up the lint you can't get to. I was shocked by how much lint was actually down there, definitely a fire hazard!
To keep your floors clean on a daily basis, I would recommend the Roomba. A friend gave me this as a gift. When my dog is shedding, I can't keep the floors clean for longer than 5 minutes, so rather than pulling out the vacuum twice a day, I use this. The animals are a little afraid of it, which is kind of entertaining in  itself.
Cleaning the shower is probably my most dreaded chore. My mom recently bought and loves this  Hurricane Spin and Scrub. My husband usually gets a new tool for every project he completes, so why shouldn't we get a new cleaning gadget to make our lives easier?
And in case there is anyone out there who hasn't yet tried a Mr. Clean magic eraser, you need to run, not walk to the store for one of these. This will take almost anything off your painted walls, cabinets, floors etc. Best invention ever.
DIY Cleaning Solutions
I don't use many DIY cleaning solutions, but one I do use and love is baking soda and white vinegar. I use this concoction to deodorize my sink. I sprinkle the baking soda inside of the sink and pour the vinegar right on top of it. It bubbles and fizzes up and is just fun to do. Kind of like a little science experiment.
My sister-in-law told me that she uses a white vinegar and water solution on floors and windows.  She also says it get the stains out of coffee cups and wine glasses!
For a DIY all-natural carpet stain remover mix 2 cups of water, 1 tbsp vinegar and 1 tbsp of dish soap. Sprinkle baking soda over the stained area first and then use this mixture to blot it clean.
Lastly, make an inexpensive shower spray using equal parts water, white vinegar and dish soap.
Do you have any cleaning products or solutions that make spring cleaning easier? If so, please share by leaving a comment!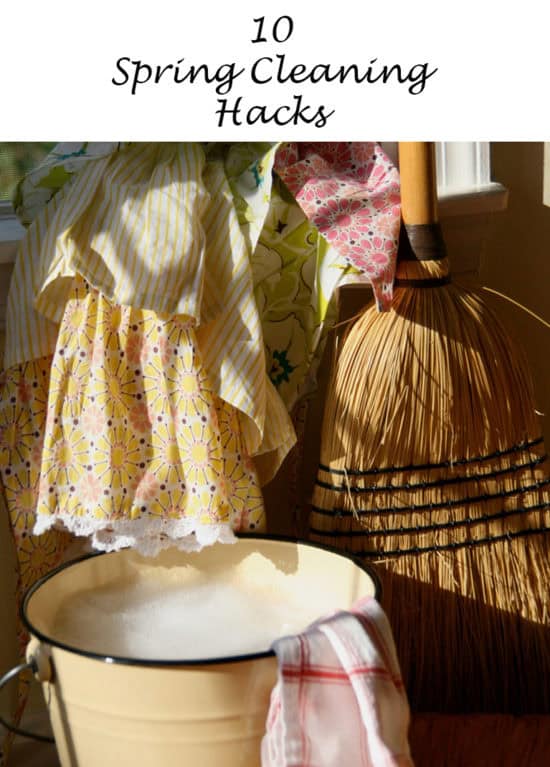 *This post contains affiliate links for your convenience, read my full disclosure here.