The Secret to Perfect Throw Pillows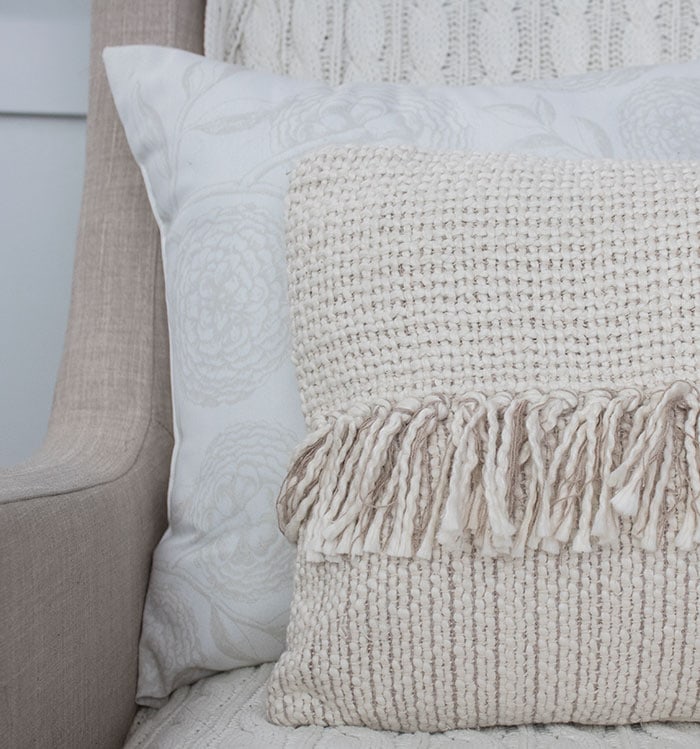 I recently bought a new throw pillow cover online. When I received it I realized it was larger than I expected. Which led me to a Google search for a  pillow insert of that size. One thing led to another and I remembered there is a lot more to throw pillows than just popping the insert into the cover and calling it a day.
First, what the pillow insert is stuffed with makes a big difference in how it will look. Ideally, it should be down and feather filled. A mix of 50/50 or 30/70 is ideal. Pillows filled with polyester inserts will be obvious, I have a few of those myself and they just don't compare. However, being an animal-loving family over here I do hesitate to buy the feather- filled inserts.
Considering Pottery Barn is a high-quality retailer, I decided to order my pillow insert from them. I ordered one feather filled and one filled with an alternative filler (with the intent to return one or the other) to see for myself if maybe a higher quality retailer would have a higher quality synthetic insert.
Feather Down Vs Synthetic Filled Pillow Inserts
Once I received both inserts, I tested them each out with my new throw pillow cover. This is how my pillow cover looked with the synthetic pillow insert*.
Here is how this same cover* looked with the feather insert.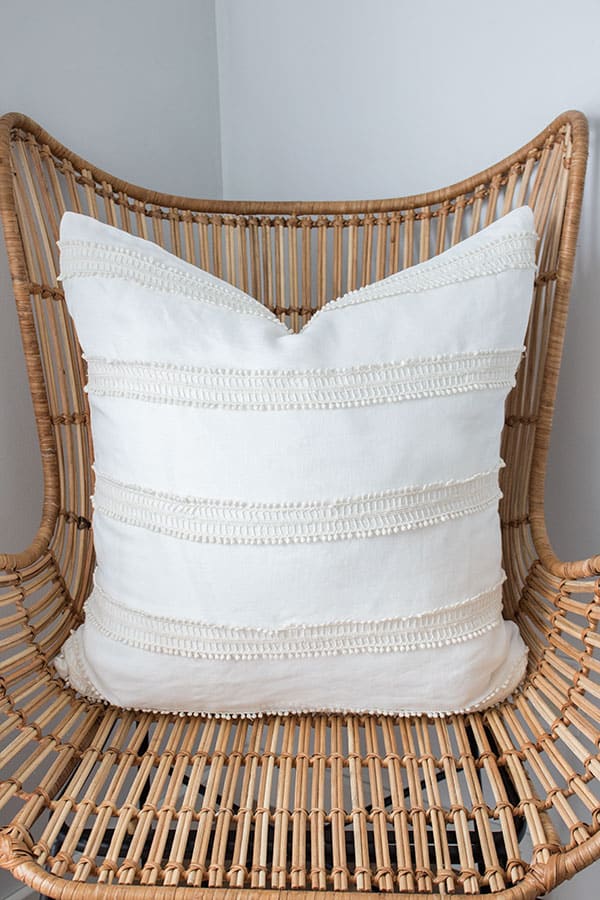 I was really hoping the down filled insert would be the one being sent back but after comparing the two, the down really does look and feel better. I'll be returning the synthetic cover.
Sizing Your Throw Pillow Inserts
You also want to keep in mind is the size of your pillow inserts in relation to your pillow cover. Honestly, I didn't know this for a long time. Your pillow inserts should be larger than your pillow cover! It makes perfect sense because you want your pillows to look plush and never limp. How large should you go? I thought it would be easiest to make you a visual cheat sheet for reference.
As for lumbar pillows you want to size up about 1″ on your inserts for those.
When buying your pillow covers keep in mind that sharp pillow corners look more expensive than pleated.
Arranging Throw Pillows
Using an odd number of pillows for decorating is more visually appealing than even numbers. This is the case for many things in decorating.
Use different sizes and shapes with your larger pillows on the ends, and getting smaller as you work your way in.
Keep it symmetrical especially if using patterns so it doesn't get too busy. Try two or four pillows on the ends of the sofa with a lumbar pillow in the center.
Try mixing patterns,  but keep a common element like color or fabric or trim. You guys should know by now I'm all about the texture, so I like textured throw pillows.
Go for quality over quantity when it comes to your throw pillows. The down inserts are a bit more money but they're worth it.
Whew, that was a lot of information! Who knew there was so much that goes in to perfect throw pillows?
You can find the fringe pillow here and the pillow with the floral leaf pillow on the couch here, the floral pillow is no longer available.
This post may contain affiliate links, you can read my full disclosure here.