Small Side Table DIY Upcycle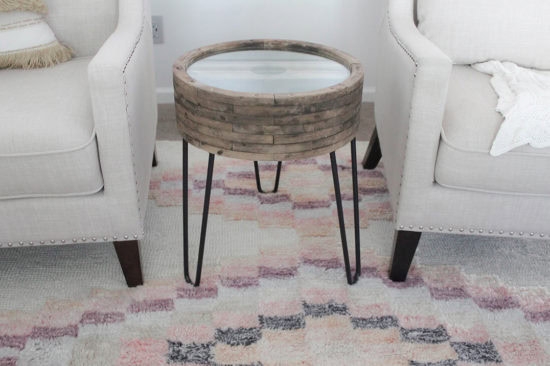 Flea market finds sometimes make for the best decor. I didn't buy much at flea markets this summer because I don't want my entire home to look like it was thrifted, but I did score this wheel that I used to make a small side table.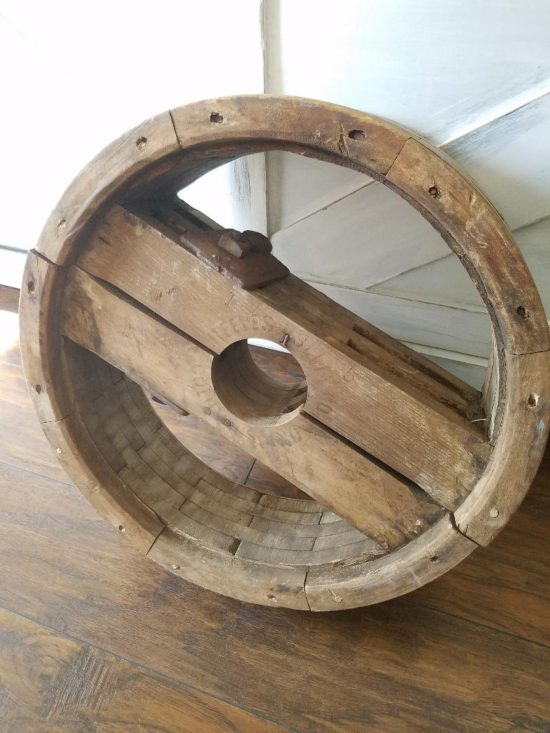 Isn't it cool? I'm not sure exactly what it's from, but the guy who sold it to me said he thinks it's a wheel from an old grist mill. Of course, that made me love it even more. My husband wanted to turn this into a light fixture. I LOVED that idea, but this wheel is pretty heavy and I thought that might be an issue when hanging. Plus, I needed a new small side table in my living room, so we went with that idea instead.
Although this was a DIY project, I didn't do any of it myself. What this entailed was out of my league. I first needed a glass piece cut for the top the table. I brought the wheel to a local glass & aluminium shop and had them cut it for me to perfectly fit this piece.
The wheel has that wood piece in the middle, and fortunately a little lip around the inside that was ideal for resting the glass on. They cut it so it fit snug in there, no adhesive of any kind required.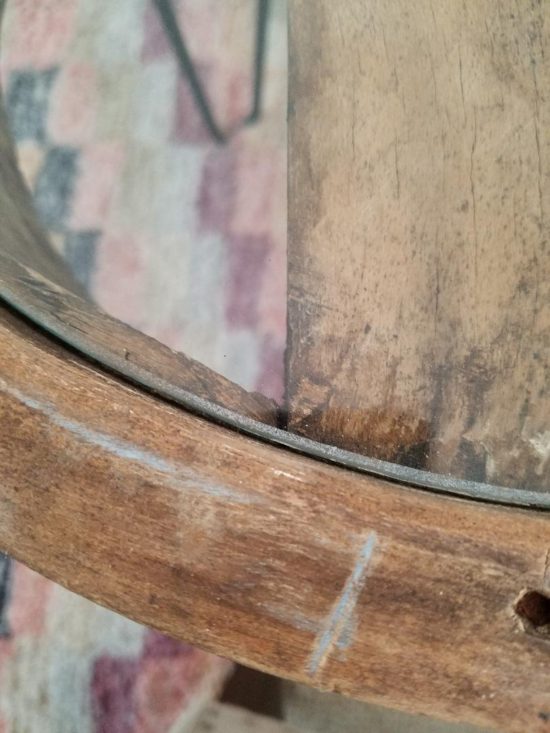 Next I needed legs, and I wanted to use hairpin legs. I got the idea for this table from my niece, so shout out to her! She is a DIYer after my own heart and really needs to start her own blog! So after shopping around Amazon for hairpin legs*, I realized that I was going to need something custom for this  wheel due to the thin wood around the edges. Most, if not all, hairpin legs come with a large, triangular baseplate that attaches to the piece. Because the edge of the wheel is thin, that type of baseplate would not work here.
So I hopped over to Etsy.com and found a shop called Vintage Steel and Wood that would custom make these for me. I sent the shop owner the dimensions along with a few pictures. Within a week, they custom legs were shipped to me. This is what they look like from underneath.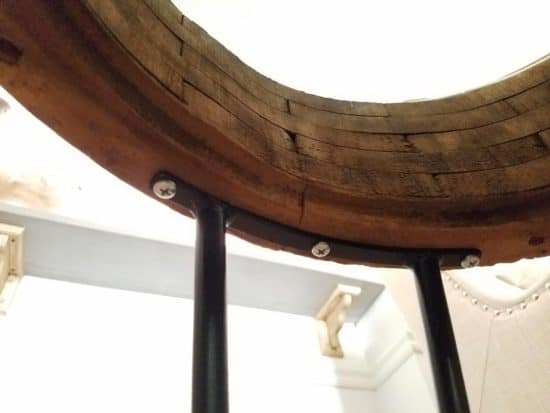 Here it is completed.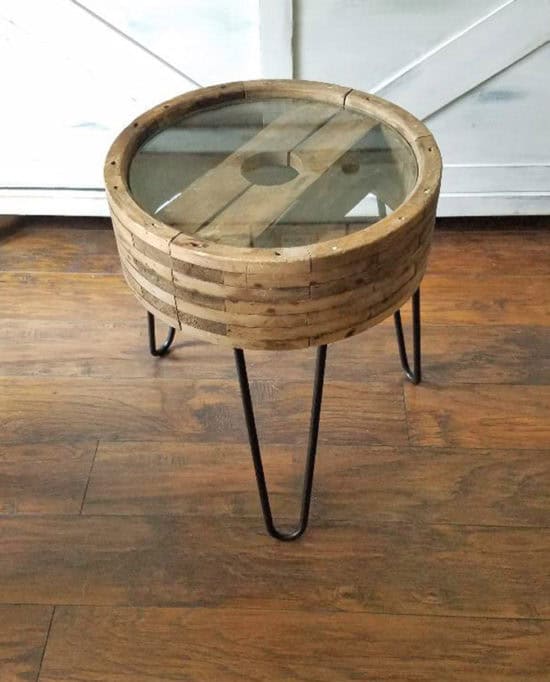 A closer look at the top.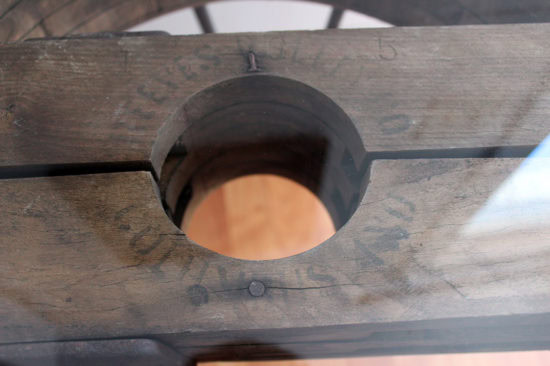 Hairpin legs are readily available in a variety of heights. I used the 16″  height for this, keeping in mind the height of the wheel itself was 6″,  making the overall height of the finished side table 22″. The small side table is a perfect fit in my living room.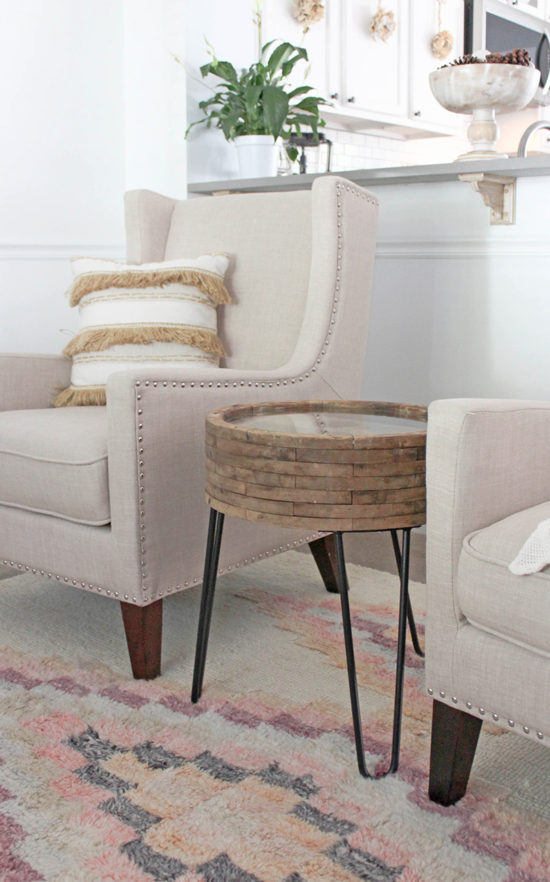 I love how the rustic wood contrasts with the fabric on these upholstered chairs next to it.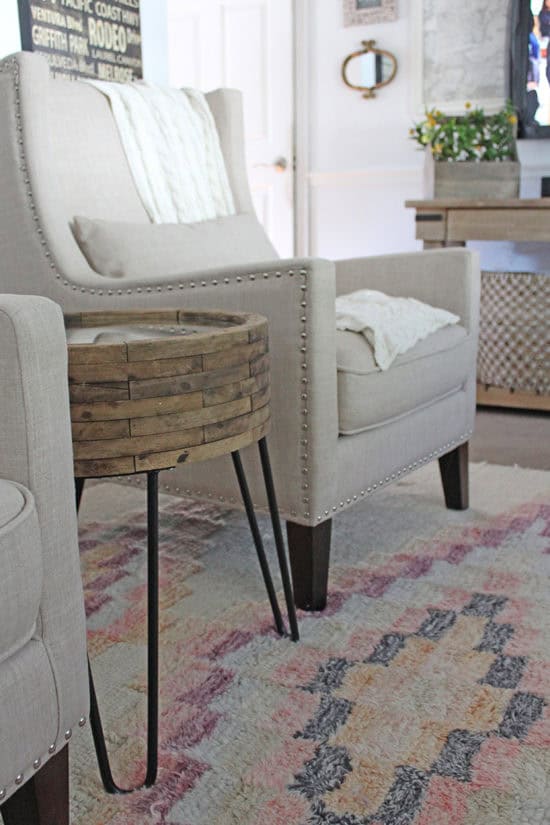 Not too bad for a flea market find! What do you think?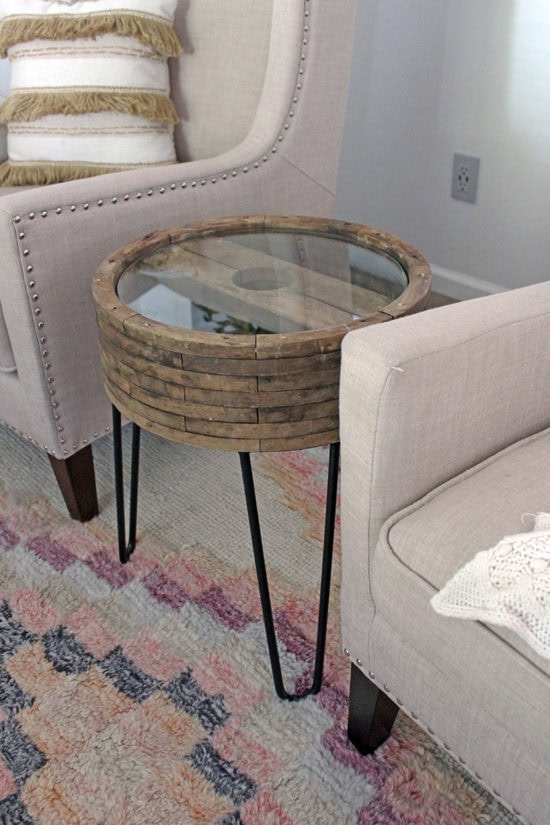 *This post contains affiliate links, read my full disclosure here.