New Year's Eve Table Setting Ideas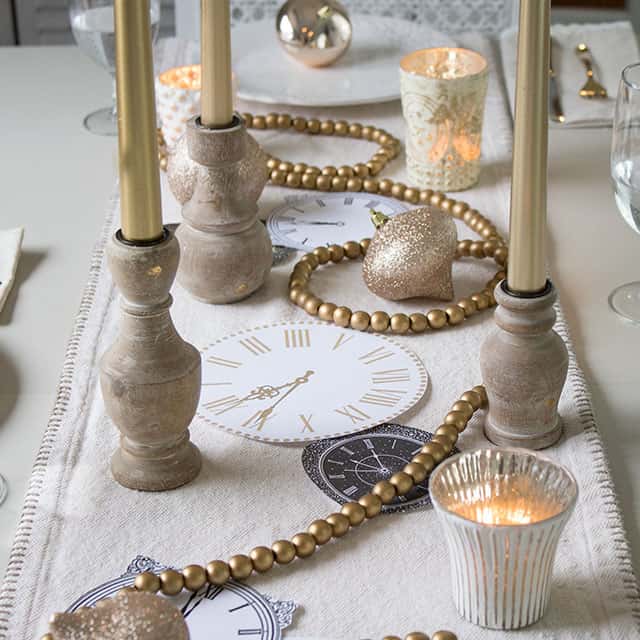 New Year's Eve for us is usually an afterthought once the Christmas rush is over. New Year's Eve isn't my favorite holiday,  I feel like it's a lot of pressure to find something amazing to do when I'm really happiest just staying home where it's warm and comfortable. However, I do like to acknowledge it, reflect back at the year and make things festive to bring in the New Year. I put together this New Year's Eve tablescape to see if I had enough things around the house to pull one off.
First I found some clocks online and printed those out. If I would've seen any New Year's Eve paper plates with clocks on them (like these*) while I was out shopping, I would've bought those to use instead.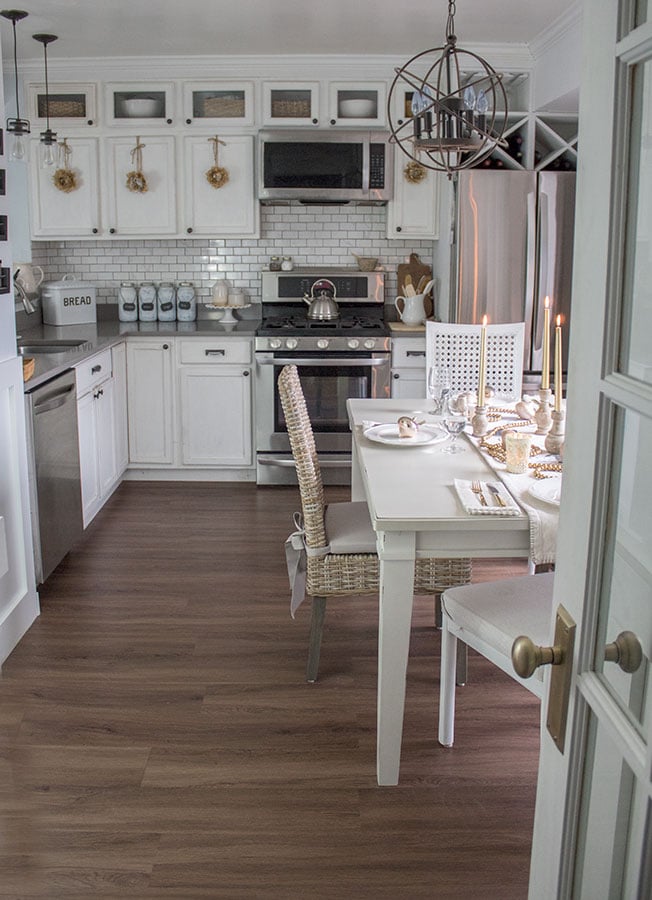 Remember the post I shared called Gold Home Decor a few weeks back? I really loved the gold beads that I told you about, so I ordered them for my Christmas tree this year. They also happen to be perfect for this New Year's Eve table setting. I'm not planning to pack those beads away with my Christmas decorations, I'm sure I can find ways to use those all year.
Though these tealight candle holders look vintage, they're actually new. I mixed those with my wooden taper candle holders. Adding a few glittery ornaments brings in some bling. I'm not big on bling either, but it's practically required on New Year's Eve.
You may have noticed that my old kitchen table set has been replaced. I really wanted a more cottagey feel in here so I went with this solid white table and casual sisal chairs. The old blue chairs were fun for a while, but when one of them broke I decided to go more neutral.
A few candles, a handful of ornaments and a pop of bling are all you really need. Just add champagne and noisemakers!
If you are planning a New Year's Eve party, you can find many more ideas over on my Amazon board. I'll be taking the next week or so off from blogging to celebrate Christmas. I want to wish you all a very Merry Christmas and Happy New Year. Thanks for following along with my little DIY journey, it's appreciated more than you know. I'm always looking to improve around here so if there is anything you'd like to see more or less of, please let me know in the comments!
See something you like? Shop the look below!

*This post may contain affiliate links, you can read my full disclosure here.