How to Fake A Chandelier & A Giveaway
Welcome to the September monthly Home Depot Challenge, we have a giveaway to go along with our projects this month! You can enter to win a $75 gift card to Home Depot! You may have noticed we skipped our challenge in the month of August. With vacations and everyone trying to enjoy summer, we had to postpone it for a month. Our chosen item for this month is a hose repair clamp! It was chosen by Cat from The Rustic Willow.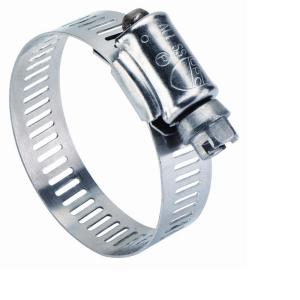 If you are new to our DIY challenge, the way it works is:  each month one person in our group picks an item from Home Depot and we have to make something out of it. Usually it is a gift for an intended recipient, but this month it was for ourselves.
I came up with my idea for the hose clamp while watching Open House NYC one day. They showed a closet with a waterfall style crystal chandelier. As soon as I saw it, I thought about DIYing one (yes, I am obsessed with lighting fixtures) for my closet. My old light looked like this:
It had to go. Because my husband really couldn't understand the need for a chandelier in a closet I was on my own with this. So I came up with a way to fake a chandelier in there. I removed the old light cover so there was just a light bulb left in the ceiling.
When I first bought my clamp, I wasn't sure exactly what I was going to make with it and I ended up buying one that only had the holes cut out half way around. For my light cover, I needed them to go all the way around. So my husband agreed to drill holes going all the way around for me, using a very small sized drill bit.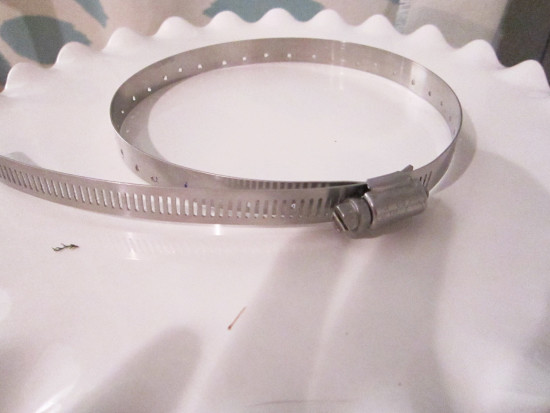 We made each hole about a half-inch apart. The holes were not measured out from top to bottom, we just eye balled it. Not having them exact was OK with the plan I had in mind. These steps are not necessary if you just buy the clamp with the punch outs that go all the way around.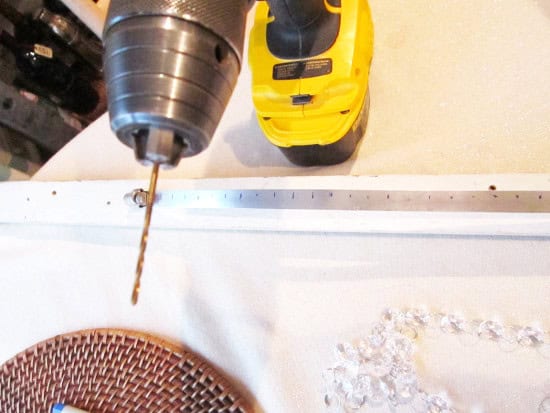 I ordered the crystals online after I couldn't find what I had in mind at my local craft stores. To make this yourself you will need:  (affiliate links)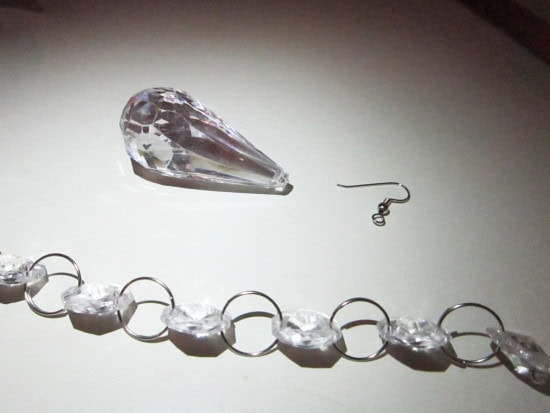 Disregard the earring hook shown in the photo, I did not use that in this project. To assemble my light cover, I attached a strand of crystals to each of the openings in the clamp, using the O rings that came on the strands. I staggered the length of each strand from shortest to longest. At the end of each strand I attached a teardrop style crystal for added interest. My ceilings are 8″ in height and my husband is 6'4″, so I had to be careful not to have it hang so low that he would hit his head on it. The longest strand measures 11.5″.
To attach it to the ceiling was a little more challenging. I ended up simply using ceiling hooks. I traced the outline of the clamp lightly with a pencil around the light bulb on the ceiling. The I hung 2 ceiling hooks, 1 on opposite sides of the bulb for the clamp to rest on. I really would've preferred it more flush to the ceiling, but when you're looking up at it you really can't tell.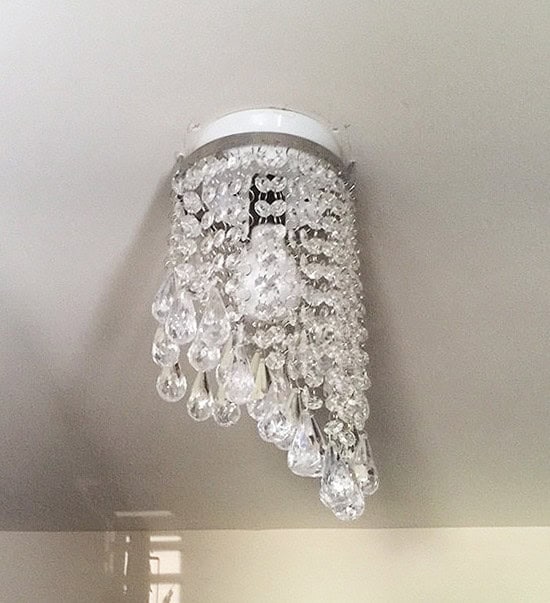 Another option would have been to just tighten the clamp around the light bulb collar, but it would've made my faux chandelier smaller in diameter and I didn't want that.
Because there isn't any natural light in the closet, these pictures really do not do it justice – it looks much better in person!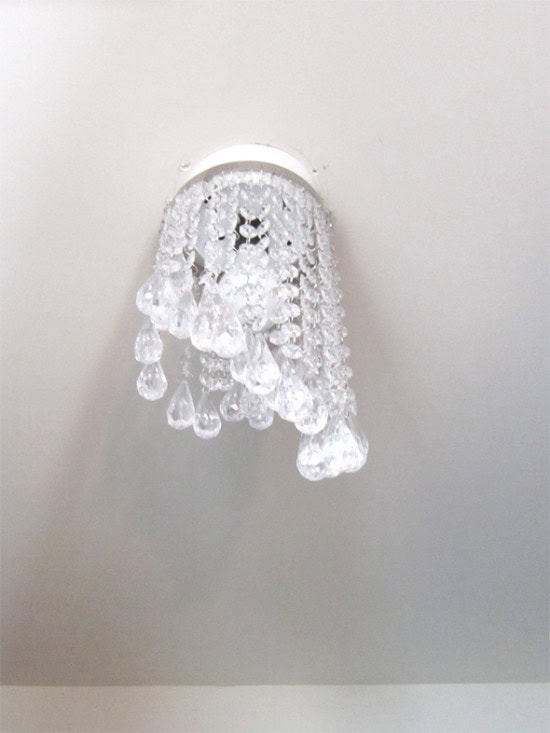 It may not be 100% perfect, but it's definitely a step up from the big bulb light. So if you have a light bulb in your ceiling, and no electrician to wire you a new lighting fixture, this is an easy way to fake a chandelier!
As I mentioned, we are also having a giveaway this month, enter below to win a $75 gift card to the Home Depot!
Be sure to check out what my friends have created with their clamps, they never disappoint!
Linking up with:  Between Naps on the Porch.