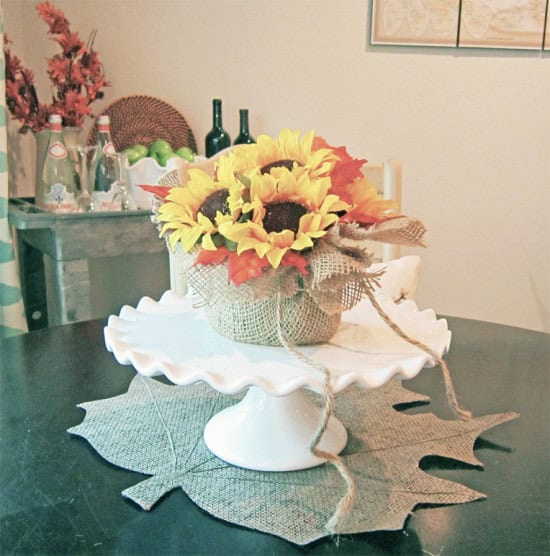 Although I really hate to see summer end,  now that Labor Day has officially passed I'm trying to embrace fall. Fall decorating is the best, the possibilities are endless. My daughter and I made a quick and easy fall centerpiece over the weekend to help get us in the fall spirit.
I picked up some floral foam, one disk-shaped and the other with a domed top,  1 bunch of faux sunflowers and 1 bunch of colorful leaves. I already had the burlap, so I didn't need to buy that. I've included a list of supplies needed for this project and the end.
Supplies you will need for this project: (contains affiliate links)
Floral Foam: 1 domed and 1 disc Shaped
1 Bunch of Faux Sunflowers
1 Bunch of Faux Autumn Leaves
Twine or string
We placed the foam centered on the burlap, with the rounded foam piece on top of the disc shaped one. I did  not measure out the burlap, I just eyed it. We separated all the sunflowers from the bunch and started by placing one in the top center of the dome. From there, we placed the rest of the sunflowers in a ring around the top centered one.
Once we had all the sunflowers placed, we used a toothpick to poke holes where we wanted to fill it in with leaves.
We continued filling in with leaves all around until it was abundantly  full.
Next, we gathered up the burlap at the top of the foam, and tied a piece of twine around it to hold it in place. After that, I trimmed some of the burlap off around the edges where it was a little too long.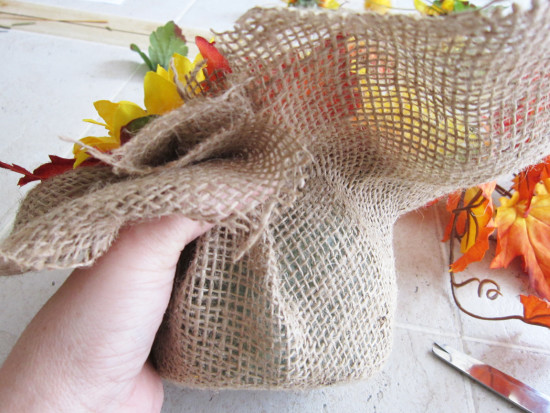 This was a super quick and easy DIY centerpiece (or decoration). Having the fall colors around is definitely helping me to embrace fall and let the summer go.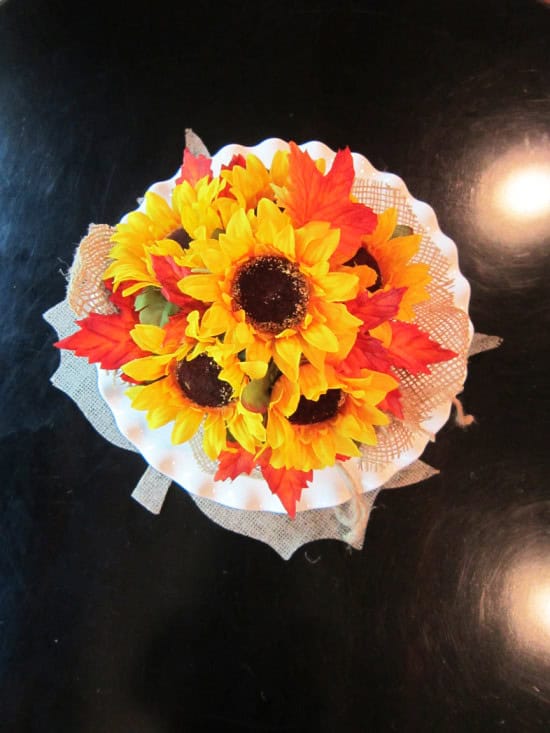 Have you started your fall decorating yet?