If you want to make a big impact in your space without spending a fortune, a feature wall may be the way to go. Feature  walls are also a good way to create a focal point or to add some interest to a plain room.
Removable
Sarah wanted her wall to feature grass cloth wallpaper and nailhead trim. Since she is living in a rental, she made the wall out of plywood for easy removal when it comes time to move. It came out amazing, don't you think?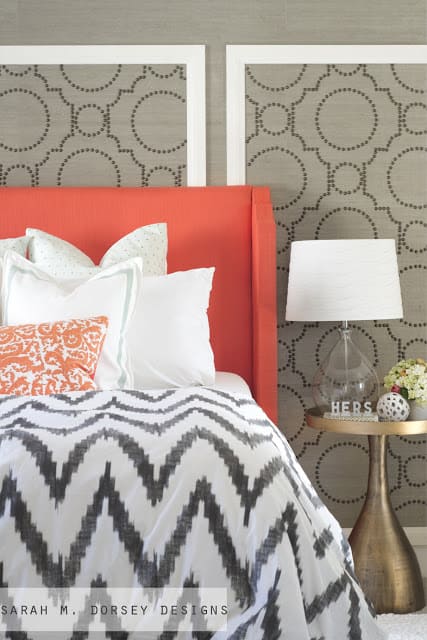 Painted
Jacquelyn took advantage of a bump out in the wall by painting bold stripes to create the feature wall. This also helps define her office space in the open layout floor plan.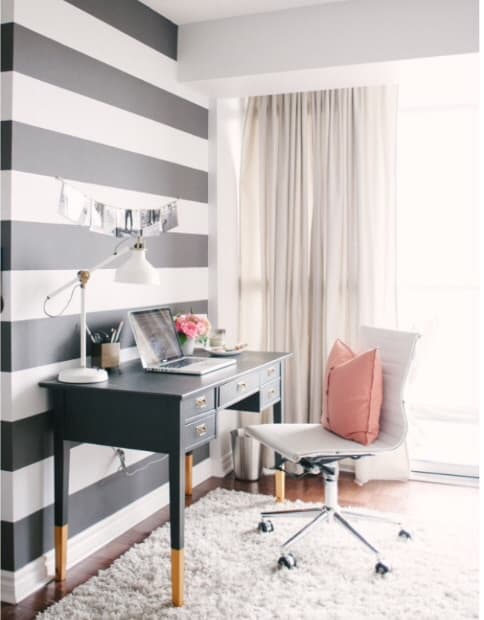 Wallpaper
Nessalee Baby is a baby boutique located right here in NJ. Vanessa designed this adorable playroom using a somewhat monochromatic scheme. Her thinking is that because childrens toys are all so colorful,  she would keep the background neutral. Great idea. Wallpaper is also sold in removable form now, which is easier to install yourself and much easier to remove.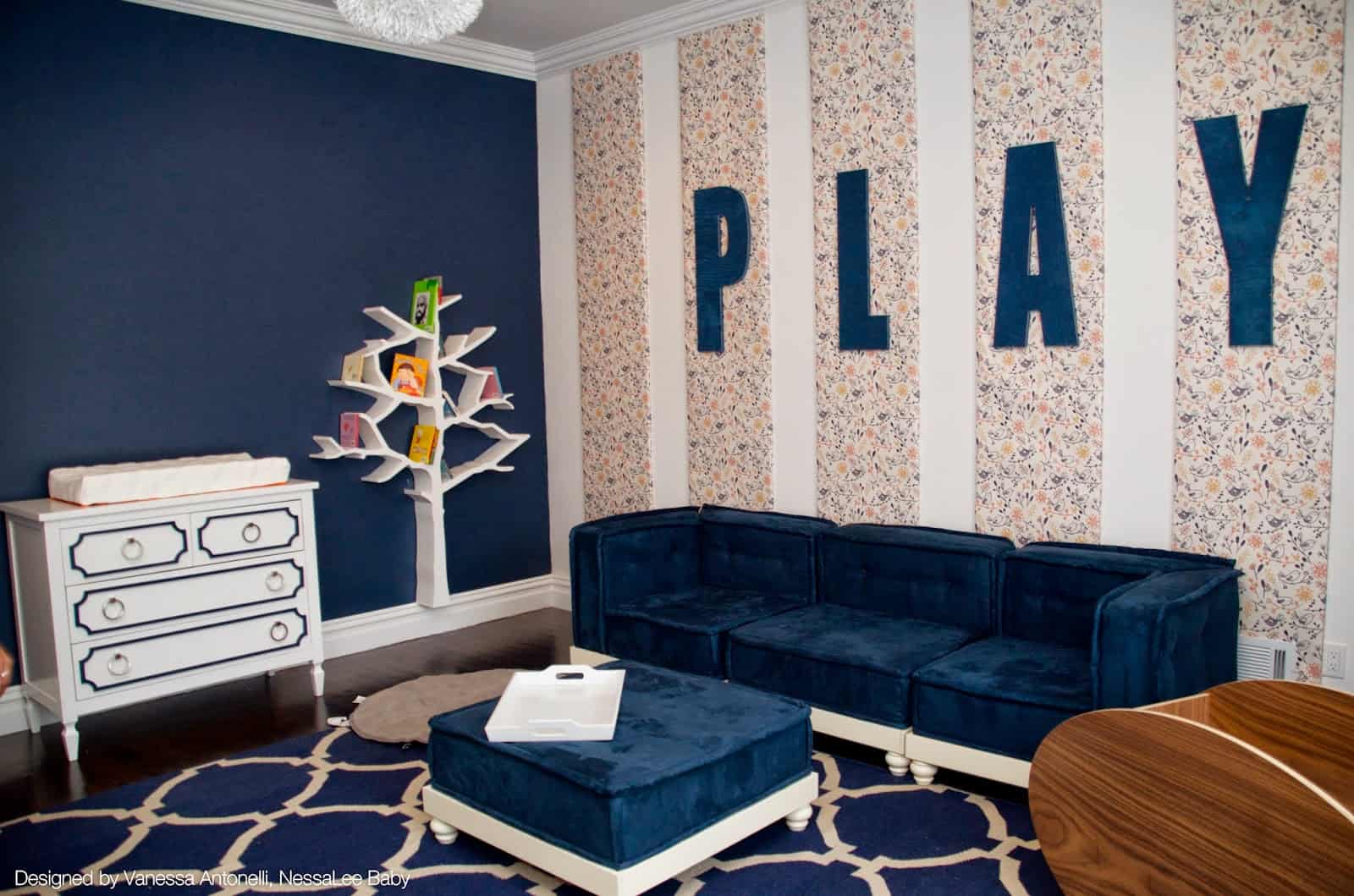 Paneling
Build up a plain wall with some paneling. You can acheive this look yourself by adding simple 2 X 4s to a boring wall.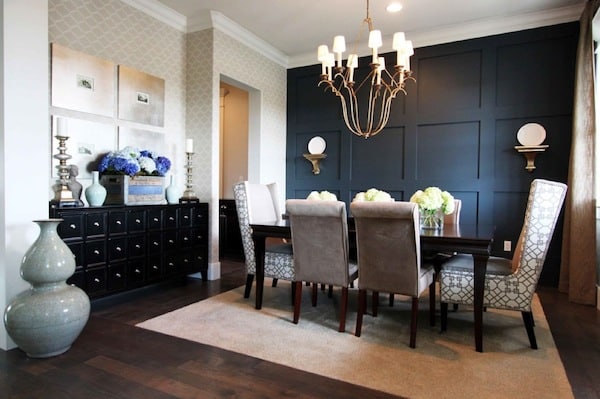 Molding
Here is a combination off wallpaper topped off with picture frame molding.
Removable Decals
Removable decals are such an easy way to create a big impact simply. This is a great idea for renters, or dorm rooms. Also great for kids rooms because they're simple to remove when your child outgrows it.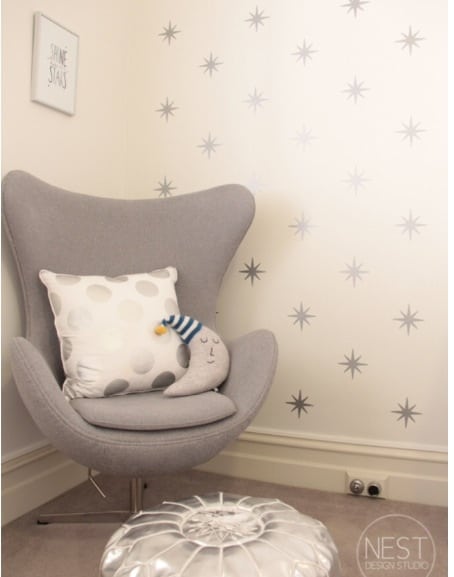 Brick
I love exposed brick walls, especailly when painted white. If you're not fortunate enough to have one, you can create one with wallpaper or panels. Lowes sells these types of panels, see them here.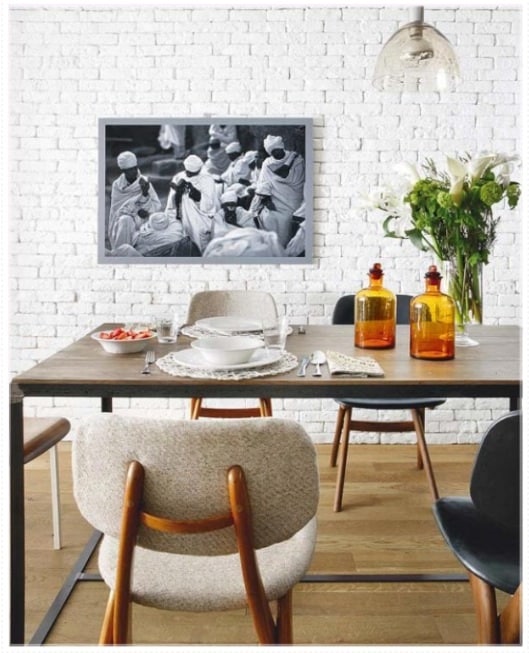 Painted Planks
This trend is so popular recently. Stack them vertically or horizontally and use any colors you love. I like that some of them are distressed in this next photo.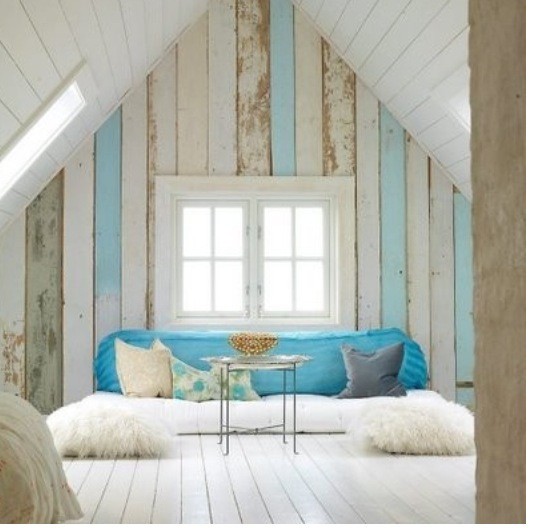 Stencils
Gabby from The Vault Files, stenciled this amazing wall herself, using a stencil that she made herself!
Mirrors
There's a lot to love in this next picture, but I think the dog in the white chair steals the show. He even matches the room.
Which feature wall is your favorite?