Easy Candle Making For Beginners
Why would you want to make your own candles you ask? There are several reasons why candle making is better than buying new. Such as:
It cost less to make your own
You choose the scent
Easily control how much or how little scent you want
You can get creative with the jar/vessel that you use for the candle
It's fun and easy
They make great gifts
Candle Making Supplies Needed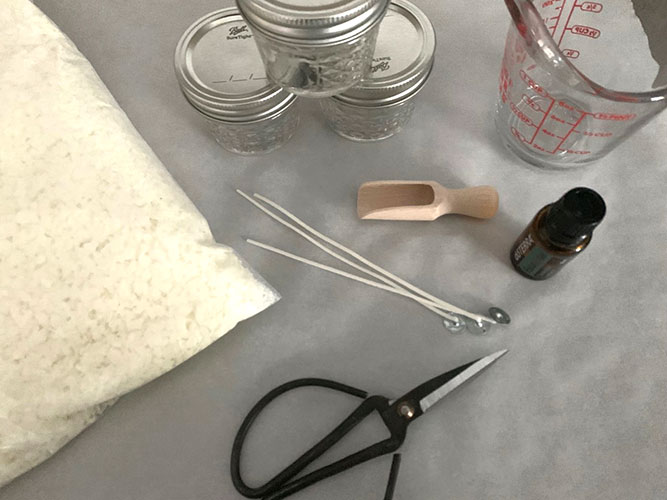 Jar or Vessel (I used these quilted glass jars)
Scissors
Spoon or scoop
Measuring Cup
Essential Oils of choice (I used eucalyptus)
For my candles, I chose eucalyptus oil because it's one of my favorite scents of all my oils so far. The first benefit listed under eucalyptus essential oils is that it's used to clean surfaces as well as the air, making it a perfect choice for candle making. It's also used to promote feelings of relaxation and clear breathing.
Candle making set up
First, you will determine how much of the wax you will need for your container. A good ratio is to figure out of much the container will hold and double it. For my 4 ounce jars, it took 1 cup of soy wax.
I laid parchment paper across my counters before beginning so clean up would be easy.
melting the candle wax
Melt the wax over low heat, stirring often. When the wax is about half to three quarters melted, add the essential oils and continue stirring. I used about 4-5 drops per jar. (I have an old saucepan that I kept specifically for candle making.)
Also, while the wax is melting, I dipped the bottom of my candlewick into it and placed it centered in my jar. You will need something to hold the wick straight up. I've seen most people use chopsticks but I didn't have any, so I used rubber straws and plastic utensils to hold mine up.
pouring the candles
Once the wax is completely clear, carefully pour it into the jar. I removed the straws and held the wick up with one hand while pouring the wax in with the other. Then promptly put the straws back to keep the wick straight.
It's as simple as that! Allow the candle to sit until the wax turns solid. You can see it will start turning white from the bottom up.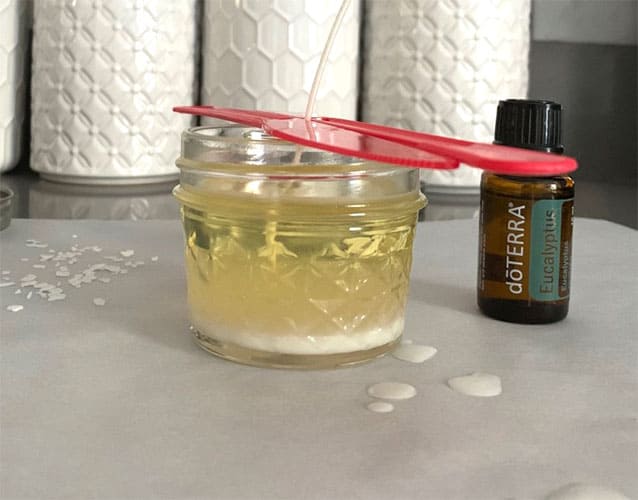 To dress mine up I added a sprig of boxwood that I attached with string. I would've preferred to use a sprig of eucalyptus but I couldn't find any.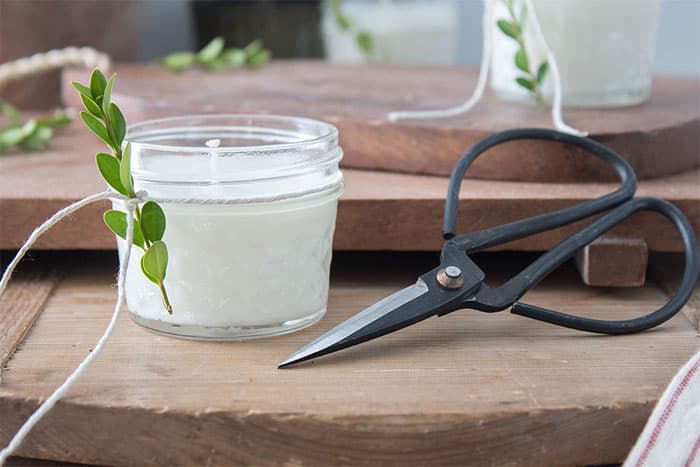 creative candle ideas
You can get as creative with dressing up the jar as you do with the scents. For Christmas, you could make peppermint candles and tie a cinnamon stick to the jar.
These would make great gift ideas as well. Especially if you have a long list of co-workers, teachers, bus drivers, neighbors, or even hostess gifts. You could even roll up and tie a lottery ticket onto the jar in place of greenery. Place the candle in a cute little gift bag, add an ornament to the bag and you have a great presentation at a small price.
I wouldn't rule this out as a gift idea for men either. You can use a more masculine scent like cedarwood (one of my favorites) or sandalwood.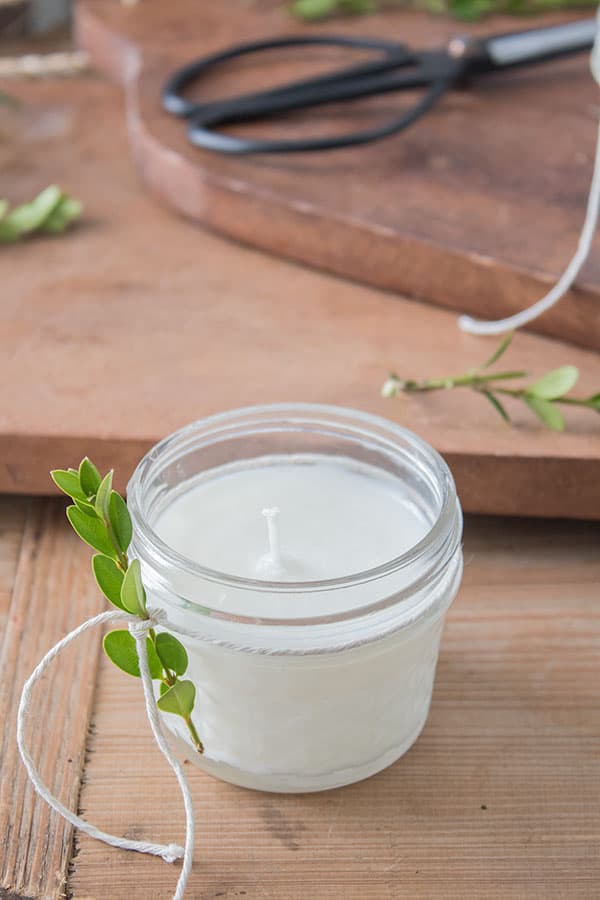 Another thing to note is that if you'd like to add color to your candles, you can do so by adding a crayon in with the wax when melting.
There really is no limit on the creative things you can create with these simple candle making basics! For example, I've since made my own floating candles with citronella as well as candles with flowers pressed in. It's really fun to experiment.
Because there are so many different essential oils that are good for so many different health and beauty concerns it can be hard to keep track! To make it easy, we put together this quick reference guide on essential oils to help you see at a glance the benefits of each!
Please Pin: