My youngest daughter is spending her senior year in college living in an off-campus apartment with 3 other girls. Having been through this with my oldest daughter, I know a dorm room can be pretty uninspiring.
That was definitely the case with my daughter's bedroom in this house which was rather bland. So I planned a fun little "day-kover" for the room. Meaning, a makeover I could do in one day.
Even though I did the makeover in a day, obviously lots of planning was done prior to the day of the makeover. Here is what we were starting with. Blank canvas.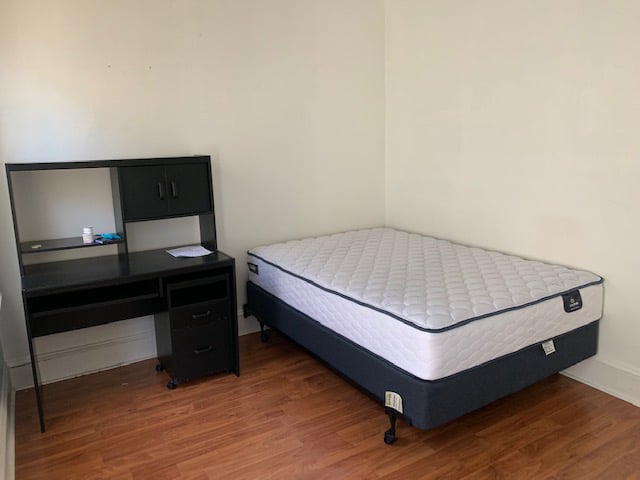 The desk was already in the room and we bought her a new bed. Before I break down what I did in here, I'll go straight to the after photo because I really didn't take any in-progress pics as I went. Unless you count the photos of the cats that live in the house, in that case I have many. 🙂
I wanted to make the bed area really stand out, but I had no intentions of buying a headboard.
A gallery wall was considered, but I wasn't really feeling that. I wanted to soften up the starkness of the room. My daughter was interested in a tapestry, but I thought that was a bit cliche.
I suggested we try a canopy using curtains to soften things up and she was agreeable to that. It was simple enough to do. I bought two very inexpensive tension rods from Walmart and a four pack of curtain panels (84″ L) from Home Goods. The tension rods came with hooks that worked perfectly for attaching these to the wall. You could easily do this with jumbo command hooks if making holes in the wall isn't an option. I put two in the wall a few inches down from the ceiling.
I hung two of the curtain panels on the first tension rod and hung that on the wall. For the upper canopy, I used two ceiling hooks (command also makes ceiling hooks).  I put the next two curtain panels on the second tension rod and hung the rod on the ceiling hooks. The biggest problem with this part was reaching the ceiling, I didn't realize these were 9 ft ceilings until this part.
Once I had the second rod hung from the ceiling, I tucked those panels behind the rod attached to the wall, leaving enough out to create the draped canopy effect.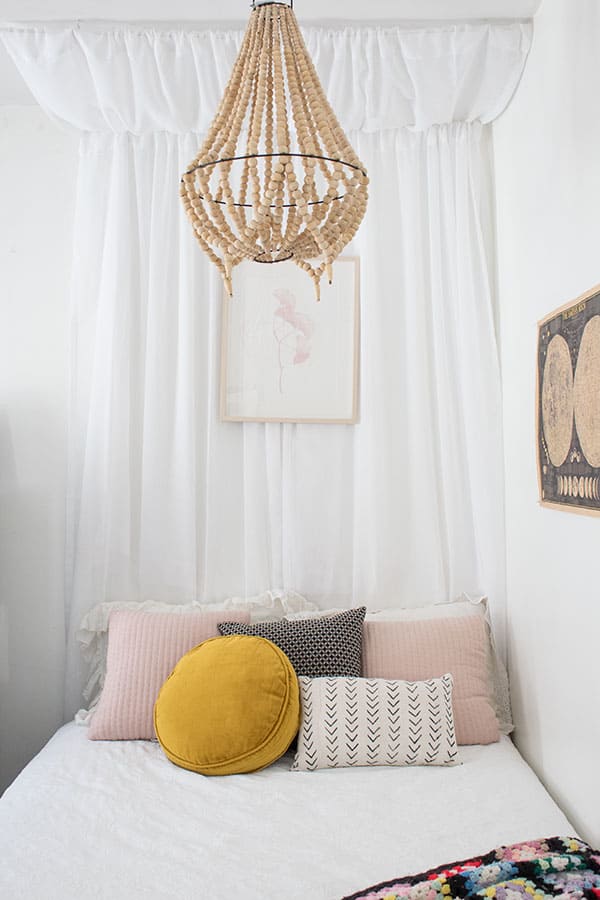 For further interest I added a picture to the wall, tucking the curtains behind it. I had that picture leftover from the set of neutral wall prints I added over the sofa in my family room. I accidentally ordered one in pink, so that worked out for this room.
The chandelier isn't really a chandelier. It's a decorative piece I found at Home Goods, it's not actually wired. If we decide to reuse that later elsewhere it'll be easy enough to drop a light in there.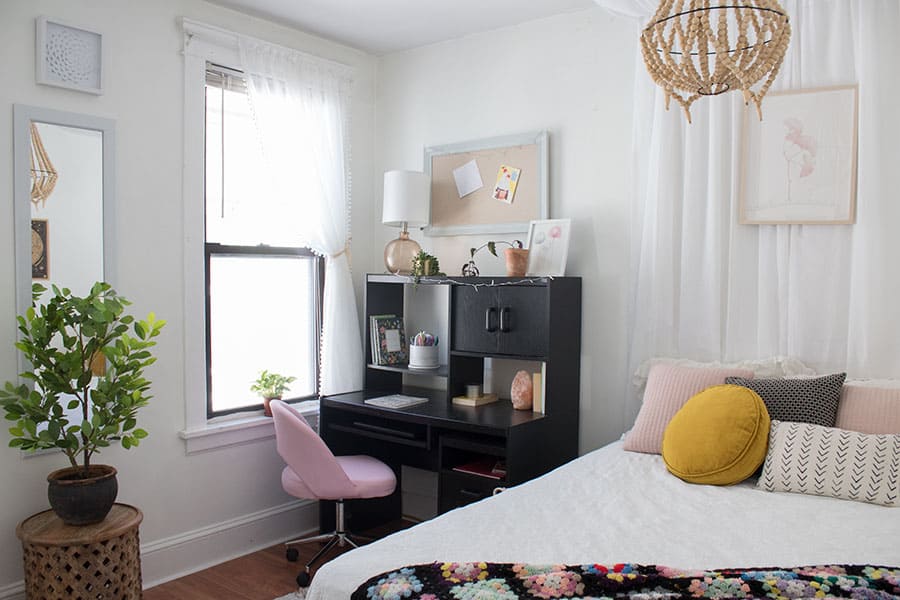 I showed you last week how we organized the desk area so I won't repeat that. Every room needs greenery, but we went very minimal on real plants because 3 cats live in this house. They like to snack on plants.
Instead, I got this artificial Ficus tree and I can't tell you how much both my daughter and I love it.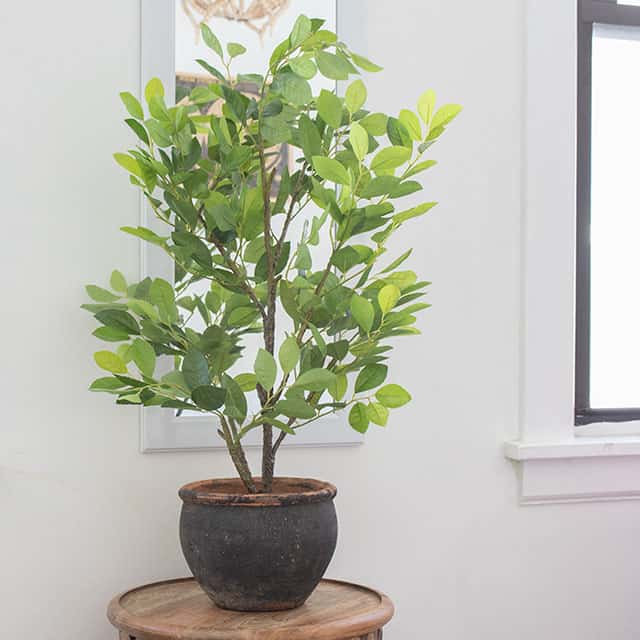 I already had the pot, I bought it at a flea market last weekend. It just so happened the ficus looked perfect in it.
I added sheer white curtains to the windows with a cute pom-pom trim. I tied them back with ribbon I had saved from a throw blanket I bought. Anyone else save those? They're always too pretty to throw away.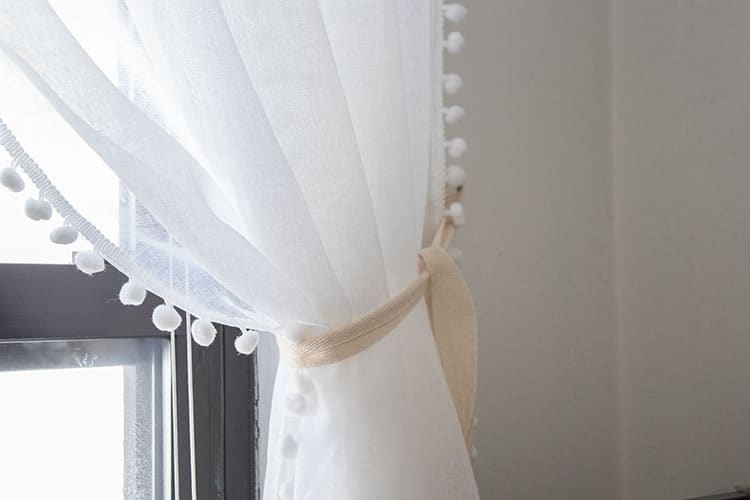 We did an assorted mix of pillows on the bed to keep it from being too matchy-matchy and because most of them we already had.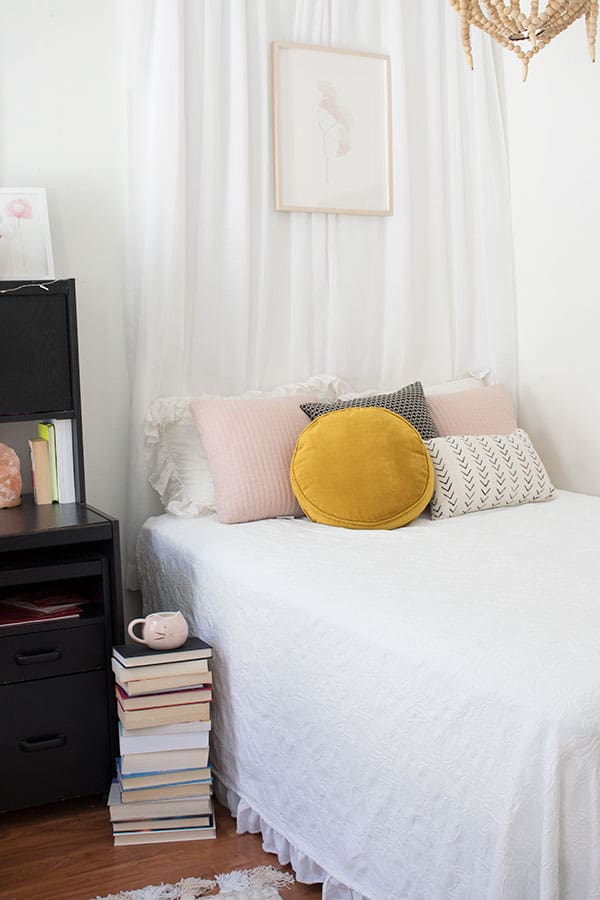 The stacked books serve as an extra surface for drinks.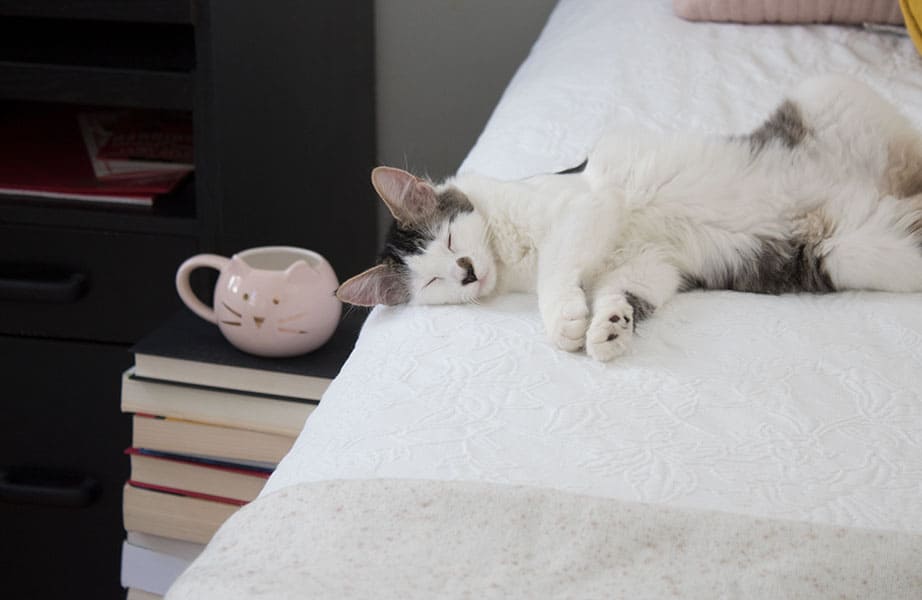 We also added this faux string of pearl hanging plant. I love this type of succulent plant but I have a hard time keeping the real ones alive. Faux plants are also a good choice for this room considering that with my daughter's schedule she won't really have time to worry about keeping plants alive.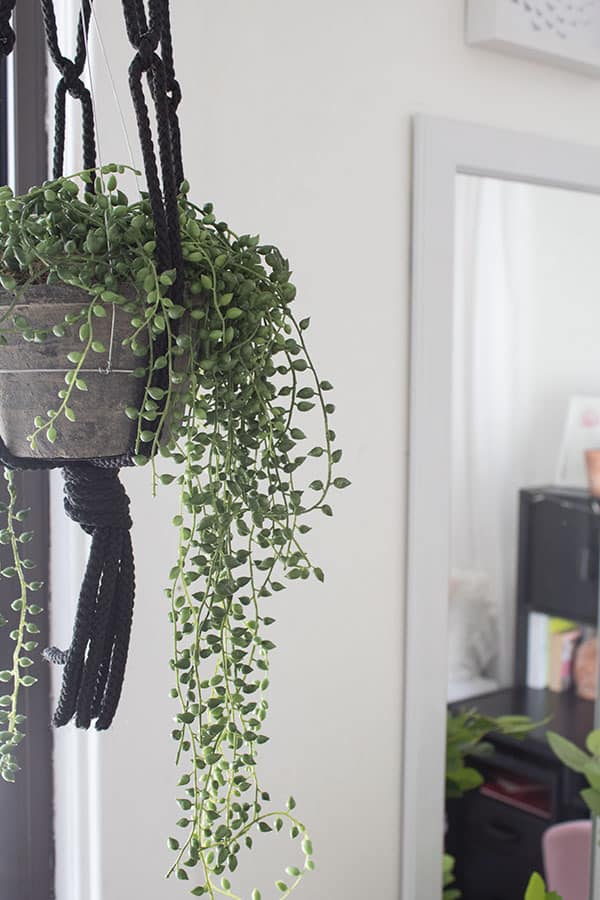 I think Zelda and Sklyer approve. 🙂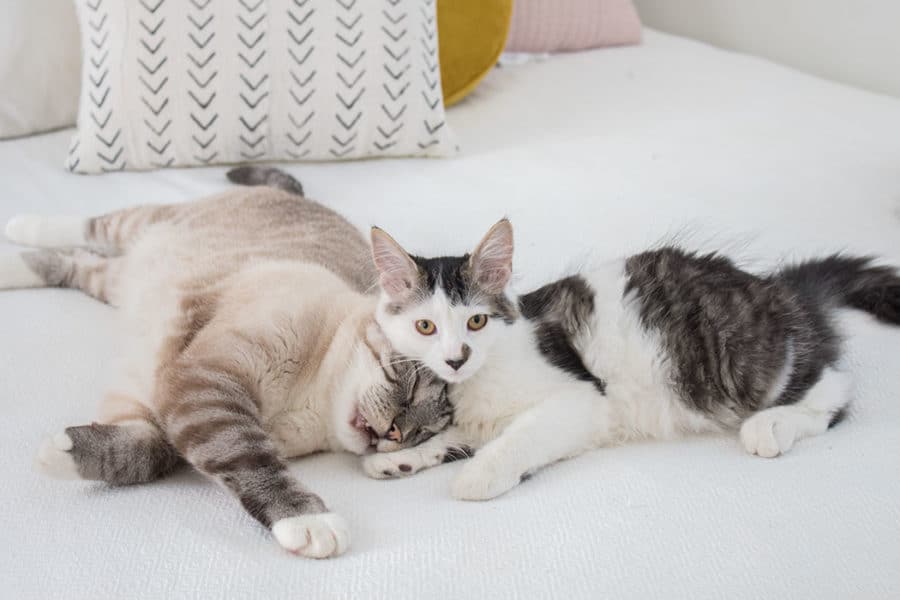 Overall, I think this dorm room came out pretty good for a "day-kover". My only regret is that I didn't order two of the artificial ficus trees because I really wanted to keep that for my house!
Shop The Look:

Please Pin: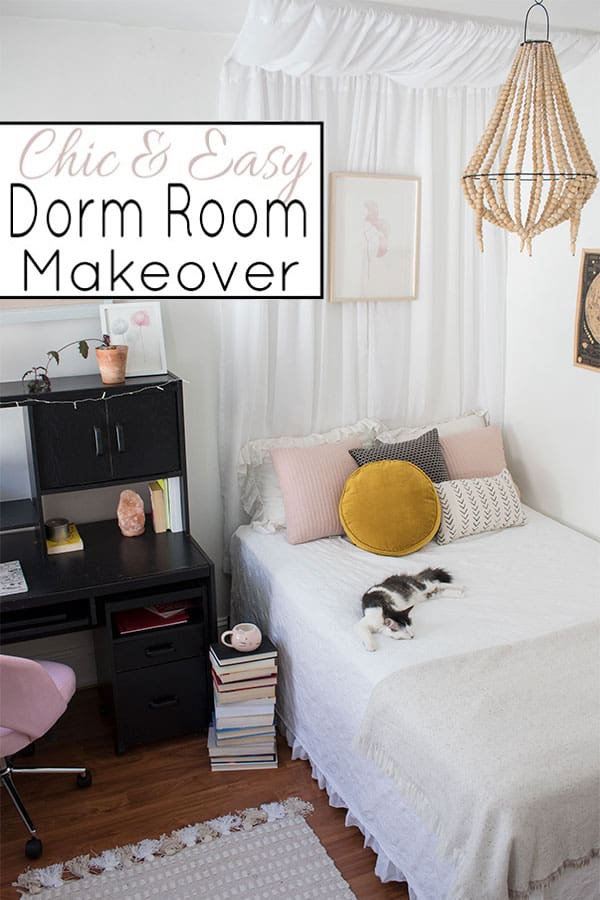 *This dorm room post was in partnership with Nearly Natural and may contain affiliate links, all opinions are 100% my own. You can read my full disclosure here.