DIY Candle Wraps for Fall
It's a good day today! For DIYers, that is. I'm collaborating with some of my favorite blogging friends again to share our fall DIY project ideas! You can buy your fall decor from the store, but there is something so satisfying about coming up with an idea and creating it yourself. Considering this is seasonal decor, I wanted to keep it simple. I needed something to display on my mantel and I had candles that were just the right size, so I decided to make candle wraps to dress them up for fall. I recently got a Wagner Furnu 500* heat gun that I've been itching to try out, so this was the perfect project to break it in!
What You Will Need to Make DIY Candle Wraps*: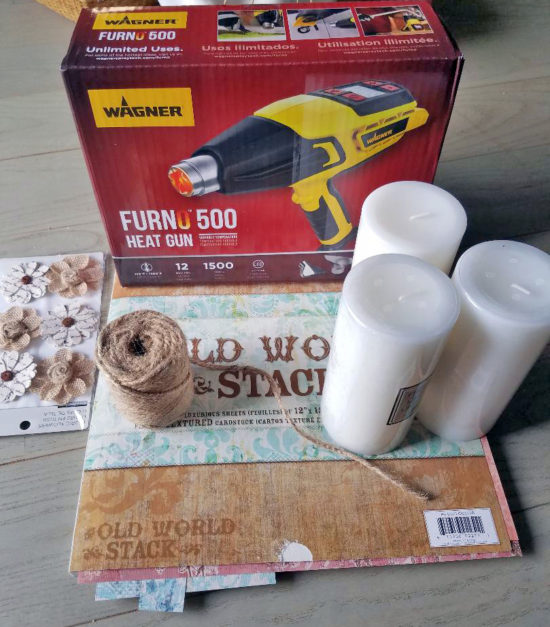 Burlap Flowers for Embellishment (similar)
You probably already have twine and candles somewhere around the house. I picked up this book of scrapbooking paper on sale at a craft store,  but you can also buy it by the sheet for pennies. The first step is to pick which paper you want to use. I loved the pumpkin pattern on this paper and I thought it paired well with the blues on the other sheet. Once you choose a paper, cut it to the desired size for your candle. I made the pumpkin paper a bit larger so you could see the pattern.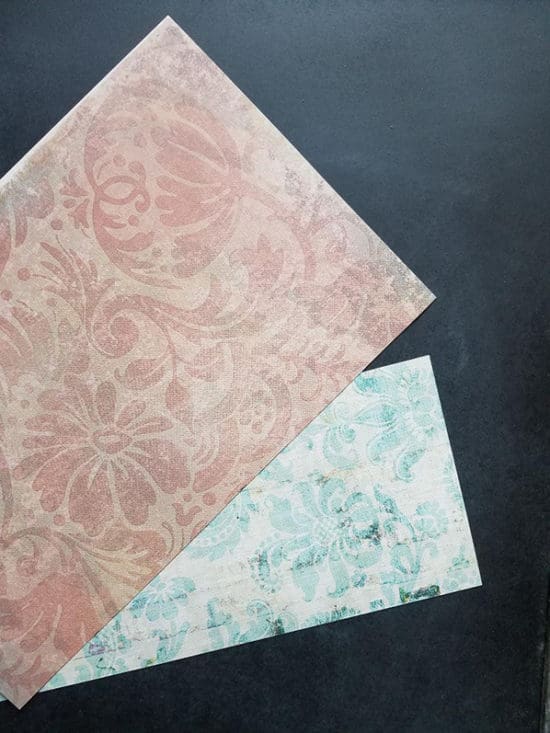 Next set up your heat gun. The heat gun is really easy to use. Just attach the power cord, plug it in and turn it on. There are several heat settings, I used the lowest one for the candles. When that is ready, aim it at the center of your candle (or where ever you plan on attaching your paper) to warm the candle. You want to see the candle start to sweat, but not drip.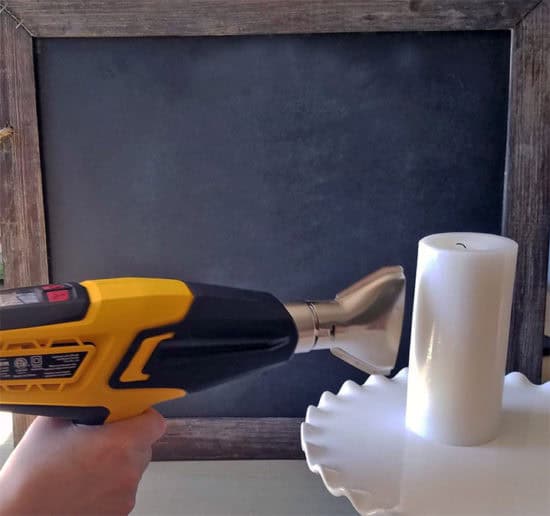 I found by doing it in sections it helped the paper to adhere better.
I also used a little kitchen tool to smooth the paper and help it to bond to the candle. What I used is actually a pan scraper (very useful) but you could also use a credit card for this step.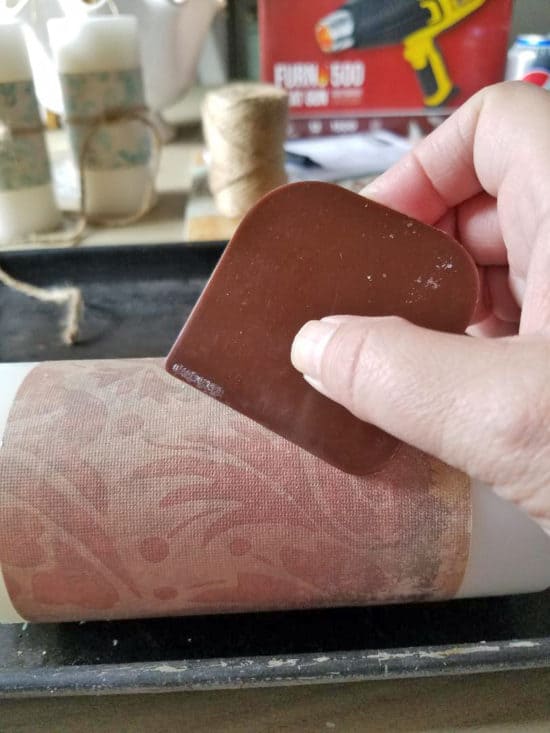 Once the paper was firmly attached, I embellished it with twine and these cute little burlap and book page flowers I found at the craft store. They have stickers on the back so they are super easy to apply, no hot glue needed.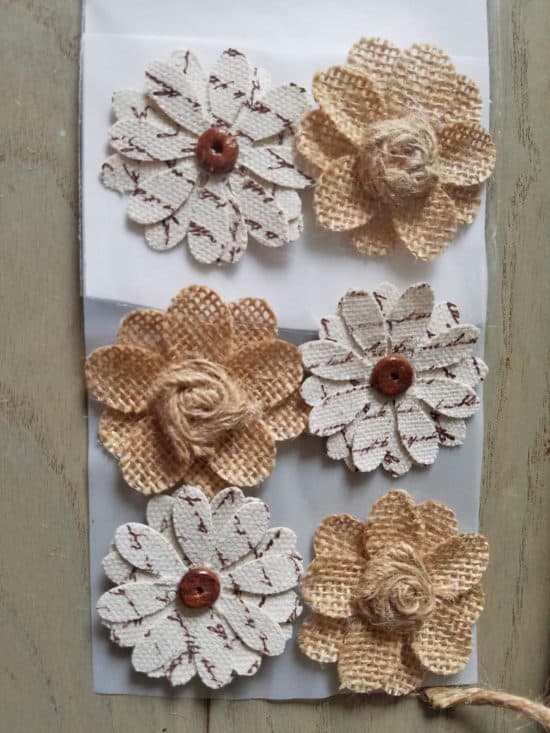 Here they are finished.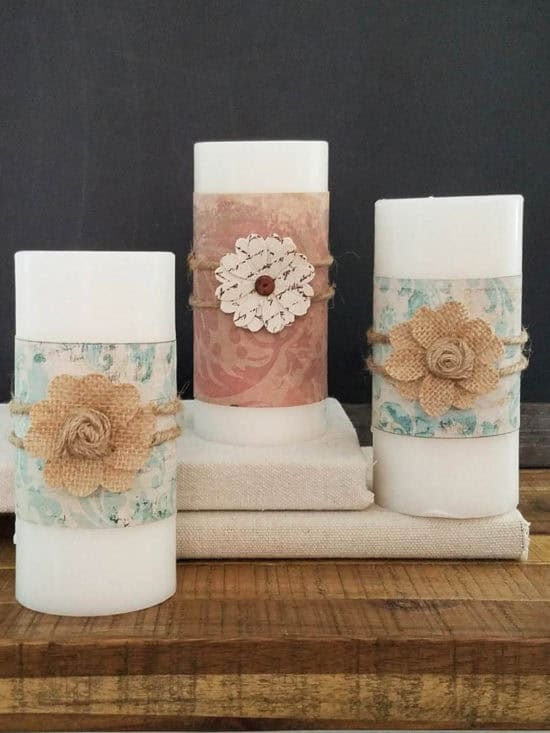 Now that the Wagner heat gun is broken in, I have some larger projects in mind for it.
This is how I used them to on my mantel for fall. You can see my full fall home decor tour here.
Want more inspiration? Click any of the links below to see what my friends made for their fall DIY projects!
Hunt & Host | Thistledown Domestic Creations | Christina's Adventures | The Honeycomb Home | Worthing Court | My Creative Days | Sincerely, Marie Designs | Wife In Progress | Seeking Lavender Lane | The Everyday Home
Love it? Pin it for later: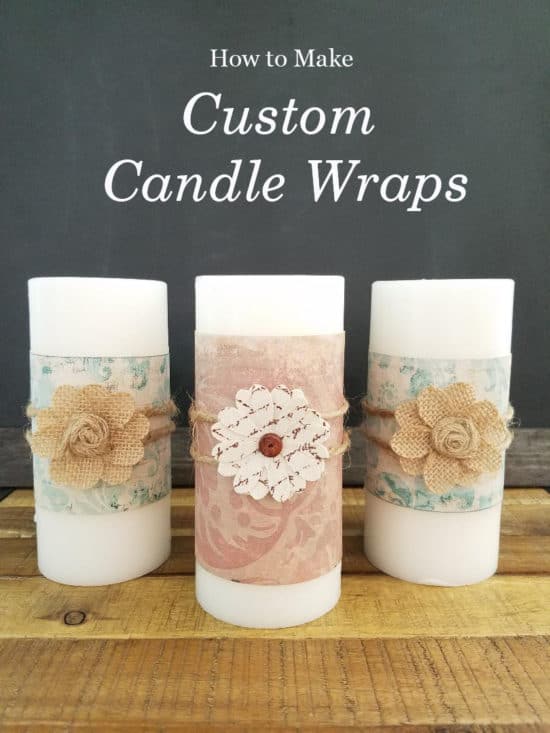 You can check out Wagner's full line of products here.
*Thank you to Wagner for sponsoring this post, all opinions are my own. This post may contain affiliate links, you can read my full disclosure here.