Fall Entertaining Must-Haves
This post is in partnership with Cost Plus World Market, a brand I love. All opinions here are my own.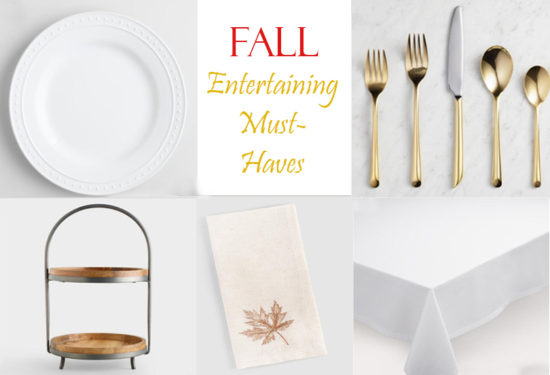 The start of fall officially kicks off the season of entertaining, wouldn't you say? As with everything, I like to keep the basics neutral so I can switch out the smaller, seasonal items. I've done the work for you today, and put together a list of fall entertaining must-haves. Swap out 2-3 of the seasonal items and the rest will be your base for entertaining all year.
First, I would start with these beautiful white dishes*. I love the textured trim on these. When going neutral it's always suggested to add in some texture.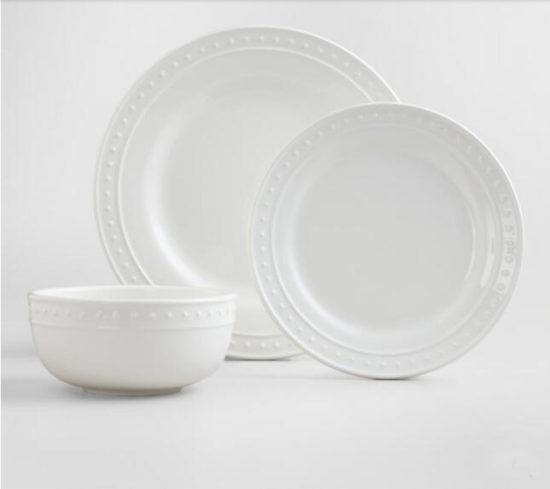 Metallics are a neutral that add a bit of color without limiting the rest of your color scheme. I love this gold flatware set.
A 2-tiered serving stand is a good investment. These are very versatile, keeping everything grouped into one place while also saving  space on the table. I love this one especially for its farmhouse style, I would fill this with seasonal items such as mini pumpkins for a cute centerpiece.
After you have your basic elements in place, it's time to add in some fun seasonal items. For fall, I am loving these simple yet beautiful embroidered maple leaf napkins.
For fun and interest, instead of traditional plate charges I would use these Japanese maple stems. They would add a nice pop of fall color under the white plates.
Another fun idea is to use a berry candle ring around your glassware rather than around a candle. You can use them around a stemless wine glass or under a pretty amber colored goblet. What I love about this one is that the colors could work for fall or for Christmas.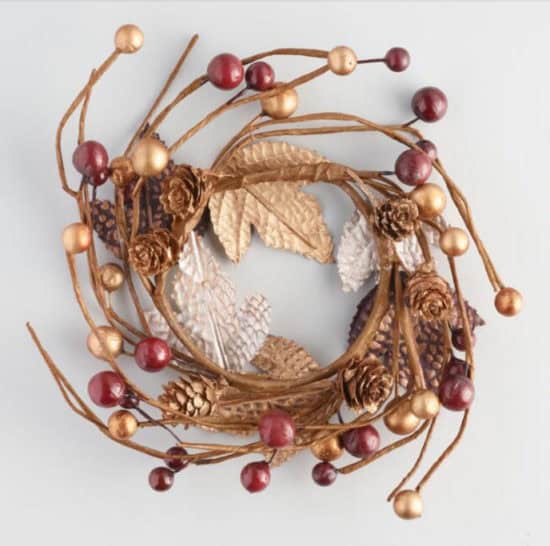 The metallic gold tapered candles, shown in my collage below, are really beautiful and can be used in so many places when not on your table. I picked up a few of these candles last year at my local store (in Shrewsbury, NJ) and used them on my Christmas mantel. They would also be perfect for Thanksgiving entertaining.
Find the links to each of these items below and keep reading for a fun giveaway!
wood and metal 2-tiered serving stand/maple leaf napkins/white tablecloth
Japanese maple stems/napkin rings/gold candle tapers
goblet/candleholders/berry ring
Love it all? Good news, now you have a chance to win it! Cost Plus World Market is partnering with Quickly and celebrating the season by giving away $4,500 worth of World Market gift cards. Quikly is a rewards-style site, but with a fun twist. They offer awesome gift cards, exclusive deals and coupons. All you have to do is opt in! The faster you opt-in, the more you can score! Sign up now  and share the campaign with friends and family. If they opt in, you will receive an early notification letting you know when the 67 gift cards and special offers will go up for grabs so you can be ready to act fast. This could be the perfect opportunity for a seasonal shopping spree! But not to worry – everyone will walk away with something! Sign up now before it's too late.
Thanks again to World Market for sponsoring this post, you can find a Cost PlusWorld Market store nearest to where you live here.
*This post contains affiliate links, you can read my full disclosure here.