Christmas DIY Book Covers and Free Printables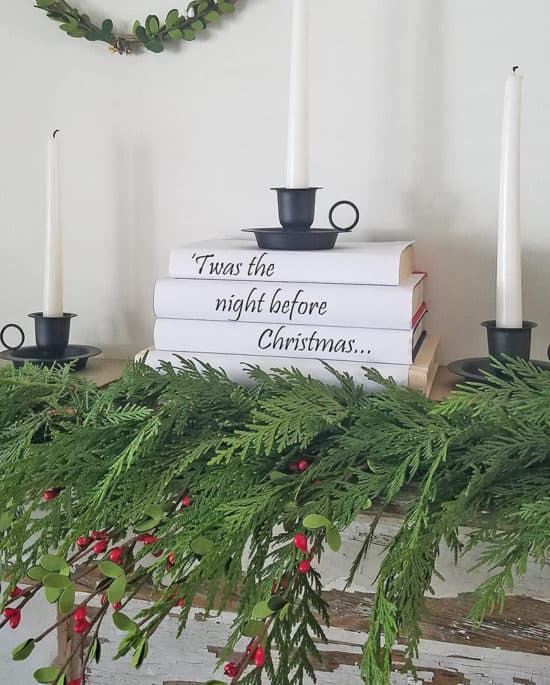 Are you ready for the easiest Christmas DIY project ever? Sometimes the simplest ideas are my favorite, as is the case with these DIY Christmas book covers. I got this idea a few years back when I was in a shop at Peddlers Village, PA. They had stacked books with a phrase going across several of them. You may have noticed I use my stack of fabric covered books in vignettes all the time and for Christmas I wanted to change it up. That's when I remembered those books I saw in PA.
I brainstormed a few Christmas phases and "'Twas the night before Christmas" seemed perfect. I opened three blank pages in Photoshop and sized each of them to a standard piece of copy paper. Then I centered each part of the phrase in the middle of the page,  on the second one I shifted it a little more to the right and on the third one, even more so. The font I used was Pristina Regular, it comes with Photoshop. Then I printed them out.
I found three books in my daughter's closet that stacked nicely.
And simply just wrapped each of the printed pages around the books. You can see below why I shifted the second and third parts of the phrase to the right. I didn't want them all centered exactly when stacked.
Isn't that so cute?? I told you this was simple! Who really has time for complicated Christmas DIY projects at this time of the year anyway? If you love those old world style candle holders as much as I do, you can find those here*. I've included links below for you to print these book covers out for yourself.
Print here:             'Twas the            /            night before                   /           Christmas
Don't forget, there is still time left to enter to win a beautiful Cedar Wreath from Lynch Creek Farms. The giveaway ends tomorrow so don't wait!
This post may contain affiliate links, you can read my full disclosure here.