Chocolate Cheesecake Dessert Shooters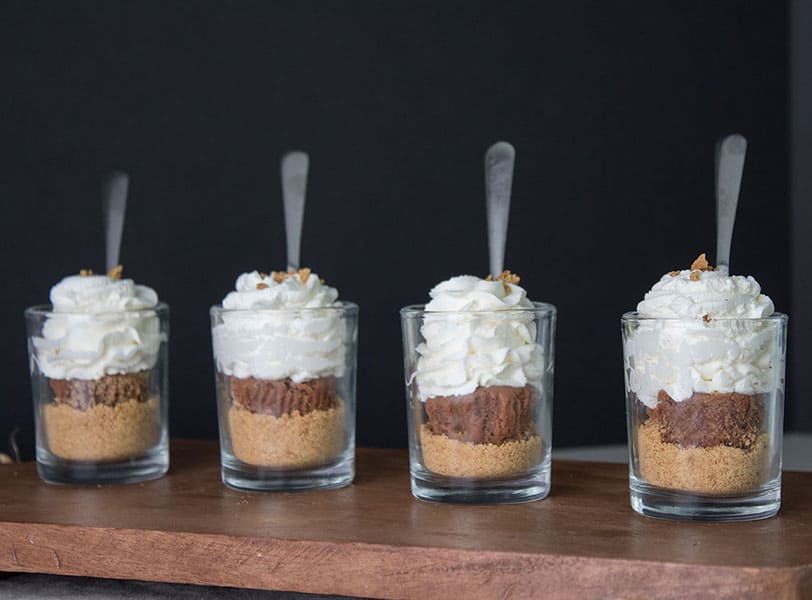 From Thanksgiving through New Years Day is usually when I indulge and bake all of my family's favorite recipes. This year, however, we were going away two days after Thanksgiving so I didn't make any desserts at all. Noone wants the extra bloat before a beach vacation. But we are back now and I'm making up for what we've missed out on, starting with these chocolate cheesecake dessert shooters.
My mom makes this chocolate cheesecake recipe every year for my husbands birthday, which always falls right around Thanksgiving time (though it's really a present for all of us!) so we missed out being away this year. My daughter and I decided to take the recipe and make mini cheesecake shooters with it.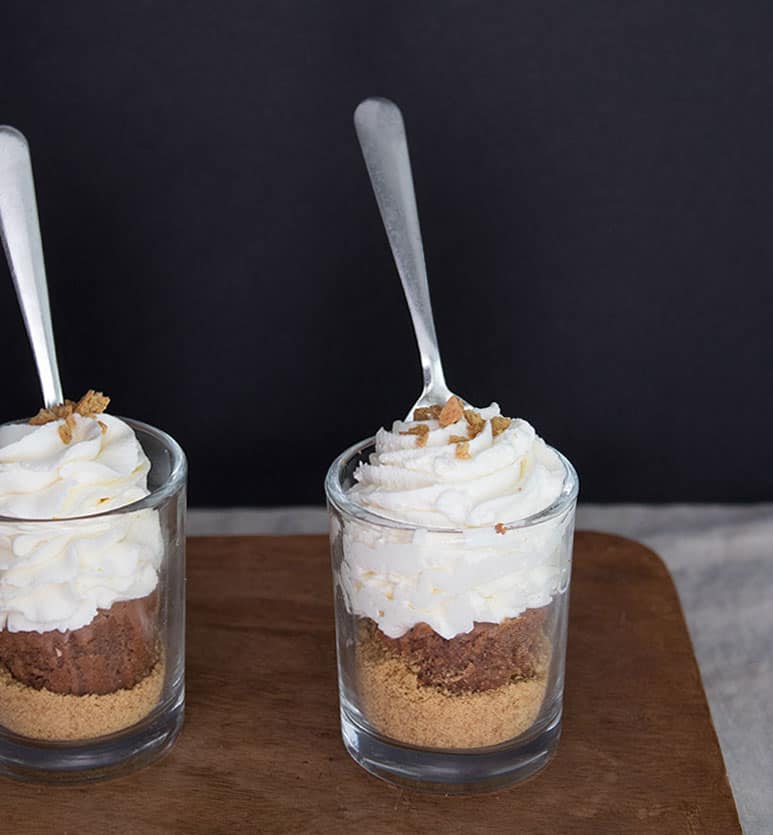 I ordered these mini dessert glasses* online, they come with the small spoons. They are seriously too cute.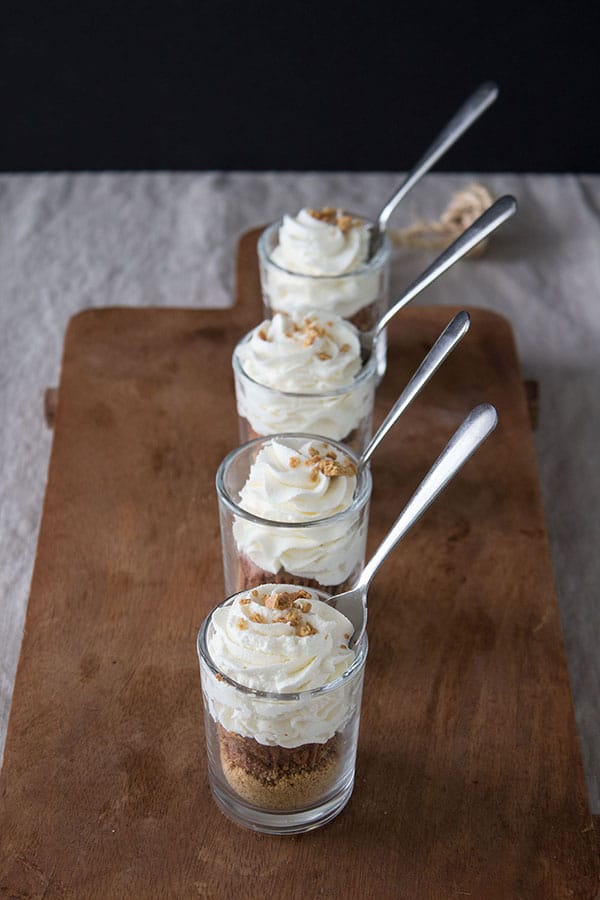 We layered each mini glass with graham cracker crumbs, followed by the mini chocolate cheesecake, topped with whipped cream. For embellishment, we added a sprinkling of graham cracker crumbs on top. We used the Wilton 2D piping tip and a pastry bag for the whipped cream. If you want an excellent starter kit that includes the main Wilton tips (with pastry bags included), check out this Wilton decorating set, the price is a steal!
I also wanted to make these festive for Christmas, so for the holiday version, we will swap out the graham cracker crumbs on top for peppermint crumbs. Add a peppermint stick or small candy cane for embellishment on those.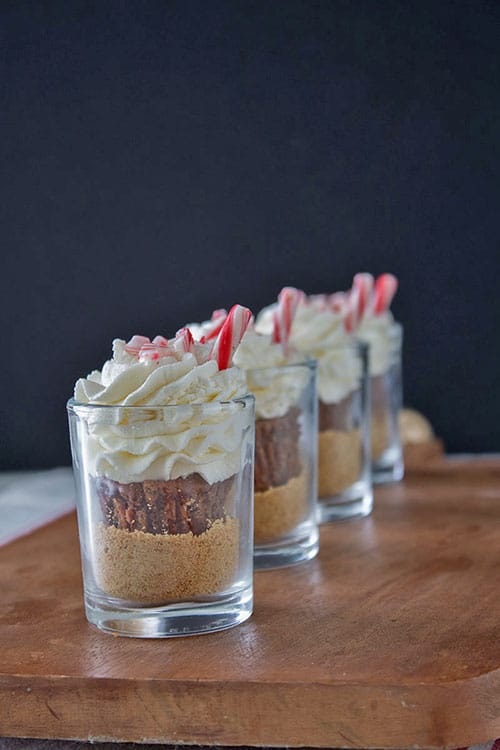 Isn't that cute? The graham cracker version is my favorite though. They're perfect for satisfying your sweet tooth without overeating. Unless you eat 10 of them, which just may happen after you taste these. Next up are my favorite peanut butter cookies. I'll make no apologies for over-indulging in those either!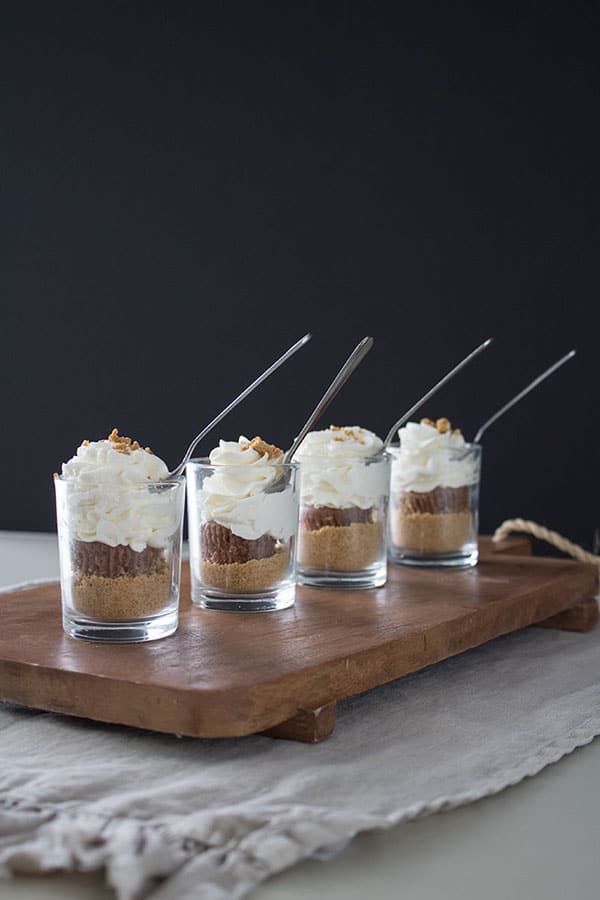 *Important Note*  This recipe was from my mom and is for a whole cheesecake. I edited it to make it into mini chocolate cheesecakes, I added directions for both ways in the recipe below. At the bottom is the recipe for the whipped cream, be sure to note that if you plan to make that yourself as well. If you want to cheat to save time, you could also purchase the Godiva chocolate cheesecake from the Cheesecake Factory and cut it into small pieces for your shooters. It's far less expensive to make it yourself though!
Pin it for later: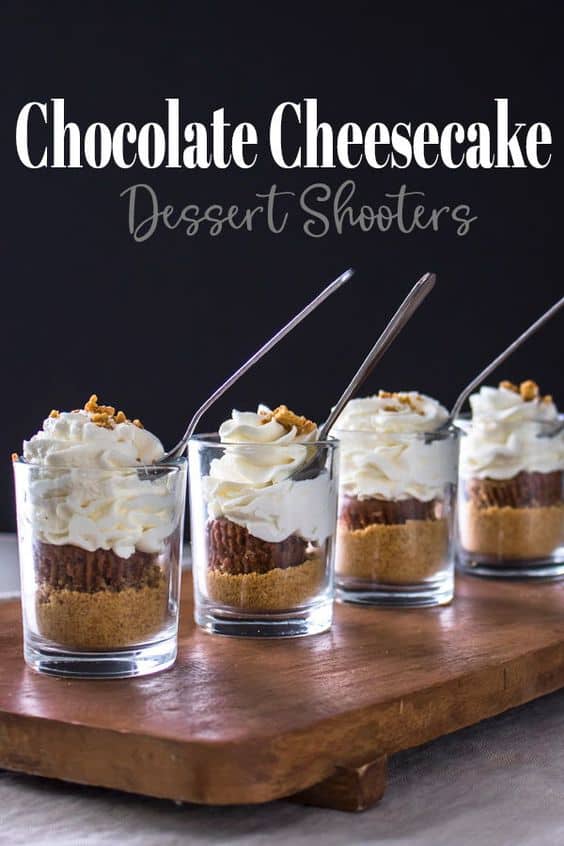 *This post may contain affiliate links, you can read my full disclosure here.*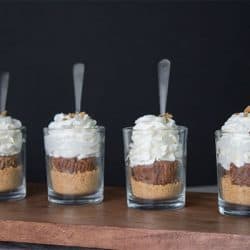 Chocolate Cheesecake Dessert Shooters
Chocolate Cheesecake Recipe
Ingredients
1/3

cup

butter

melted

1 1/4

cups

graham cracker crumbs

1/4

cup

sugar

3

8 oz pkgs

cream cheese

softened

1

14 oz can

sweetened condensed milk

4

eggs

2

teaspoons

vanilla extract

1

12 oz pkg

semisweet chocolate chips

melted
Instructions
Preheat oven to 300 degrees. Combine butter, crumbs, and sugar. Pat firmly onto bottom of springform pan OR into mini cupcake liners, depending on which you are using.

In large mixer bowl beat cream cheese until fluffy. Add sweetened condensed milk, beat until smooth. Add remaining ingredients, mix well.

TO MAKE A WHOLE CHEESECAKE: Pour into prepared springform pan. Bake 1 hour and 5 minutes or until cake springs back when lightly touched. Cool to room temperature and chill.

TO MAKE CHEESECAKE MINIS: Pour the batter into paper-lined mini cupcake tins using a spoon. Bake for approximately 15-20 minutes or until a toothpick inserted comes out clean. Cool to room temperature and chill. .

LAYER YOUR DESSERT SHOOTERS: Add dry graham cracker crumbs as your first layer, followed by your mini cheesecake. Top with whipped cream and embellish with more graham cracker crumbs or topping of your choice.

TO MAKE THE WHIPPED CREAM: In a large mixer bowl combine 1 quart heavy whipping cream, 4 tablespoons powdered sugar and 1 1/2 tablespoons vanilla extract. Whip in mixer until firm (it will take a while) but do not overwhip.