9 Easy Ways to Freshen Up Your Living Room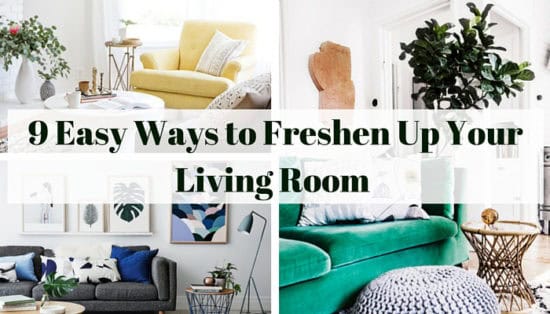 While I've been catching up on a few things this week, I have a special guest poster today. My friend Hannah has written this post that I'm sure you will enjoy! Here's Hannah:
When it comes to home redecoration, there can be lots to think about. But if you are looking to focus on just one room for a refresh, then you simply have to choose the living room. Think about it, it's the place where you likely spend most of your time, both when you are home alone as well as when you are entertaining.
It doesn't have to break the bank either, I have some great tips that are all easy to implement and will have your living room freshened in no time.
1. Declutter
This is an easy to implement touch that can make all the difference in any living room. Getting rid of things that you simply don't need can help the space feel clean and light.
This is one of my favorite ways to freshen up any space because it doesn't cost anything!
If you want to take it a step further, you could install some great storage options to help you keep everything more organized.
2. Add themed touches
If you don't have the time or money for a full redecoration, then adding touches from a theme can be a great way to tie a room together.
I have found that by adding elements inspired by a coastal theme can be a great way freshen up a room without breaking the bank. Blue and white cushions and wooden elements are easy ways to incorporate this theme into your living room for a freshened look.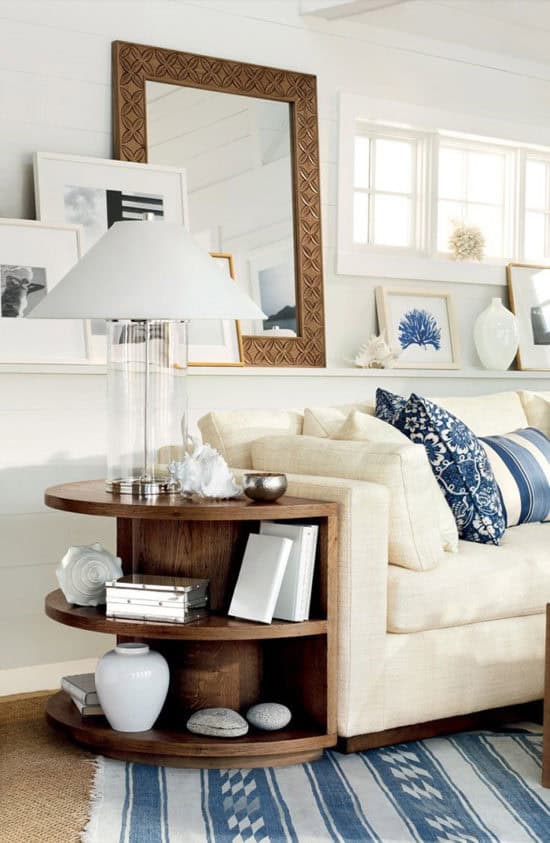 3. Accent Pillows
This is one of my favorite ways to add some more drama to your living room. I love it because it's really easy and can be as simple as changing the pillow case.
There are also so many different options for throw pillows and accent cushions available, so you will certainly be able to find something that works in your living room.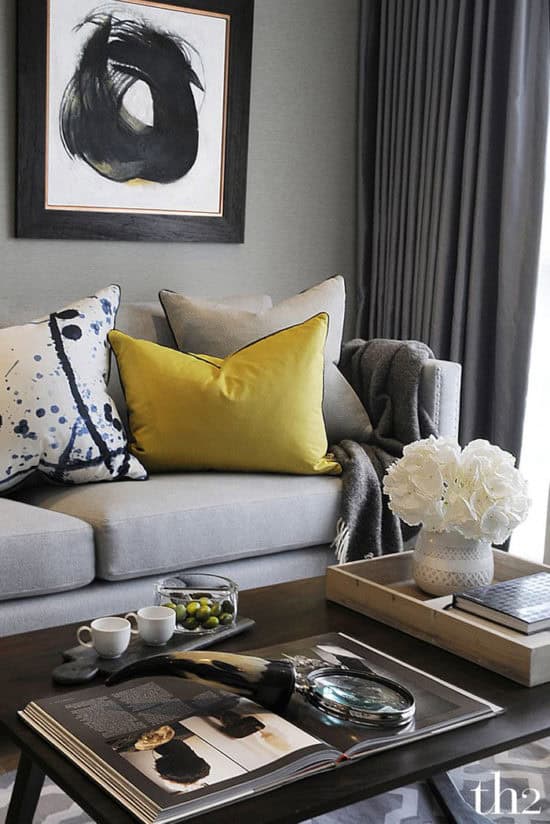 4. Brighten the room
Light and bright spaces can make all the difference and this is certainly true in a living room. This is the room where you would be spending all of your time, so surely you want this room to feel fresh, light and airy.
You can easily increase the amount of light by removing the curtains, this maximizes the amount of light entering the room. Alternatively, you could add more lamps if removing the curtains is not an option.
5. Green Touches
The great outdoors is a constant source of inspiration when I'm thinking about home renovations, so it makes sense that they are one of the ways to give your living room a refresh.
Use leafy greens or bright flowers to add a natural feeling to your home that will make it instantly feel fresher.
6. Unexpected Color
If you are feeling bored with the interior of your living room, then a fresh pop of color could be just what you need to transform the space. Implementing this couldn't be easier, you can replace your curtains or cushions to add bright pops of color.
I personally think that using this color as part of statement wall really makes the room come alive. You can use either paint or wallpaper to add your color to the walls.
7. Update your Mantle
This is perhaps one of the simplest ways to change up your living space, yet it really makes a big difference. This is a great way to give the room some more personality and show a few more personal items.
Use photographs and trinkets from special events that will make you smile every time you look up at the mantle. If you were thinking about how to add natural touches to your home, then this is a great place to put a few small plants.
8. Give your Textiles a Wash
Sometimes all you need to do is give things a good clean and this is certainly true when it comes to textiles. I really believe that giving your interior textiles a good wash can make all the difference between an okay living space and a fresh and fragrant one.
You might be thinking, what should I be washing and how? That's easy, couch covers and curtains can go in the machine but you should have your rugs professionally cleaned. It might not be as exciting as buying some new, but never underestimate the power of a good clean to freshen up a living space.
9. Add some Art
This is a great way to freshen up your living room quickly and easily. With so many great artists and photographers around you are bound to find something perfect for your living room and that also matches your overall interior.
Something that you should always think about is where the art would go and how big it needs to be. If you go too big it can overwhelm the space, but if you go too small it can get lost.
If you are looking to freshen up your living space, then you really can't go wrong with any of these tips. These tips are easy to implement and won't make that big of a dent in your wallet. So give them a go and I'm sure that you will be pleased with the results.
Hannah Hutchinson
Being passionate about beautiful interiors and architecture, I also have recently begun to write and contribute to this knowledge ecosystem. I strongly believe that the place we create around us has a strong influence on our personal well-being. Follow me for my inspirations and musings at @hannahhutch5.