Spring Tablescape with Pink Hydrangea
We had a little taste of Spring here last week. It only lasted for one day, but it was a nice break from the cold! I can't wait for warmer weather, daylight savings time, and blooms to start budding in my hydrangea garden.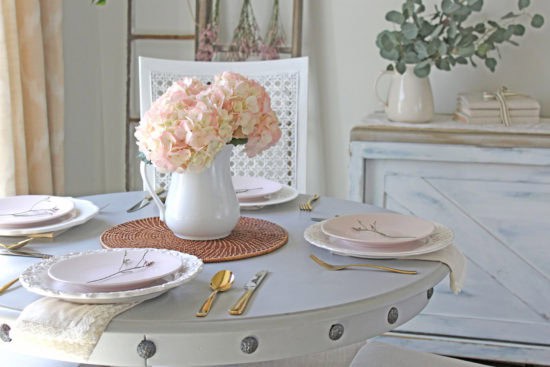 Once we change the clock the earlier sunrises will make it a little easier to get out of bed each day, which got me thinking about our morning routine. We usually grab our breakfast on the go, but how nice would it be to take a few minutes and enjoy a nice breakfast together? I created a Spring breakfast tablescape, inspired by this gorgeous pink hydrangea bundle, to set the scene.
I had been eyeing these blush pink plates* from Wayfair and finally broke down and got them. My hydrangea centerpiece is a perfect match with these pretty plates.
I placed the blush plates over my mismatched white dinner plates. I like collected textured white plates, it adds character and is far less expensive than buying a new set of dishes! If one gets broken or chipped I can buy one more as opposed to a whole new set.
I added contrast with this gold flatware. This is a little fancier than my silver set and works with every setting I can think of. Why should we save our fancier dishware and flatware for only special occasions? Here is a better look at my vintage chairs that I reupholstered and painted last weekend, a total score for only $75!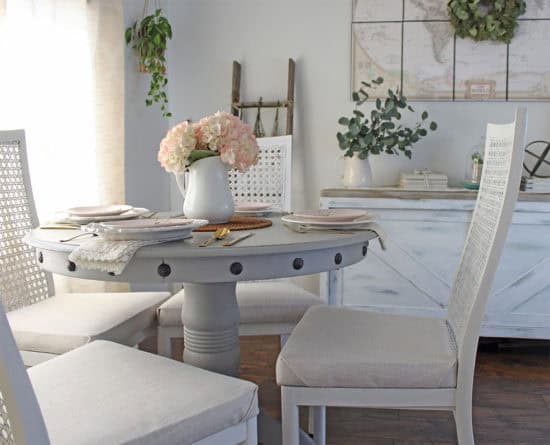 When my grocery store has eucalyptus I can never resist buying it.
I also picked up those pink flowers (not sure what they're called) and tied them in bundles to my blanket ladder.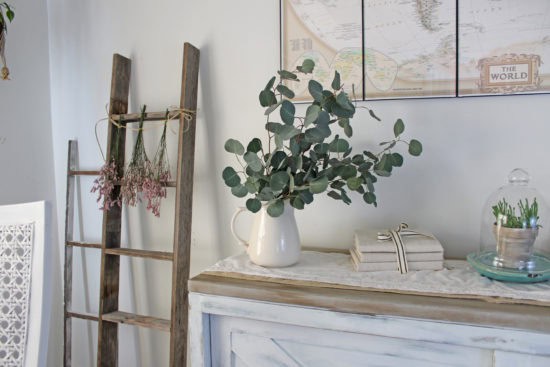 Using a sisal charger under my centerpiece adds more texture and contrast.
I'm thinking a make-ahead breakfast would be ideal for the morning rush. Something we can reheat quickly and spend 10 or 15 minutes eating before running out the door. Do you have any quick and easy breakfast suggestions?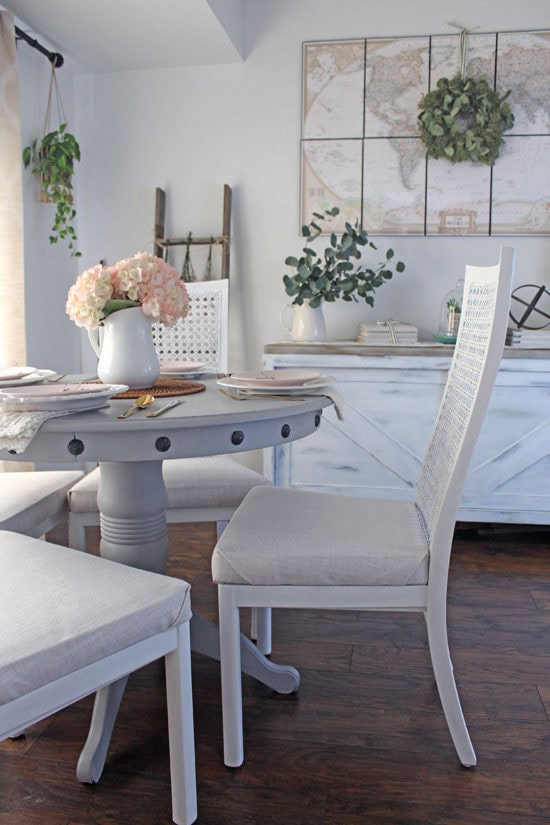 Have a great day and think Spring!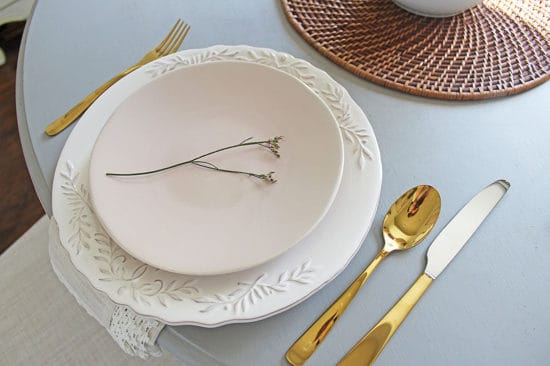 Congratulations to Phyllis from Michigan who won the $50 Target gift card from our survey giveaway and also to Michele from California who won the $25 Target gift card from our Facebook giveaway!
*Sponsored by Wayfair, may contain affiliate links,  you can read my full disclosure here.