Organizing Your Gardening Tools
This post is in partnership with World Market, a brand I love. All opinions here are my own.
Staying organized is a challenge for me inside as well as outside. Sometimes I think I just need more time, other times I think I just need the right tools. Organizing my gardening tools outside is something my husband has been asking me to do for a while now. It drove him crazy that I have planter pots, shovels and gloves strewn about the yard. (Funny, it doesn't bother him when his clothes and shoes are strewn about the house). I've been asking him to build me a potting bench to help get my gardening tools organized, and he agreed but there never seemed to be time to do it.
So when the opportunity to work with World Market on getting organized outside came about,  I jumped at the chance. Of course the first thing I picked up was the potting bench.
I was so happy when it arrived! I put it together myself, it only took about an hour and wasn't hard to do. As great as the bench is on its own, I picked up a few other accessories from World Market to help me get organized outside once and for all.
The galvanized gardening tools container with the lid is so adorable! I have my little shovels, my gloves (I'm always losing a glove!), some bulbs I haven't gotten around to planting yet and a hose nozzle stored in there so far.
The wooden caddy is really perfect for carrying my plants, shovels and gloves from the front yard to the back. Before, when I was planting I'd make 3 or 4 trips back and forth to get everything where I needed it for planting. When summer is over, I'll definitely be bringing that indoors to use as a decorating accessory, I just love it.
The hanging glass planters are also from World Market. They really aren't for getting organized, I just couldn't resist them.
The very best thing about the potting bench is that it can also be used as a serving piece when entertaining outdoors. I used it recently as a summer drink station, repurposing the gardening tools can into an ice bucket for drinks.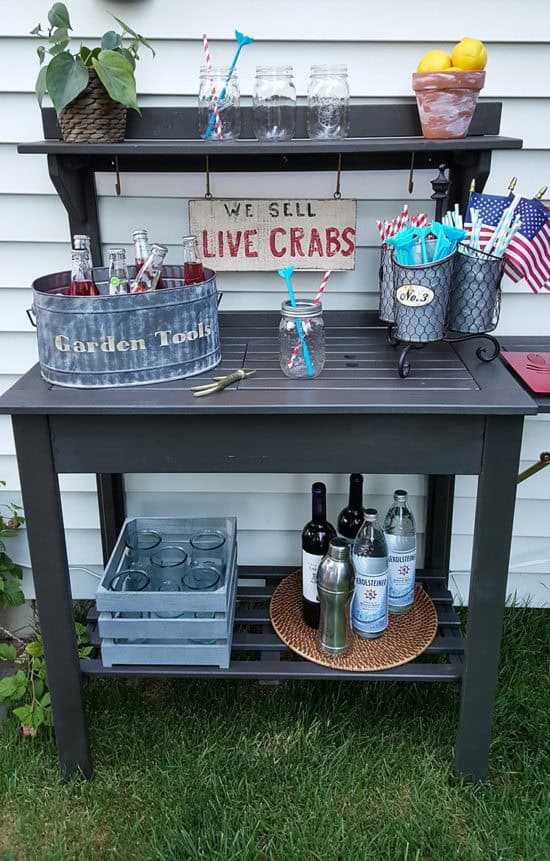 I used the wine holder caddy for stirrers and straws instead of wine, which I put on the bottom with sparkling water. I included plenty of glassware for guests to easily help themselves. You could also use this as a buffet at your next barbecue or as a dessert cart. Add in ambient lighting with outdoor string lights.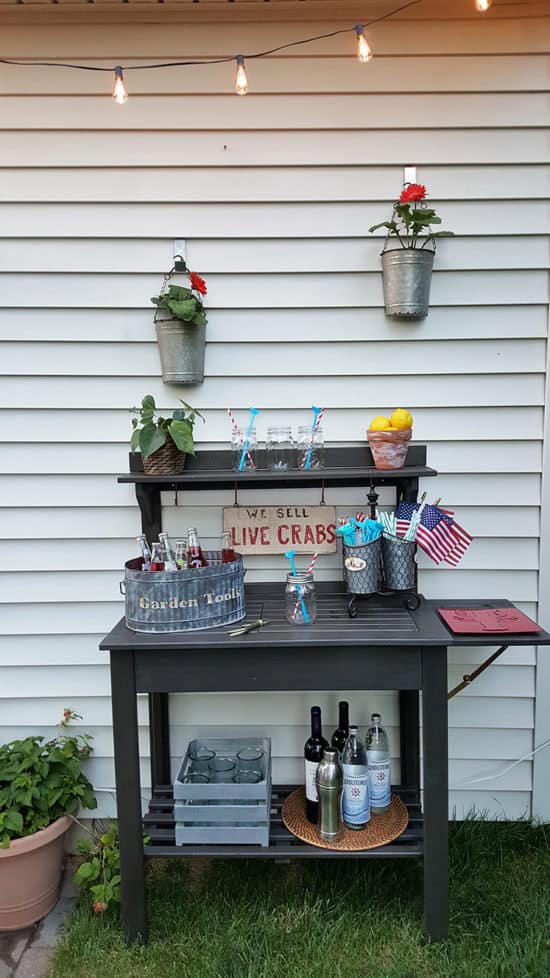 One other item I couldn't resist was the hanging orb.
My plan with the orb is to make it an ivy topiary. I hung it on a shepherds hook and put the hook inside the large planter. I planted ivy in the bottom. The goal is for the ivy to grow up the hook and around the orb. This is a work in progress, and will probably take some time to achieve the effect I'm looking for. In the meantime, the copper orb is pretty enough on its own.
With my new accessories I can finally say I've gotten all of my garden tools organized, and I think they will really stay this way! 😉
 Thanks again to World Market for sponsoring this post (you can read my full disclosure here). If you are interested in any of the products shown you can find the links below.