Neutral Living Room Get This Look
Do you ever look at designer spaces online and think that's beautiful, but it doesn't look livable? I love the look of a beautiful space that also looks inviting. A room you wouldn't be afraid to sit down or touch anything. (Though if my family is reading this, using coasters is a must!)  I came across this beautiful neutral living room on the HGTV website, and found it to be just the perfect blend of beautiful yet comfortable.
I thought it would be fun today to show you how you could get the look of this neutral living room for yourself. You may recognize this space from Fixer Upper, which you probably know by now is my favorite show.
I put together this design board of similar items, all of which are easily found online, to create a very similar neutral living room. I've included the links below the photos for easy reference.
Items shown* (clockwise):  linen window treatments/gray wingback chair/slipcovered sofa/striped pillow/white pillow/coffee table/glass vase/area rug/plant basket/faux tree/candlesticks/shelving base/shelving uppers
I made this just for fun, I didn't have to stick to a budget here. However, that shelving unit could get a little pricey because you would need 3 of those bottom pieces to fit the top shelving unit over it. I found a more affordable option (shown below) that is just as beautiful and could substituted for the more expensive one.
The style is the same, but the wood tone on the shelves shown on the design board goes better with the overall space. I also love that those lower units double as filing cabinets.
What do you think, is there any need for formal style rooms these days?
Pin it for later: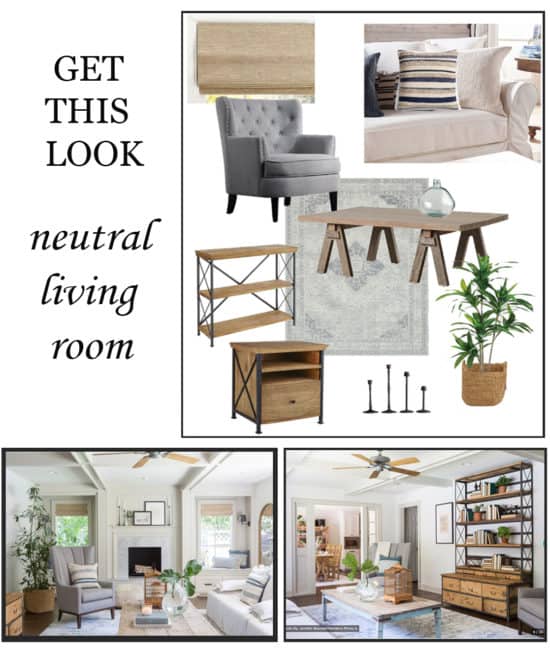 *This post contains affiliate links, you can read my full disclosure here.