Mix and Match Dining Room Tables and Chairs
I have learned from doing interior design for other people that picking out new furniture can be really daunting with all of the options out there. People are afraid to make a mistake when they are spending the money on new furniture. This is understandable because often you will have your furniture longer than you will have your car so you want to invest in something you love!
A friend of mine was recently shopping for new dining chairs. She was looking for the two end chairs to be slightly different from the side chairs, which is a look I love. I am never a fan of matched sets of anything. To give you a better idea of what I mean, here are some beautiful examples of mix and match dining room tables and chairs.
This first photo is a classic example and shows matching side chairs with more prominent end chairs. Often the end chairs will have arm rests.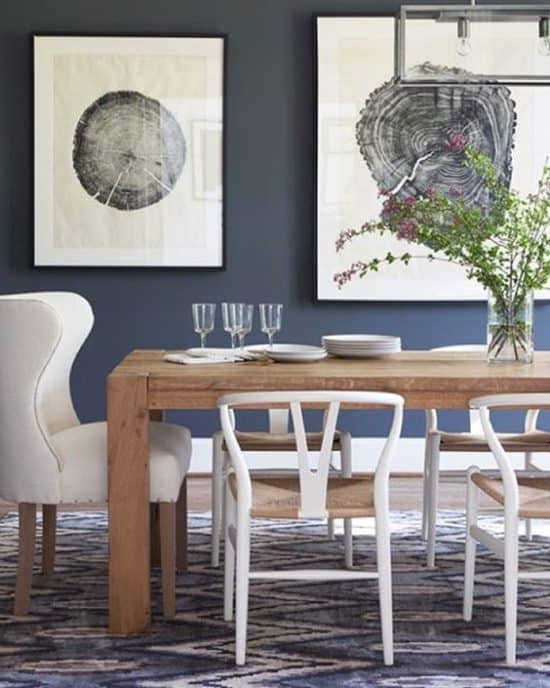 via Instagram
In this example, even though the chairs are all different they are similar in style, size and color. This is farmhouse at its best!
 via Julie Blanner
This look gets me every time and is one of my favorites. Use four matching  chairs with a bench along one side.
 via South Shore 
Even your round tables don't require a matched set of chairs. I love the rustic wood seats mixed with the slipcovered chairs. This makes for a casual, comfortable look.
via Pinterest
I thought I'd put together some dining room table and chair combinations that would work well together. All of these pieces are available to order online and the sources are below each picture. Affiliate links are included for your convenience.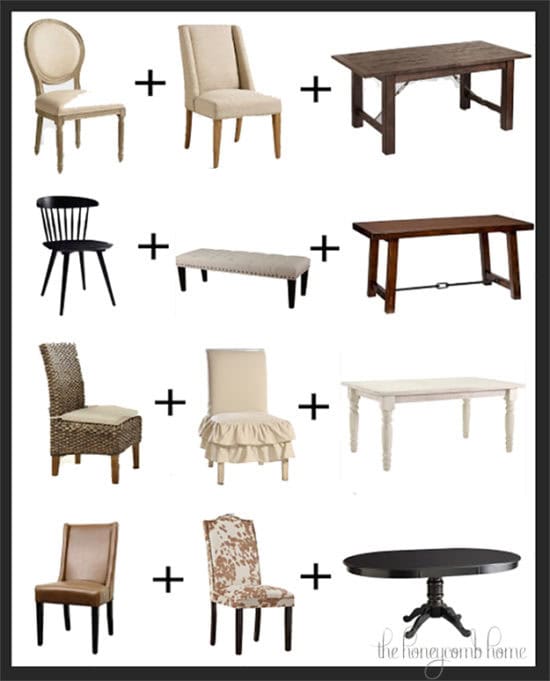 Row 1:  Round Back Chair/Upholstered Chair/Rustic Table
Row 2:  Black Farmhouse Chair/Upholstered Bench/Farmhouse Table
Row 3:  Seagrass Chair/Ruffled Slipcover Chair/White Farmhouse Table
Row 4:  Brown Leather Chair/Animal Print Chair/Black Oval Table
Row 1:  Black XBack Chair/Wood XBack Chair/Round Table
Row 2:  Nailhead Chair/Rustic Side Chair/Herringbone Table
Row 3:  Blue X Chair/Wood X Chair/White Table with Wood Top
Row 4:  Ghost Chair/Modern Chair/White and Metal Table
I put these boards together just for a fun look at mixing and matching styles, always be sure to check your measurements first. Which combination is your favorite?