How to Replace an Electrical Outlet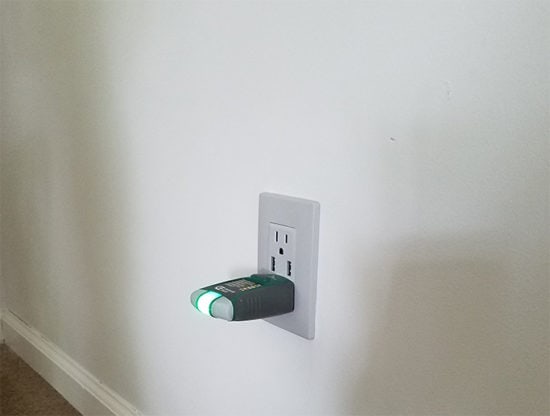 You may remember I shared my living room makeover here a few months ago. One project we didn't get to in this space was replacing the outlets. My husband wanted to switch out the receptacles that were an off white, yellowish color with white ones. We finally got around to doing that last weekend, and I thought I share with you how to replace an electrical outlet if you want to do it yourself.
As always, if you are completely unfamiliar with electrical, you should not try this yourself (read my full disclosure here). But if you have basic electrical understanding, this is relatively easy. So here is the mismatch of outlets I had going on in this space before we started. The outlets themselves were the ugly off white color, none of the plates matched and one was just completely missing.
What You Will Need*:
Phillips Head Screwdriver
1/8″ Screwdriver
Outlets, we used Renu by Leviton*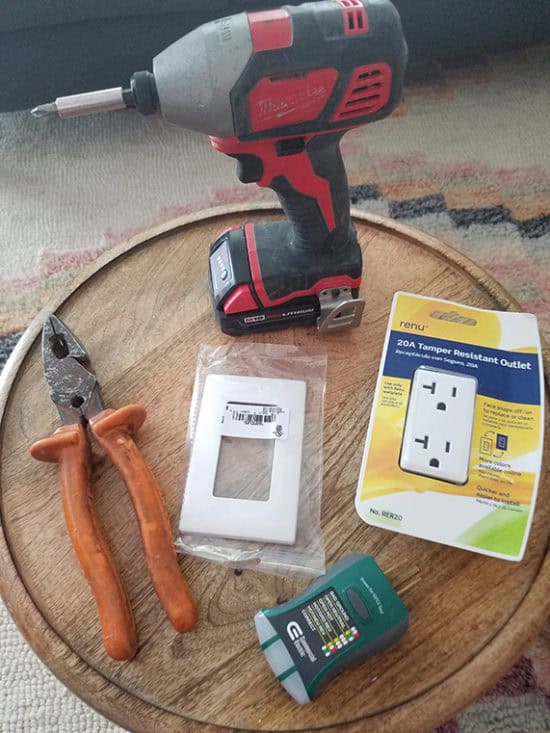 How To Replace An Electrical Outlet:
First, turn off the power to the outlets in the circuit breaker. Once we did that, we tested the outlet with an electrical outlet tester just to double-check that it was off. If the green light is on that means that everything is wired correctly and that there is power, once it goes off it means the power is off. If it is wired incorrectly, that will be displayed on the indicator. We checked every single outlet with this before changing them, different outlets may be on different circuits.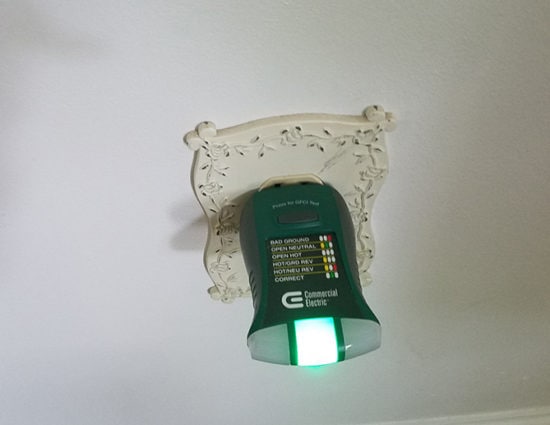 Next remove the outlet plate. Before unscrewing make note of the wiring. Black = hot, white=neutral, and bare copper (or sometimes green) is the ground wire. My husband calls this "observing where they are landed".
Then loosen the screws on each side to release the outlet from the wiring.
Note how my husband is holding the outlet in this picture. He says even though the power is off, always treat it as if it's on. There is a right way and a wrong way to handle these, shown below.
Remove the wires from the outlet, called feed and return (feed comes from the electrical panel and return goes to next outlet on the circuit). Note:  curled ends are made before putting on terminal with the pliers by stripping the insulator back a 1/2 inch. Black goes to brass, white goes to silver and bare copper or green is ground.
Now you're re ready for the new outlet. We used Renu by Leviton outlets. We liked that they are tamper resistant outlets, but what I really loved is that they have a huge assortment of colors which are easily changed out without removing the outlets or having to paint over! So if I ever change my mind regarding the color again (which I'm sure I will) it's an easy switch!
To change out the color, you simple pop off the facing with a small screwdriver and replace with a new color. If the outlet is in the wall, you want to be sure the power is off to the circuit before doing so.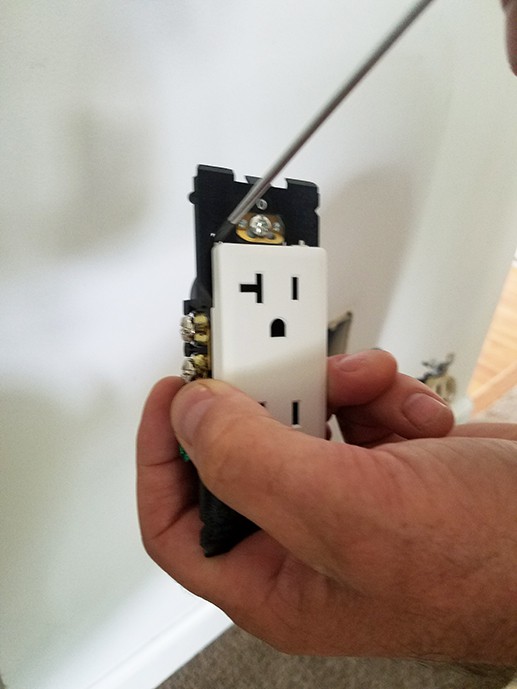 Now attach the wiring to the new outlet. When connecting the wire to the terminals, be sure the curled ends attach in a clockwise direction and are hand tight, meaning the wire doesn't move. The connections should not be loose at all.
Once the wires are attached, you then insert it into the wall by neatly folding the wires in, as shown below. Make sure it's centered within the box in the wall before tightening. Once all connections have been made and inspected and outlets and plates installed, you can now turn the circuit breaker on from the electrical panel and test all outlets with the tester to assure everything has been wired correctly.
Another reason we chose Leviton is because of the screwless wallplates. It's a little thing, but it makes a big difference. It looks so much neater, and it just snaps into place.
This pretty much sums up how to replace an electrical outlet yourself, it's relatively easy! We also picked up some of Leviton's Decora USB outlets. We made 2 of the 5 outlets in our living room USB for charging our phones and IPads. I had picked up the outlets in both gray and white to experiment with Leviton's Renu color options.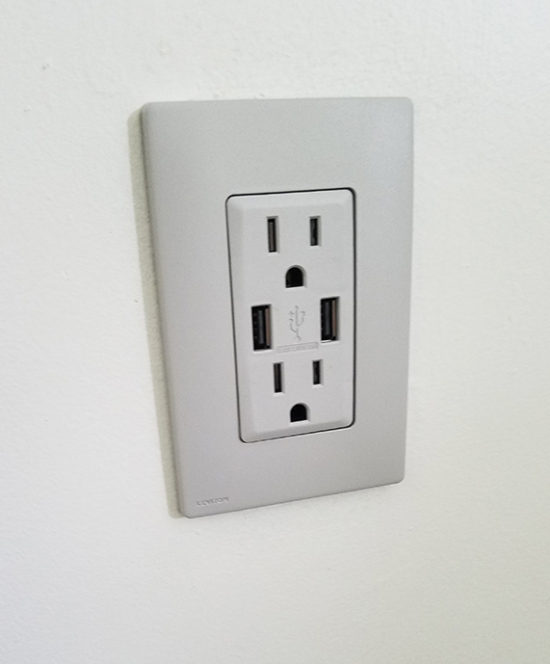 I like the contrast of the gray against the white walls. What's really cool is Leviton makes outlets that exactly match popular paint colors from well-known brands including Benjamin Moore, Behr,  Sherwin Williams and more. You can check out the selection of colors here. You can also learn more about how the Renu color change system works here.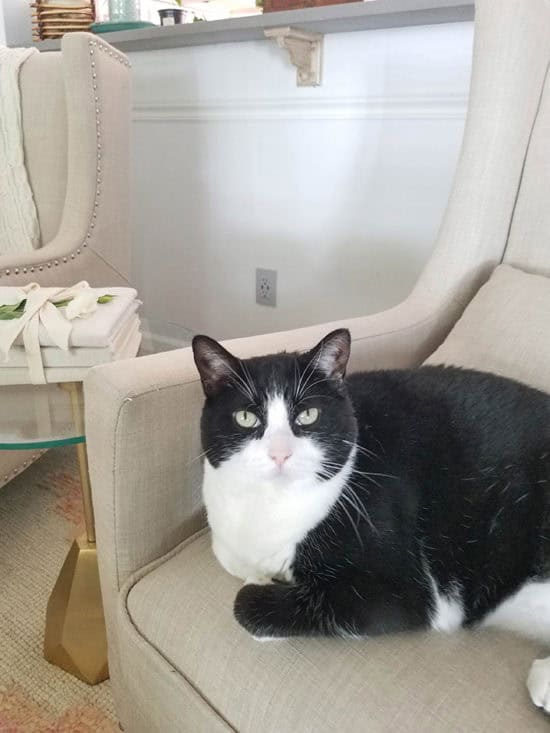 *Thank you to Leviton for sponsoring this post! All opinions are 100% my own. Read my full disclosure here. This post may contain affiliate links.