Have you heard of the she shed yet? Think of a fun little shed all decked out and decorating for the ladies. With comfy chairs, or a dining table, or even a bar the idea is adorable and the possibilities are endless! I was doing some online shopping the other day when I saw the most amazing greenhouse. It looked more like a she shed than a greenhouse to me, but this colonial gable greenhouse* is a stunner!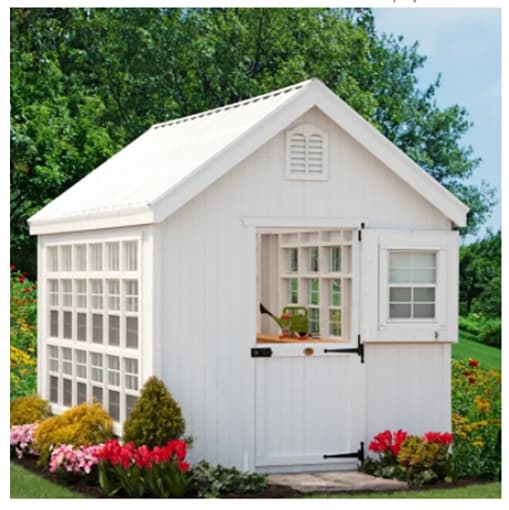 Given, it's pretty pricey but it's like a playhouse for grown-ups! I got to looking around at these types of sheds and found some others that are equally amazing. Whether you call it a greenhouse, a potting shed or a she shed, the idea is the same. A fun little escape room for moms!
This Sunshed has the cutest little dutch door, window panels in the roof and an L-shaped workbench. It would make for a pretty little mom cave. I imagine this one painted all white with a colorful door.
This garden gazebo has a wall of functioning windows on one side, a hinged door and window boxes on the other.
This cute wooden storage shed with a porch and window boxes reminds me of the shotgun house in that Fixer Upper episode. Remember that one? I love the roof with the shaker shingles on this one.
This small greenhouse is made up entirely of windows all the way around.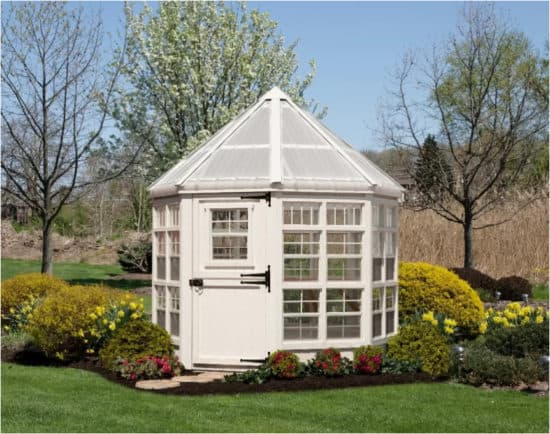 Same concept but different shape for this potting shed. The dimension on this one would make it great even for small spaces.
Make office space in your backyard with this studio shed!
This one might be my favorite of all, love those french doors!
Whether you call it a she shed, mom cave, lady lair (as David Bromstad says)  or potting shed you're a lucky girl if you have one!
What do you think, would you like one of these in your yard? Maybe you already have an underused shed in your backyard that you could repurpose into a she shed!
*This post contains affiliate links, you can read my full disclosure here.