Hi, hope you all had a great weekend. For us this was a getting-things-done kind of weekend. We got the pool closed up, my husband had to fix the lawnmower, etc. I'm kind of in between projects right now. I'm finishing up some little details of projects past and in the planning stages for upcoming makeovers. One of which is going to be in my niece's house, I'm really looking forward to that one. I've wanted to make over her kitchen and dining room for years and I'm finally getting around to it! And I think my husband will be glad for the break, lol. The ideas for my own house are so fast and furious I think I sometimes make his head spin. I'll share more on my niece's makeover soon.
While I think I'm really done with adding fall decor into my own house now, I do have one last fall project to share. I made these free fall printables to share with you today. They are each sized to a 5 X 7 for easy framing. You could always have them resized at Staples or Walgreens if you want it more customized. Just click the link below each graphic to print!
click here to print
click here to print
These are cute for Thanksgiving, which is a tough holiday to decorate for outside of the dining table. The "gather" print could really be used year round. Enjoy!
Pin it for later: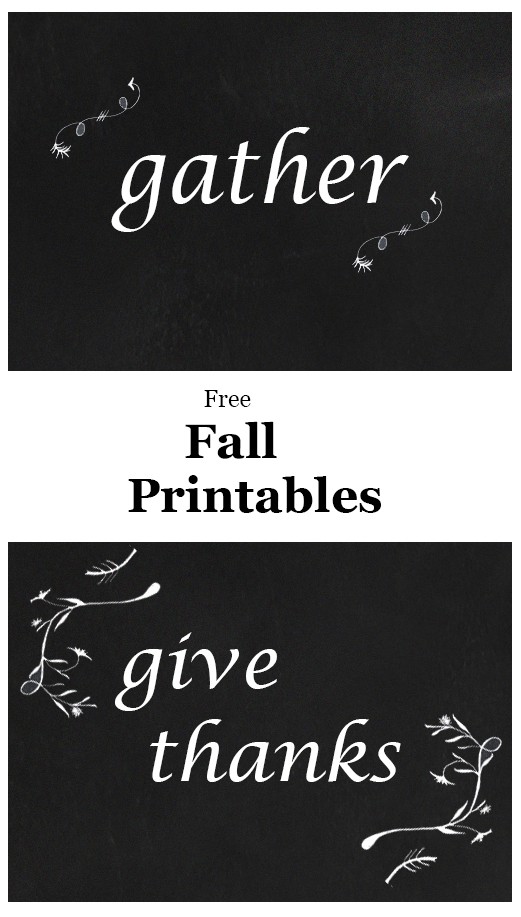 Linking up with Between Naps on the Porch