I've been obsessing lately over kitchen nooks. They offer so much function within such  a small footprint. Whether enjoying a leisurely Sunday breakfast, having a cup of coffee with friends or as an extra homework or office spot, the possibilities are endless. After rounding up the following photos I think I prefer a cozy little nook to a full dining room.
I'm not sure this white tufted bench is practical in an eating area but it's so beautiful!
 Here is a full sizes table tucked into a corner to create the nook effect.
I couldn't find the direct link for the next photo, but I know it's Pottery Barn. I think I know their inventory by heart. Use of the round rug defines the nook from the rest of the kitchen.
The overhead light, the rug, the gallery of frames. Design perfected in a few square feet.
Even the tiniest of spaces can benefit from a nook area. Great use of space here.
via Pinterest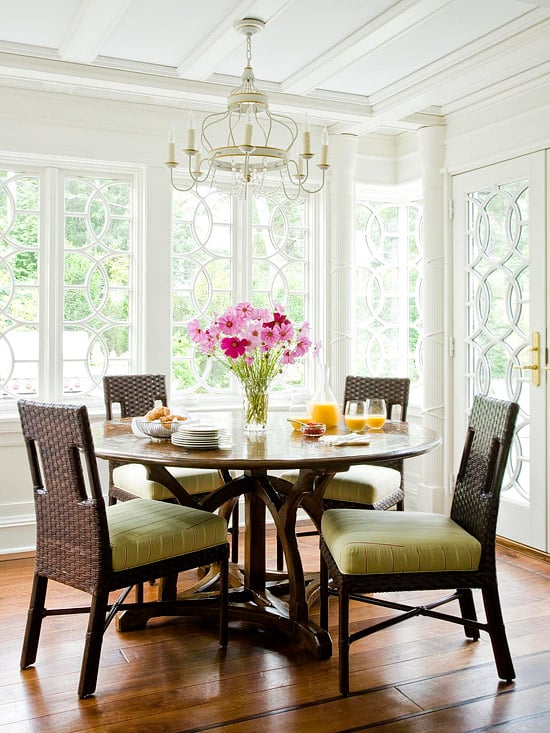 This next one is my favorite. The view from this space is so amazing, I'd never leave it!
Another great use of space, with built-ins under the banquette.
I love this sunny little spot.
 Coastal Living via Babble
If you don't have amazing architecture or views from your nook, you can create interest with fabrics, gallery walls, or wallpaper.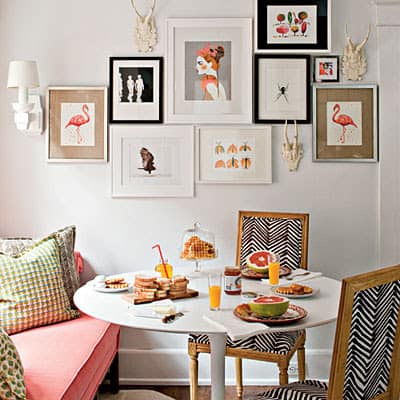 via Sticky Bee
Which is your favorite?