Eight Ways to Bring Coastal Style to Your Home
Hello Honeycomb Home readers! I'm Emily from Table & Hearth and am thrilled to be over here with you guys while Roxanne is on vacation (jealous!) sharing a little bit about how I bring coastal style into our home.
We live just a couple miles from the Texas coast, so of course our style is coastal, relaxed, and beachy. But, coastal decor can easily creep into the too-literal-and-cheesy-old-beach-condo-rental feel and I take great care to make sure ours is nowhere near that! So here are eight tips I have for achieving a nice, subtle, and relaxed coastal style.
1. Beach cottage style on a large scale – Not only are planked/shiplap walls SUPER popular right now, they're also a staple in old beach cottages. Installing them throughout your house, or just as a feature wall, can be an easy way to bring a classic casual feel to a room. Installing light-colored driftwood-like floors that have a handscraped, irregular finish also keeps the room feeling relaxed and also easy to clean. Natural fiber rugs such as jute, sisal, and seagrass are super durable, easy to clean,  and bring a wonderful texture to a space without being visually overwhelming. Another easy update that brings dramatic changes is to install faux-bamboo wide-blade ceiling fans, instant cabana!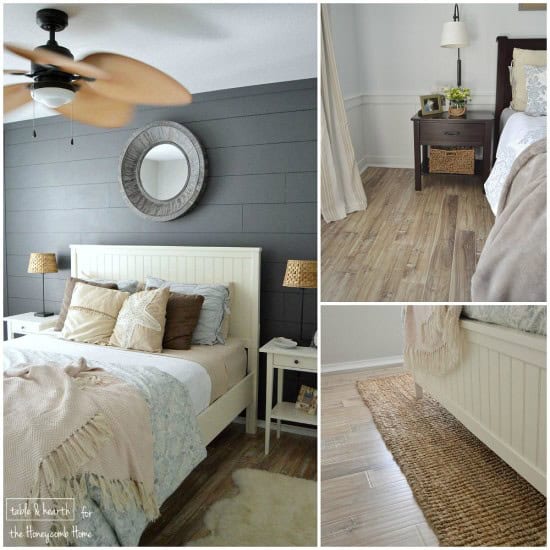 2. Add some faux coral or shell accent pieces – I'll admit it, I do have some real coral pieces, but I inherited those from family, so I always buy faux coral if I need it. As decor, you really can't tell a difference! My favorite places for coral are on top of boxes or stacks of books on a bookshelf, or in front of something leaning like here on my mantle.
I love to add pieces in mother-of-pearl or faux abalone finishes, like these picture frames (that the husband picked out!!). They go beautifully against natural, weathered finishes and textures and are my version of "bling".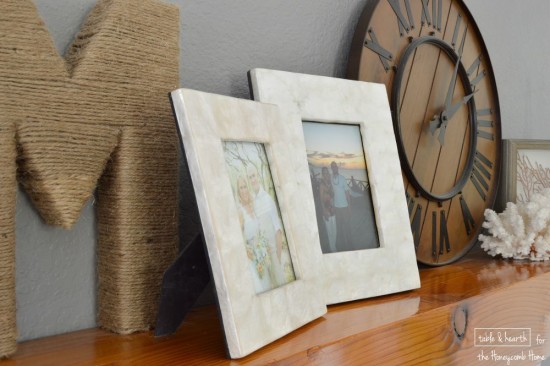 3. Use weathered finishes – Coastal style is less about color and more about textures to me, so I am immediately drawn to the texture of items instead of the color they are. In fact, I don't have a single piece in my home that is a "bright" color 🙂  Adding pieces that have a weathered, rustic, and distressed finish instantly bring a relaxed feel to the space. I love to pair weathered wood with more industrial materials like galvanized metal and iron.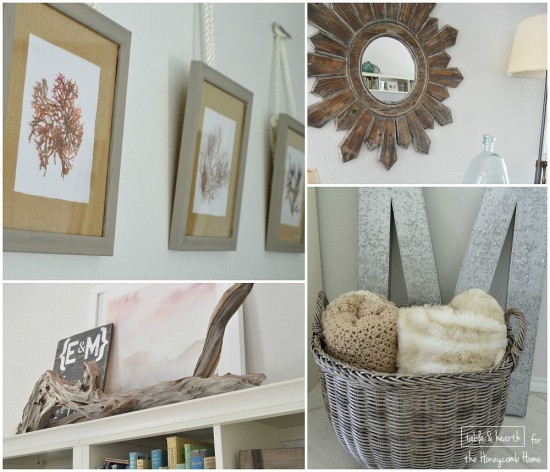 4. Add old nautical accents, sparingly – We both grew up on the water and around boats so I like to incorporate old nautical pieces as well. These are the husband's favorite 🙂  Many of the items were from my father-in-law and alot of the others are from a nautical flea market held annually up the coast. eBay and Craigslist is always a good source too. I like to group like items together to keep it more cohesive, and stick to a few specific items to keep it from being too theme-y or overdone.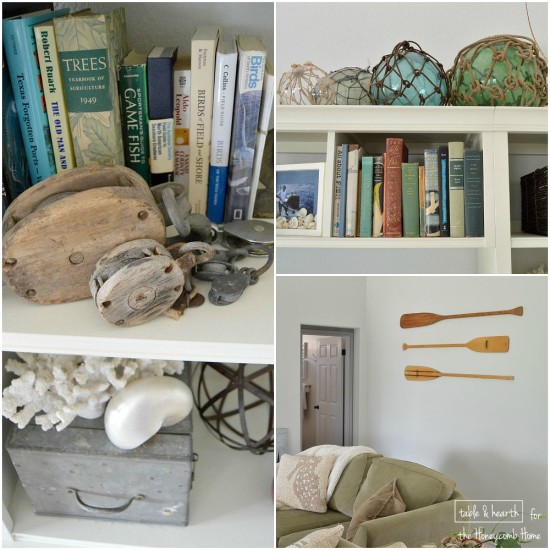 5. Vases filled with tropical plants and grasses – We have taller ceilings so one of my favorite design tricks is adding height with tall vases and tall plant cuttings. I mainly use palm tree fronds clipped from the backyard and old sea oats stalks found at the beach. I've seen a ton of faux palm tree fronds in stores that look almost real, same thing with the grass stalks. Bonus to using dead grass stalks, no water needed!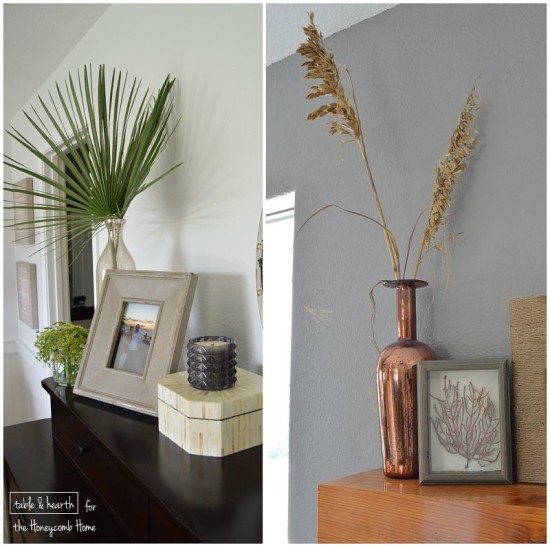 6. Beachy candleholders – These are both classic coastal decor options, but once again, to be done minimally. I love to make these easy shell candleholders  and fill large glass lanterns with beach sand, but I make sure to only have one or two of these around at a time, or have them all grouped together, so that it's not overdone. You can also use small shells in the lanterns the same way, I just don't because I have to control my shell displays as you'll see in #8 🙂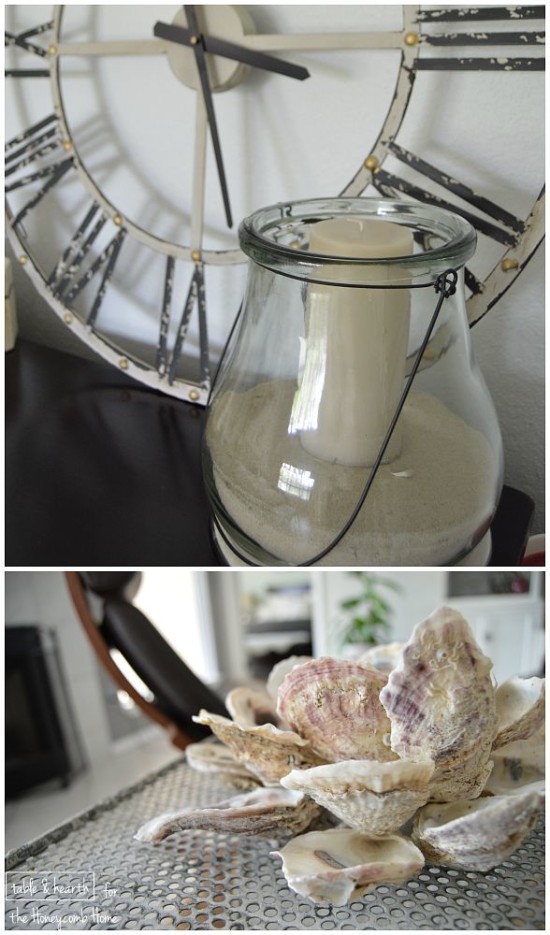 7. Display your tropical vacation photos in a simple, cohesive arrangement – There's no better way to evoke a tropical, coastal feel in a room than to put up a great collage/gallery wall of your favorite tropical vacation, just don't make it more about the frames than the photos. There's a ton of cool beachy frames out there, I know, and I have to resist them too, but putting your beautiful pictures in an array of those will take away from your photos and make the focus on the busy frames, so display them all the same so that vacay is front and center.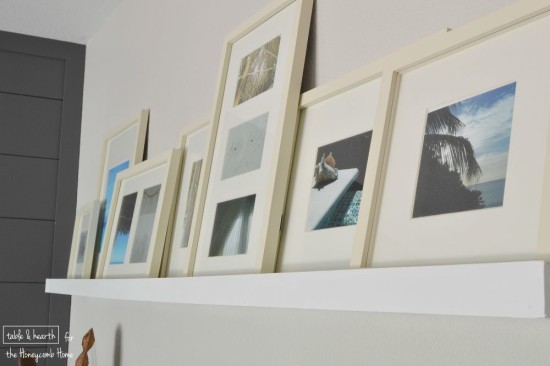 8. Use seashells (of course) but group them together – What post about coastal decor wouldn't have shells? But, this is where things can get totally kitchy. Shells don't need to be on every surface. Show them in specific displays, in similar sizes and/or shades, and grouped all together so that it doesn't get out of control. Just like the nautical decor, I feel like it's more of a dramatic, classy statement to have them all together in/on one piece, than to have them scattered about on all sorts of pieces.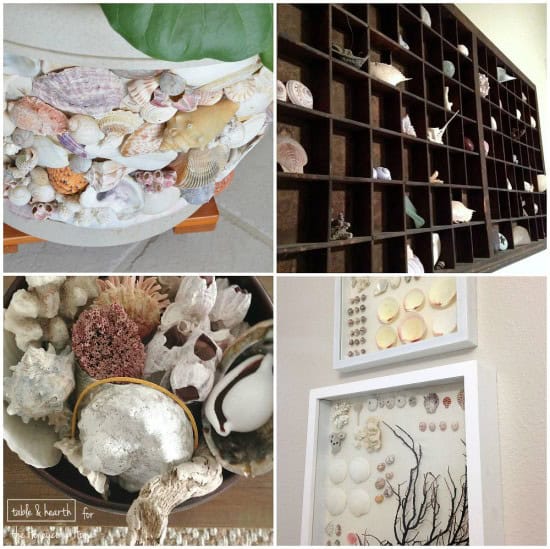 I hope these helped inspire you to achieve the coastal, relaxed look and how to tweak your own decor if you've been struggling with it. By no means am I an expert at coastal decor or anything, it just took me alot of trial and error to find what works for me and these are the areas that I feel had the most impact. I found that when things were feeling just a little bit too theme-y, if I started removing things or grouping like items together, it made it feel more organic and like a home rather than hokey-beach-condo. The goal for me has always been to have a neutral, calming space focused on textures and materials, with direct coastal influences subtly mixed in. In fact, I feel good coastal style actually doesn't have many literal  "beach" decor items in it, it's more of a palate and overall look.
It's a constant process but that's the fun of it!!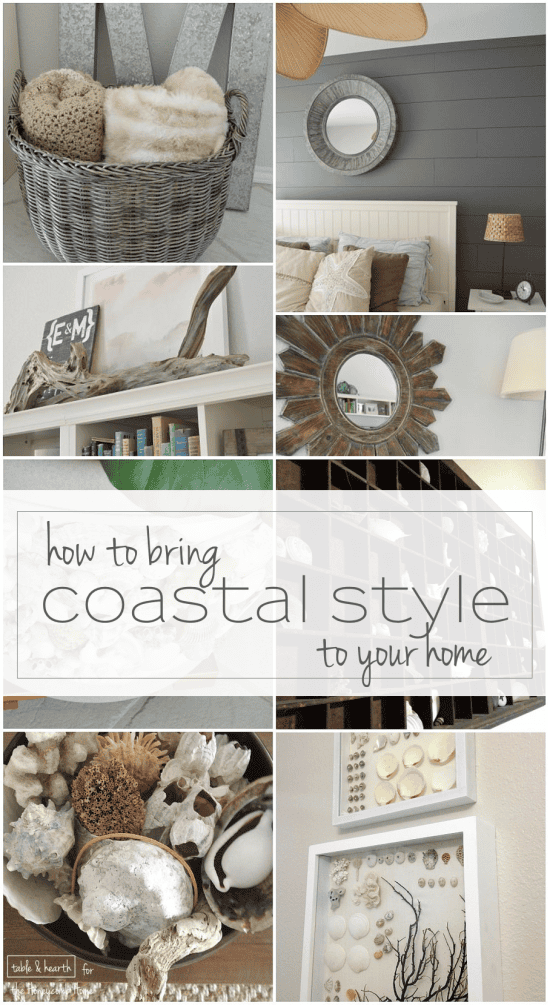 Thanks so much to Roxanne for having me here today and I'd love to have you guys follow along with me on the blog and on social media here:
Facebook
Pinterest
Instagram
Twitter
Hometalk