Wall Stencils vs Wallpaper (and a Giveaway!)
Recently I discovered a new stencil company that I wanted to share with you guys called Stencilit. As the name indicates, they offer a collection of beautiful wall stencils. I've been debating adding wallpaper to my daughter's room but considering how often I change decor around here, I really don't want the commitment. Wall stencils, on the other hand, provide the look without the commitment.
What I also like about wall stencils as opposed to wallpaper is you can choose your own colors and they are much more budget friendly! The good news for you is that Stencilit is offering a wall stencil for free to one of you! One winner will receive the stencil of his/her choice as well as a stencil flocked roller so you can start with the right tools.
They offer a large assortment of stencils, but this herringbone pattern is my favorite.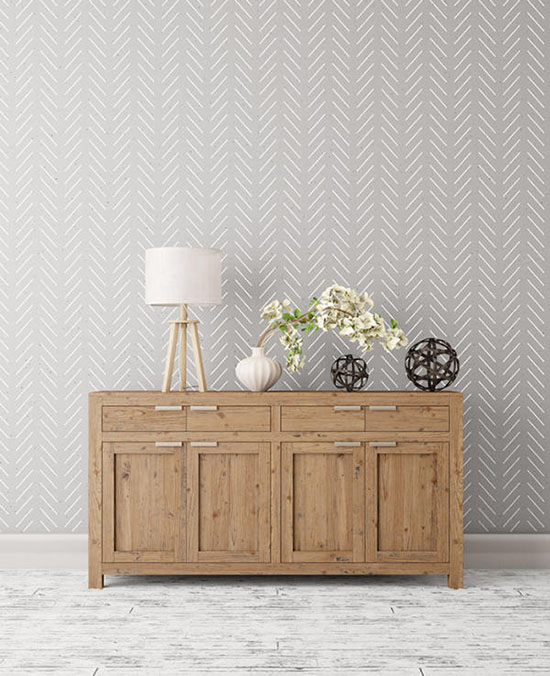 You can make a bold and beautiful design statement using only paint, I love the darker wall color here with the Siberian Taiga pattern in white.
The Diamonds large stencil pattern is another of my favorites. I really like the colors they used on this one also.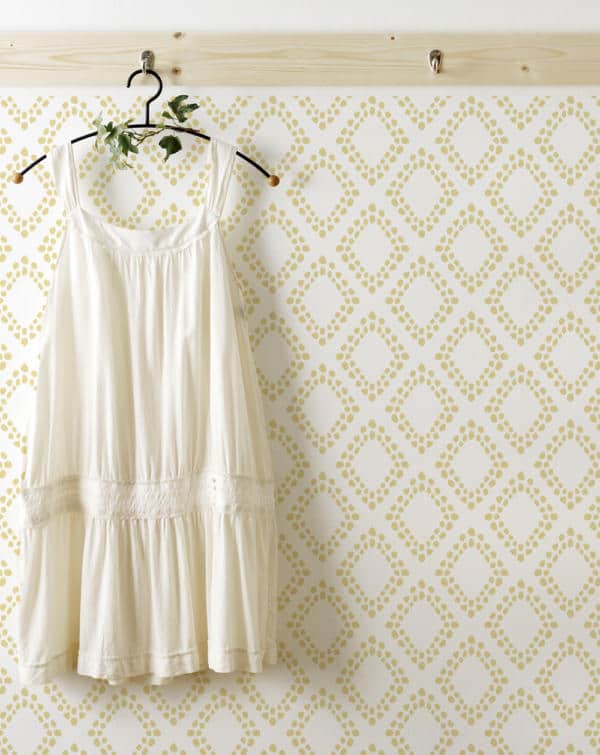 When I saw this Panther Skin wall stencil I immediately sent the link to my niece. When we were working on her living room makeover, we discussed possibly wallpapering her hallway. This was the wallpaper design she had in mind. I had trouble finding this design in a removable paper and also one that wasn't too busy so we ditched the idea. Using a stencil in her hallway is the perfect solution. Though I may try to talk her into the herringbone pattern instead.
Stenciling one wall in an open floor plan adds interest, as shown here with the Trellis Light patterned stencil.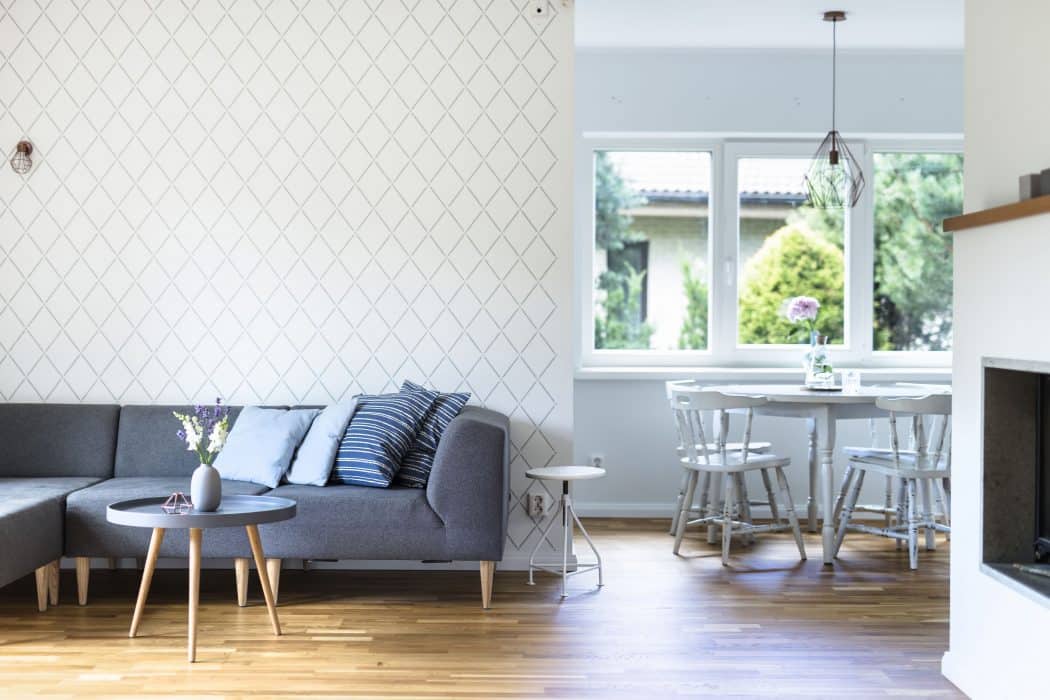 These stencils aren't just for walls. You can be as creative as you want, I like the idea of the Moroccan Double stencil on an area rug!
Even rooms with a patterned wall can be serene if you keep the color scheme monochromatic. This room features the beautiful Dandelion Puffs.
The Flower of Life stencil is another of my favorites from the collection.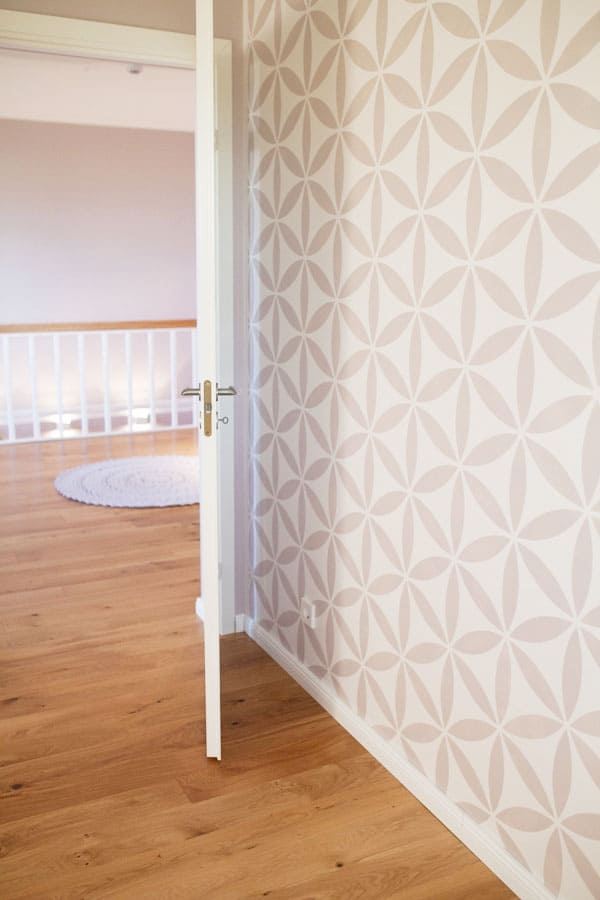 Black and white paint make this Birch Forest pattern very modern. This would definitely liven up a boring hallway space. The salon where I get my hair cut has this pattern (with the black and white reveresed) as a feature wall. The whole shop is black and white with emerald green accents, very chic!
Also available are several animal themed prints. You'll find everything from dinosaurs to dragonflies, so cute for a nursery. If you don't want to commit to an entire wall pattern, I imagine making large-scale DIY framed art for the walls using this Zootopia stencil. This is such an easy way to incorporate your own color scheme into your decor.
Another pretty pick is the Dew Drops stencil.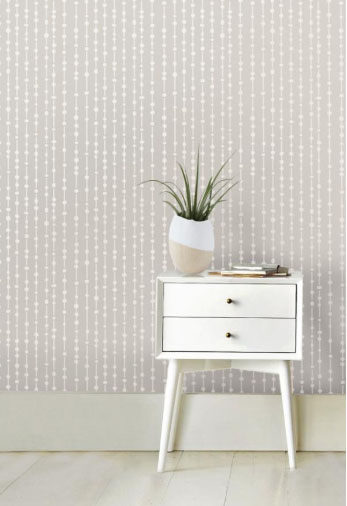 Keep in mind, these are large wall stencils which will help you get the job done faster and with less moving of the stencil. When I stenciled these floors at my niece's house, using a paint sprayer also made the project much easier!
As you can see, you can get the look of wallpaper for much less! The bonus features are that you can easily customize these to your color scheme and you don't have to worry about the hassle of removing wallpaper if your design taste changes down the road.
You can enter below to win a wall stencil of your choice as well as the flocked roller. Stencilit also has a shop on Amazon*, and they are offering free shipping all weekend (from Feb. 8-10th) so be sure to check that out if you're interested in a wall stencil!
Wall Stencils Giveaway:
This post was in partnership with Stencilit and may contain affiliate links, all opinions are my own. You can read my full disclosure here.