The Prettiest Outdoor Garden Chairs
Today I'm sharing with you my new obsession – these pretty outdoor garden chairs! This post is in partnership with Wayfair, all opinions are my own.
You may remember last year I shared some backyard patio ideas. The main focus last year was replacing my outdoor table. I really love the table I ended up with but was never happy with how it looked with my existing chairs. At the time, I really couldn't afford to get the table with the matching chairs.
Piecing a table together with different chairs is more challenging. Not only do you have to find what looks good together, but the height of the seat also has to fit with the table as well as the scale.
This year, I began searching for outdoor chairs on Wayfair. I probably searched that site all spring long! I picked about 10 contenders and popped them each into Photoshop to see how they might look with the table. Here were a few of my favorites.
Enter these pretty white garden chairs. I really loved the white finish with our white umbrella. (I don't think they have this exact umbrella anymore but will link to similar options at the end of this post).
So while these white chairs were the clear winner, of course, they were very much out of my price range. Shockingly, when I kept searching I found these almost identical chairs but for much less!
Aren't they pretty? I'm calling them garden chairs because they're too cute to be called outdoor chairs.
There was a slight difference in size, and the less expensive chairs didn't come with the cushions. I figured even with buying the cushions separately it was a far better value.
Fortunately, I found these pretty cushions to go with them. Finding the exact size to match the chairs online was difficult but these fit pretty well overall. I definitely didn't want cushions that were too small.
The chairs are metal, which makes them extremely durable. The wicker chairs I have are durable as well, I am keeping those for extra seating. But I have this little phobia when I sit in the wicker chairs that there could be spiders in them. Just too many spots for them to hide!
Nothing can hide on this white metal, lol.
My yard has so much greenery that the chairs really pop in contrast!
I also added a little red, white and blue for Memorial Day and the upcoming Fourth of July.
Of course, I had to get some vintage outside on the patio too. I found this cool outdoor cloche at the flea market.
And because I was so inspired by these pretty garden chairs, I created this little vignette with some other vintage finds.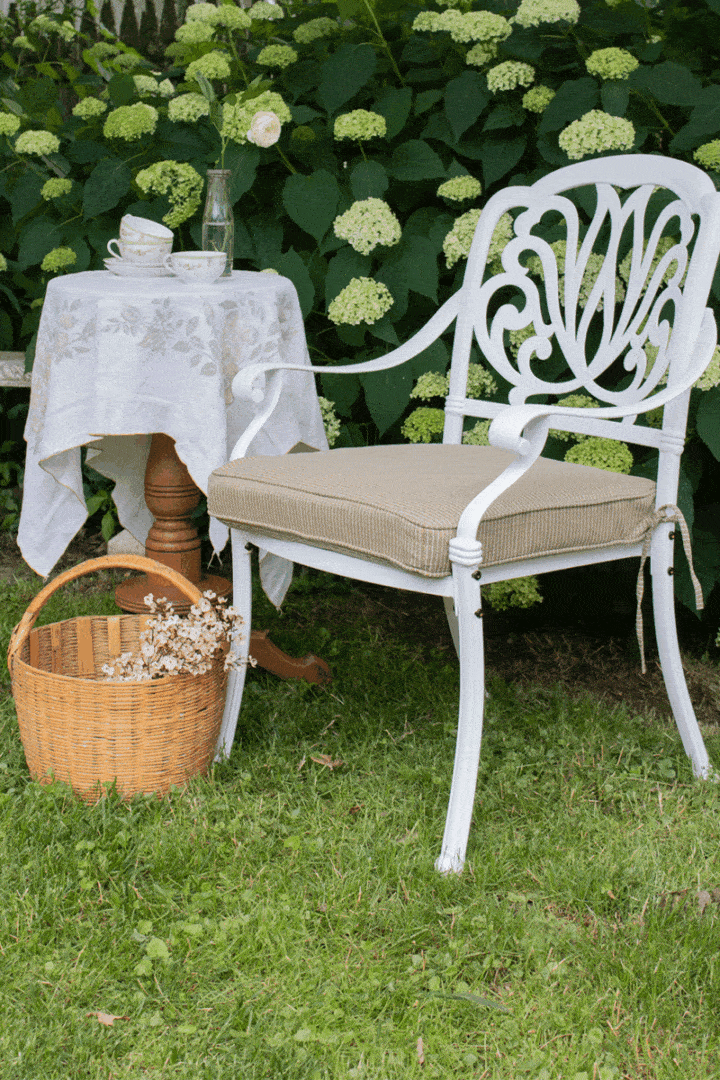 Puttering, planting, and taking photos in the garden are some of my favorite summer activities.
---
YOU MAY ALSO LIKE: