Tabletop Elements to Enhance Your Next Dinner Party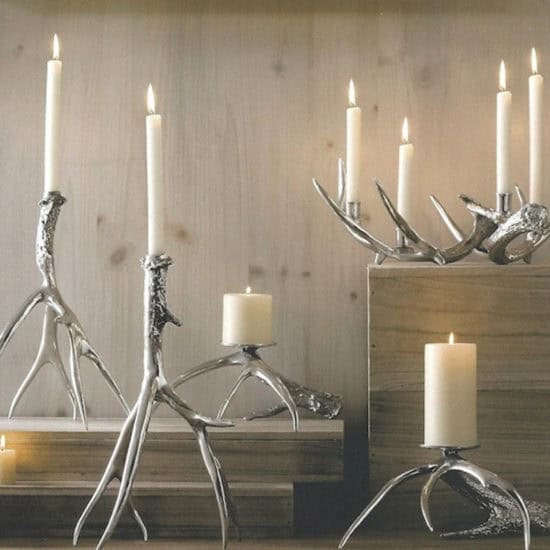 Setting a beautiful table isn't just for the winter months. With all of the summer events to celebrate, there are plenty of reasons to have a party. Today my friend Jessica is guest posting here, sharing tabletop elements to enhance your next dinner party. Here's Jessica:
Enhance your Next Dinner Party
The art of gathering – who doesn't love a good party? Having a table full of your favorite people enjoying a meal creates memories and new traditions. The dining room is often the forgotten room when decorating the home, but styling it up with a certain event in mind can increase the appeal. While being the host can be stressful, we opt to make it a fun and creative process. Aside from the food (which you can ask your guests for help on- hello potluck!) the visuals are sure to make an impact. So we're sharing our some tips for 'tablescaping', the new buzzword for putting together an impressive tabletop arrangement.
1. THE THEME
Like most design projects, one usually starts with some inspiration. Good starting points for a dinner party would be the menu, the season or the reason for the get-together. This should dictate your color scheme and additional elements that get added on. Choosing a color is the best place to start because it's easy to build upon that. A more casual get-together might consist of some bright colors whereas a celebration like a shower will make more of a statement with neutrals and pops of pastel. Just remember to limit your palette to just a few colors for harmony.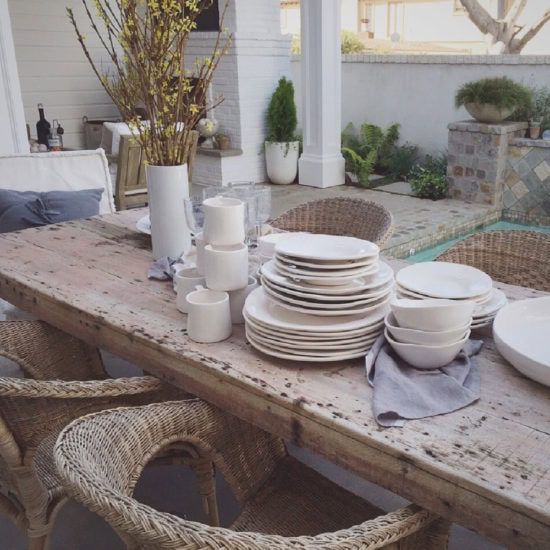 2. THE BASE LAYER – TABLECLOTHS AND TABLERUNNER
After you have chosen a color scheme and theme, choose your layer to start building upon. Choose a full table cloth if you are looking to disguise an outdated dining table or a table runner to show off a new one. Tablescaping is all about layers and texture can make a big impact. Get creative – use a rug as a table runner that has the perfect pattern and a fringe detail to add a finishing touch. Consider using papers if kids are going to be attending your party for easy cleanup. We love Nashville based Hester and Cook's kitchen papers for thoughtful images on large rustic paper rolls. Or spell out the menu as shown on the Sir Madam Oyster linen table runner.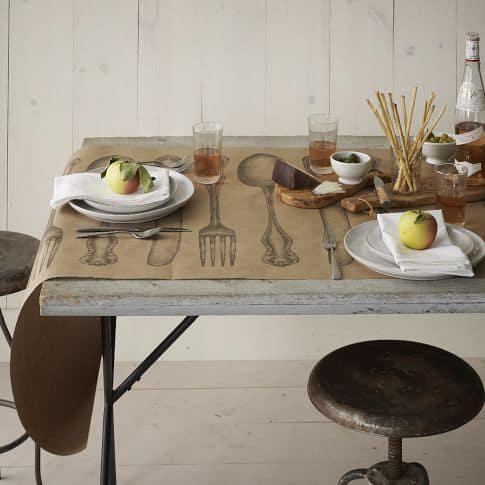 3. THE AMBIANCE – LIGHTING
While a statement chandelier or pendant lamp is ideal in most dining rooms, consider setting the ambiance in other ways. For an ethereal look, lay battery operated string lights across the table. With candlelight you can get creative by lighting multiple tea lights on a statement tray or vary the heights of your light on statement candlesticks. General rule: odd numbers are more visually appealing.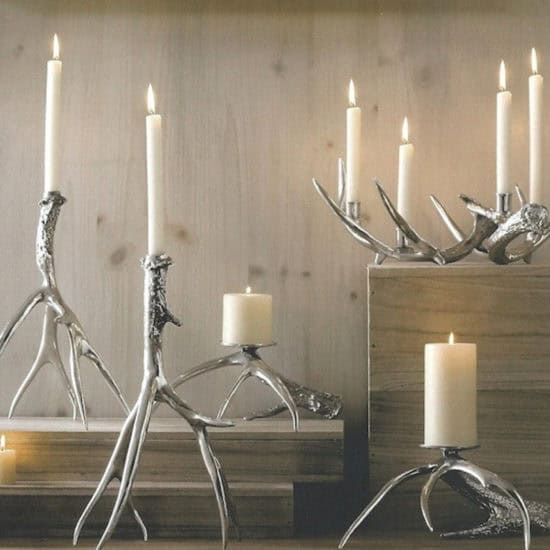 4. CENTERPIECE
Florals are the simplest way to add life to a table- for a formal look bunch stems of a single variety (you can't go wrong with peonies!) or for something more casual consider succulents or wildflowers. A table can only offer so much space, once you factor in food and guests. Instead of a large floral centerpiece in the middle, stretch it out and place smaller vignettes down the length of the table, or even extend it to the place settings, giving guests a small arrangement to bring home for themselves..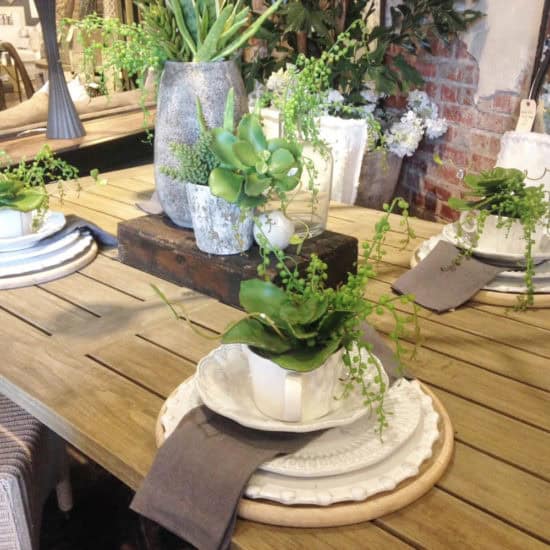 For longer tables, play with scale by interspersing a collection of candlesticks and votives with the florals. Use the tops of unoccupied candlestick holders as bud vases and different pots and vessels for an eclectic vibe.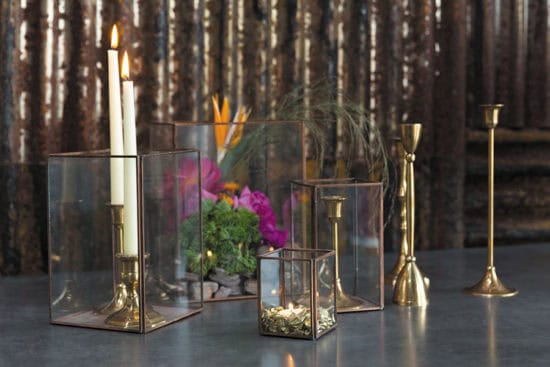 5. HEIGHT
When combining your lighting and centerpiece, make sure to factor in varying heights. Larger items lend more of an impact than smaller items, so edit things due to size or group smaller items together so they don't get lost. Stack books to elevate things and create a focal point. If you didn't use candlesticks, add height with a tall lamp, vase or branch for dimension. Be aware of different heights and how well you'll see the person sitting across from you.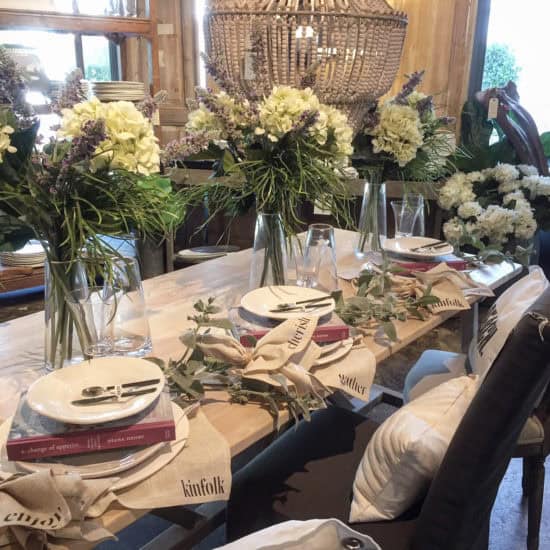 6. THE DISHES
The dinnerware that you select will be a key factor in the overall look you are trying to achieve. Mix expensive with inexpensive by using a charger to make a statement and consider layering it with disposable plates finished by a delicate dessert plate. Our favorite technique is to mix and match patterns and textures for stacked place settings. The juxtaposition of combining old and new or rustic and elegant makes things more interesting.
The metallic trend can be made to look casual or formal. To do metallics in a casual way, stick to accents like the cutlery or coasters and napkin holders. Copper against dark colors, reminiscent of Dutch still life paintings, has become a popular look on Pinterest these days. Dinnerware with metallic details such as etching tends to be more suitable for a formal, elegant occasion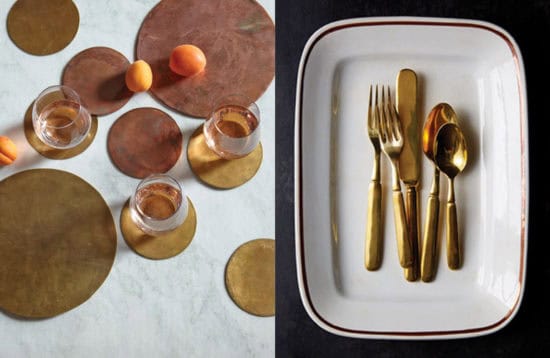 7. LINENS
Another point at which you can add texture, layering linens will add depth. Choose high quality yet washable linens. We don't suggest using a disposable option, keep it real to make the event feel more personal. One idea is to combine solids and sheers or two complimenting colors together with a napkin ring that matches your theme.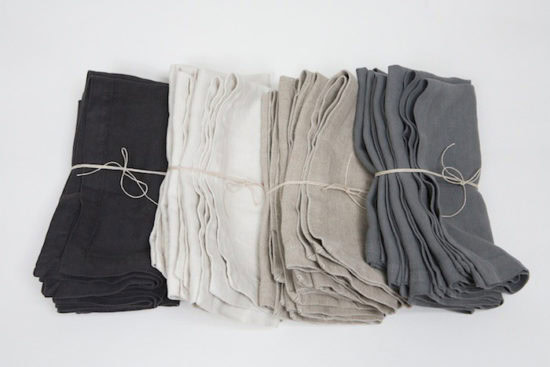 8. SPECIAL TOUCH –
Finish off your table with something that makes guests feel welcome. Consider some unexpected humor as a conversation piece. A printed menu can elevate the occasion. Or a personal element like a photos or a hand painted name card. Add different books to each place setting as gift.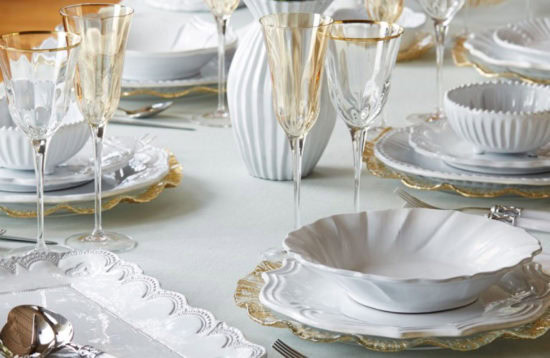 Author Bio
Jessica Haberer is an active blogger and part of the Gardenology team in San Diego. Gardenology is a retail home decor and outdoor furniture store with two brick and mortar establishments in Southern California. Gardenology is a forerunner in the upscale outdoor market and has proven to be a forward-thinking leader in the home design arena.
Thank you Jessica for all of these inspiring ideas! One tip I would add is to use inexpensive seasonal decor to further enhance your tables settings. All photos courtesy of gardenology.com.