You may remember last summer I worked with Cost Plus World Market on a living room makeover. I never really shared about that here on the blog so today I wanted to show you some living room ideas and a little more of what I did in this space. I'm calling that makeover Phase One. I'm currently working on Phase Two of this space.
World Market was having a small spaces campaign and my living room fit the bill at only (12 X 14 sq feet). My main goal was to have furniture that fit the floor plan  and that was functional for our family while also being beautiful. My favorite design style is rustic by far, but I do appreciate boho design as well, so I thought I would merge the two. I decided to get brave with color in this space by incorporating pink! This was my design board for the space.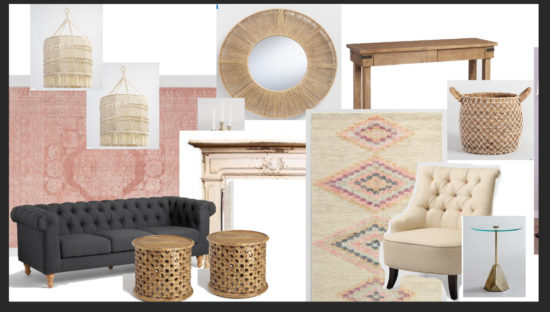 The chesterfield sofa* is a great size for small spaces. I also love the that cushions are fixed to the couch, so they never get messy looking. I rarely show this view for a few reasons. It's hard to get a decent photos with a window directly behind it. Also, I have been wanted to change out the window treatments here. I love these curtains but they are actually too short for this window after going through the washing machine & dryer. Why don't they make curtains pre-shrunk??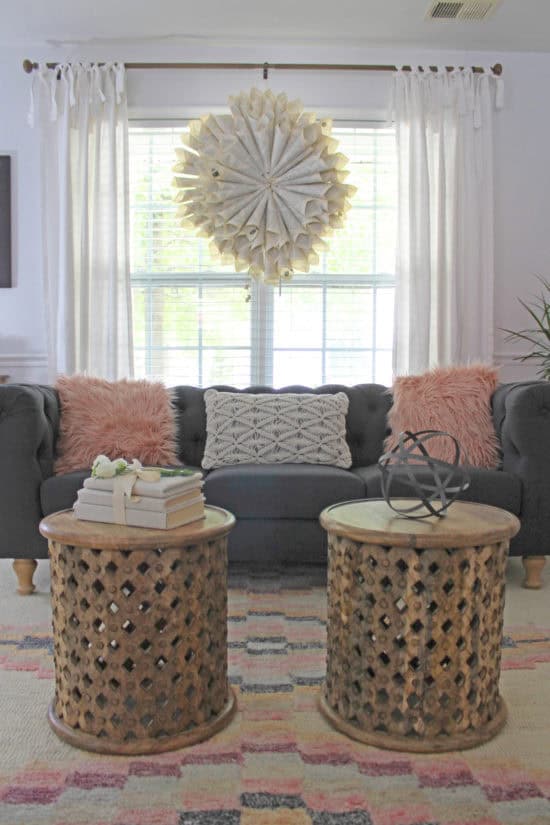 Here is another view of the space. One of my living room ideas was to create a foyer even though we really don't have one. I did this by placing a small side table next to the door with a mirror above it. The table has drawers which are perfect for storing keys, sunglasses, etc. I also painted my front door gray last summer which made a huge impact in the space.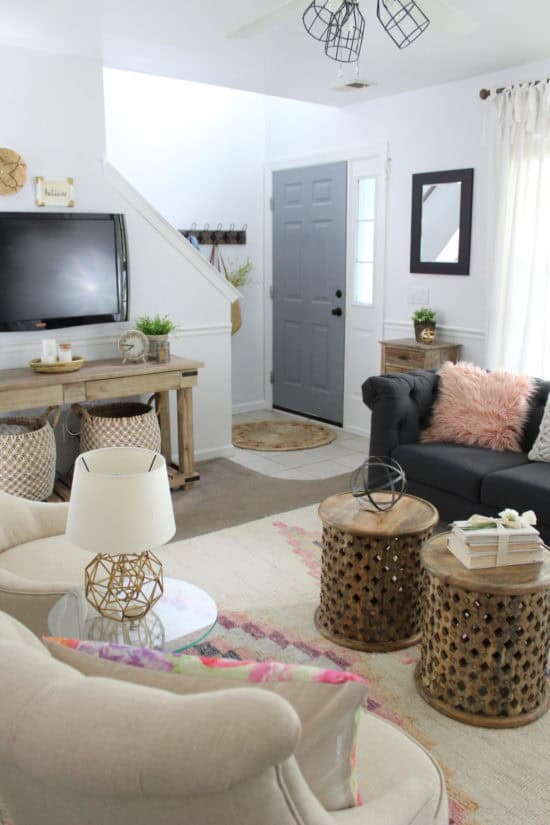 My favorite thing in here is the rustic mantel I found at a flea market. That big blank wall was in need of a focal point, so my husband built a surround for the mantel. After the makeover, I swapped out the candlesticks for this decorative metal filigree arch piece (which is actually intended for wall decor). Now this makes an impressive focal point in the room and is the first thing you see when you walk in my front door. We are going to take that up a notch in Phase Two.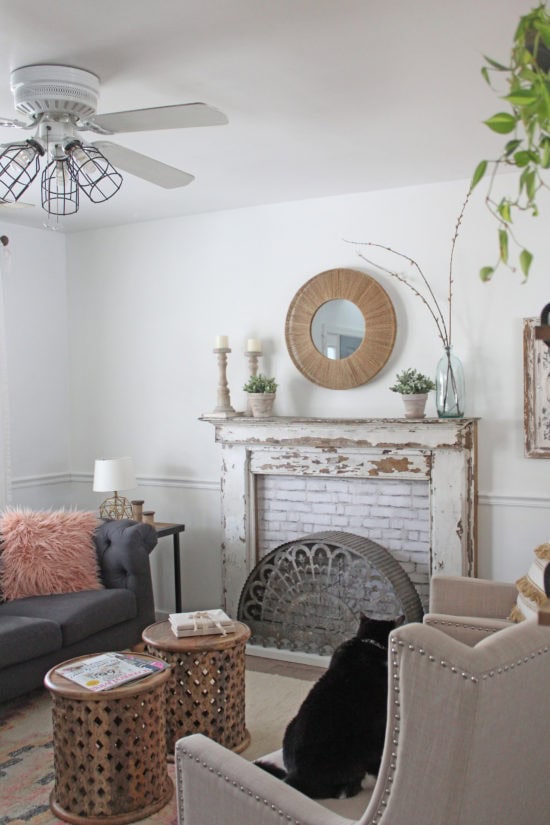 I took down the macrame pendant because it really wasn't  working in here and gave it to my niece. The cute button tufted chairs I originally used were swapped out for these wingback chairs instead. I had one of these chairs already in another room, so I sold the button chairs and used the money to purchase one more of these. The button chairs fit the small space really well but were really too small for my 6'4″ husband. The new chairs  still fit the space well but are roomier for lounging.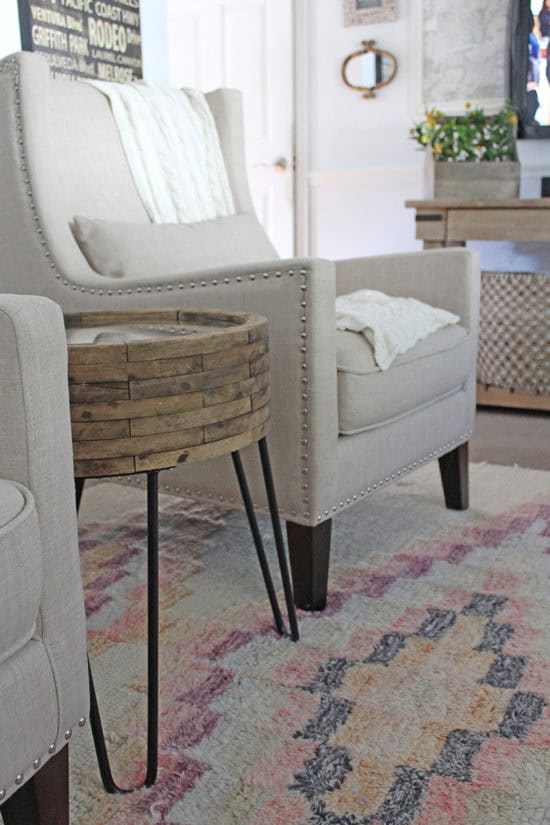 I also switched out the gold end table (I gave that to my niece as well) for my rustic DIY side table, which better fits my style. The sofa, TV console table, and coffee tables are all staying. The jury is out on whether this rug stays or not. The plans I have for this space now are to backtrack. I'm happy with all of the furniture and the layout, but what we didn't have the time or budget to do last year was to replace all of the flooring so it is more cohesive (a must in a small space, or any open space) and update the moldings. We also plan to add board and batten to the walls and above the fireplace. Starting with the floors and walls is always recommended, but in this case we are working backwards.
I'm so excited to get started on this and will share the process as we go along. Do you have any living room ideas to share? If you see anything you like here, you can shop the look below.

*This post contains affiliate links, you can read my full disclosure here.