Hello, I hope your weekend was a good one!  I am in the midst of so many projects right now that I can't seem to completely finish one.  Some of which include: a bathroom makeover we started last August, and helping my friend who moved to a new home finish up some DIY projects so we can finally take some after pics!  I also am in the planning stages of making over my master bedroom.  If all that's not enough, I have several furniture makeovers to tackle as well!
In the meantime, you may have noticed I'm involved in a few challenges around here.  I have my Monthly DIY Challenge and the Monthly Key Ingredient Challenge.  Recently I joined another fun challenge on Instagram.  I'd like to invite you to join also!  You don't have to be a blogger, you just need an Instagram account.
Every Tuesday we (myself and 19 other bloggers) announce a theme, and everyone has to decorate a shelf of mantel using that theme, then post a picture (shelfie) to Instagram using the hashtag #OURshelfies.  We vote for our favorite one and then all 20 of us all share the winners photo on our Instagram accounts on Friday.
The first week's theme was mirrors.  Below are some of my favorites from Instagram using our mirror shelfies theme.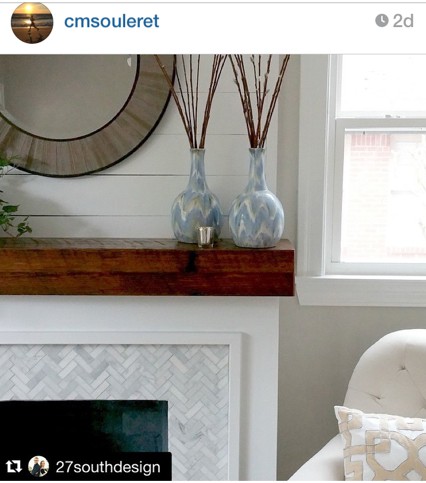 This next one was one of my top favorites.  It's from the_decor_abode.
This next one from hallstromhome was the winner for week 1!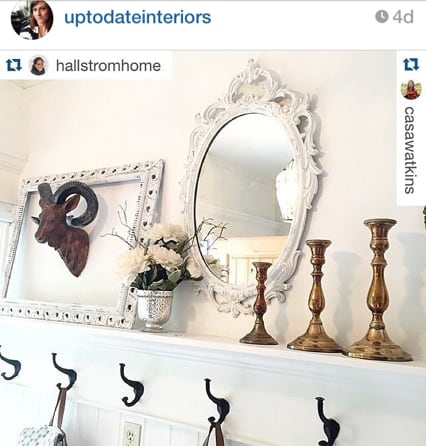 This one was my shelfie for week 2,  with the theme being gold.   I had to get my hydrangea's into the shot, I grew those myself!
If you'd like to play along, make sure you're following on Instagram, and be on the lookout tomorrow morning for this week's theme!