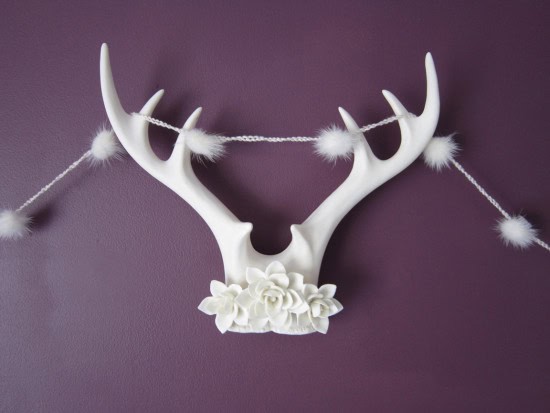 I found this adorable pom pom garland (shown below) online at Anthropologie a few weeks ago. I know Christmas is over but this garland can be used all year. Anthorpologie was selling it for $39, which I thought was kind of crazy for some string and a few pom poms. I couldn't get it out of my mind after I saw it so I decided to make my own.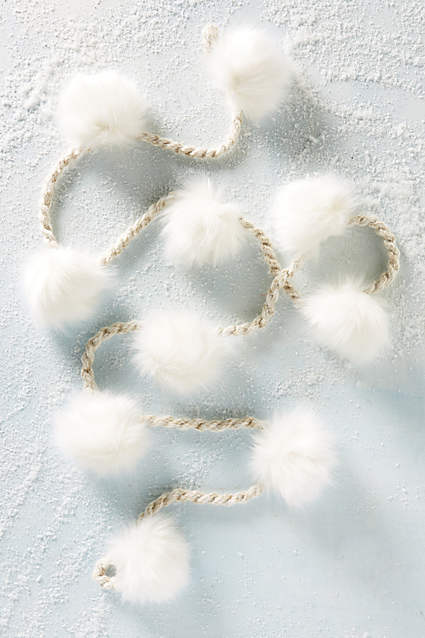 After some online searching, I found yarn at Wal-Mart that had the gold in it just like the Anthropologie version had. The faux fur pom-poms were a little tougher to find. Every time I found some at a reasonable price they were sold out,  I finally ended up finding some via Etsy.
Supplies needed for this project:  (affiliate links)
Hot glue
That's it. I noticed on the Anthro website that their garland was 72″ in length so I made mine the same. I cut two strands of yarn in this length because the yarn was a little thinner than I would've liked and I wanted to bulk it up a bit.
1.  After cutting two 72″L strands I tied them together at one end to secure.
2.  Next, I twisted the strands together from top to bottom and tied another knot to secure it at the bottom. This took a few minutes, but definitely less than 10. Now you are ready to add the pom poms.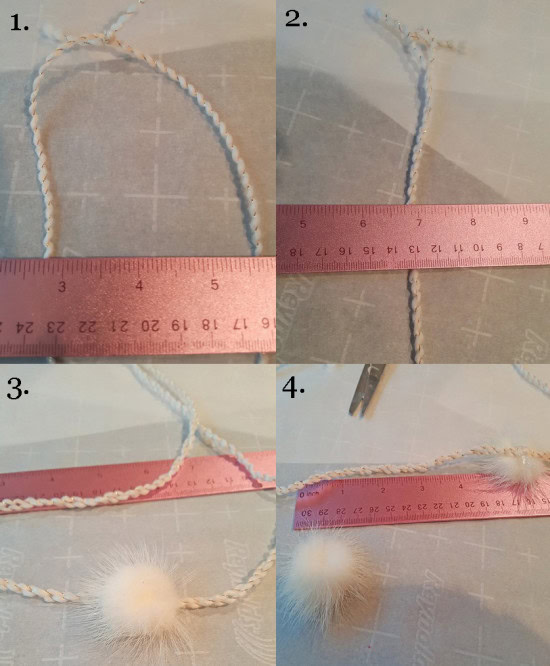 3.  I had 16 pom poms, so I divided 72″ by 16 to see how far apart I should space them, which was 4.5″ apart. Once I got started I decided to space mine at 5″ intervals instead. I folded my string in half and hot glued the first pom-pom right in the center.
4.  I worked out from there adding each pom-pom. I also let the glue dry very well in between each pom to avoid them sticking somewhere I didn't want them.
Anthropologie ended up reducing the price on their garland to $19 on clearance, and now it's no longer available.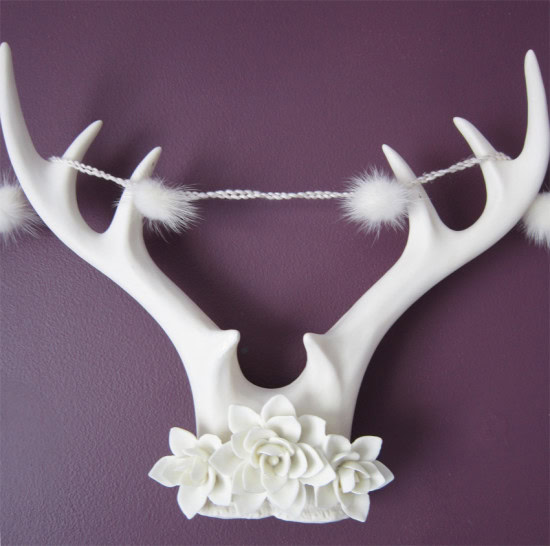 I picked up the adorable antlers at Target. I was going to use them for my One Room Makeover but I couldn't part with them. They are hanging above the bed in my younger daughter's room. I've been thinking about repainting this room for a while, but for now she's still happy with it so it stays.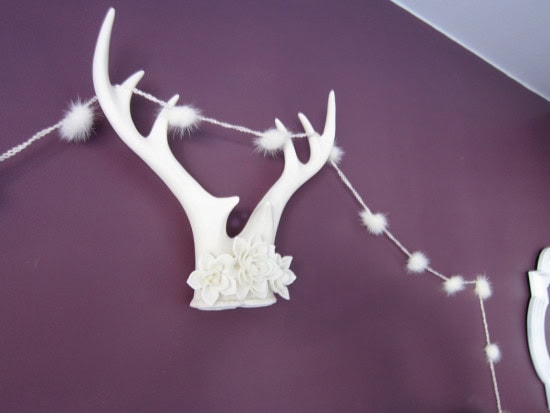 As it turned out, I ended up paying $18 for the set of 16 pom poms because of the fur type being so hard to find. If you go with pom poms that aren't fur, you can definitely find them for less. So with the cost of the pom poms,  and the yarn I ended up spending $24, which is still less than the original Anthropologie cost of $39.