New Jersey may be known for its beach towns & board walks, but there is more to see here than just the shore.  This weekend, we took my mother out for her birthday to an outdoor art gallery.  It's called Grounds for Sculpture and it's really an amazing place.
It's an indoor/outdoor art museum.  You should go as much for the landscape designs as for the art.  It's beautiful.  I'll start with some of the indoor art currently on display.  The first thing we saw when entering the welcoming center was this life-sized monument to 9/11.
This was an amazing painted room.  From the doorway you couldn't tell what was painted and what was actually real.  Notice on the little table there is a basin and a pitcher?  My mother said before indoor plumbing, this is how people washed up.
This next display is an interactive rendition of the Mona Lisa by Seward Johnson.  All my favorite sculptures here were created by Seward.
You could walk behind the wall where the Mona Lisa "hangs" and see a life-sized statue of what she might have looked like posing.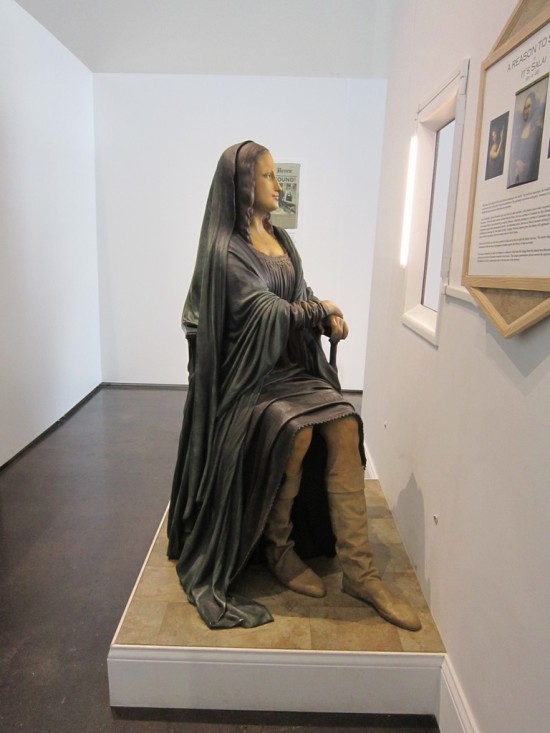 This is one of two Marilyn Monroe exhibits.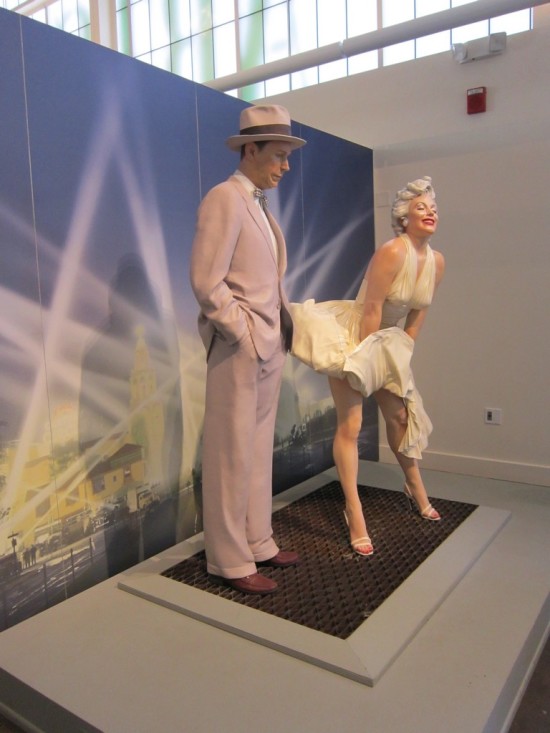 The outdoors are really the highlight of the museum, which span 42 acres.  One of the first sculptures we came across was another by Seward Johnson.  Remember the famous Kissing Sailor photograph?  Seward's rendition is enormous.    To give you an idea how large this is,  look closely at the bottom of the statue,  you can see people.
Here is the underside of the lush arbor shown behind the nurse and the sailor statue.
All through the 42 acres, you will find winding paths, passageways and gates to secret gardens.
When walking through, it sometime becomes hard to tell which is a statue and who are real people.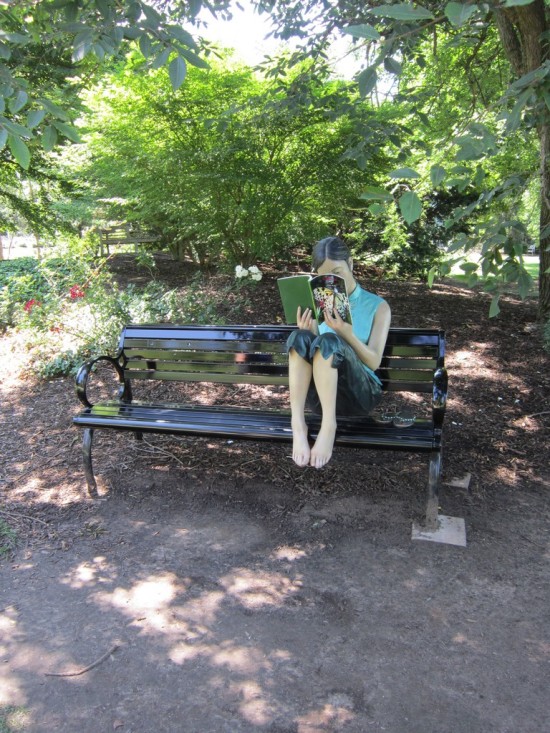 They also have several areas in which they hold weddings.  Look at the size of these arborvitae!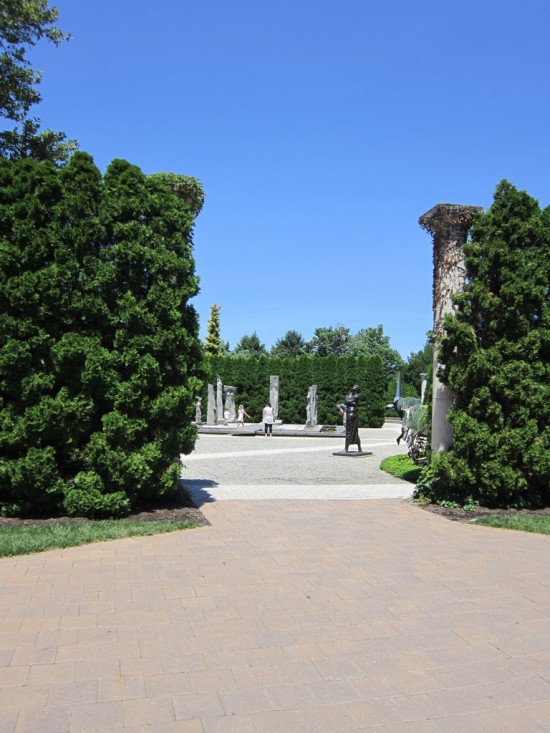 This outdoor Marilyn statue, also by Seward Johnson,  is 26 feet tall and 36,000 pounds!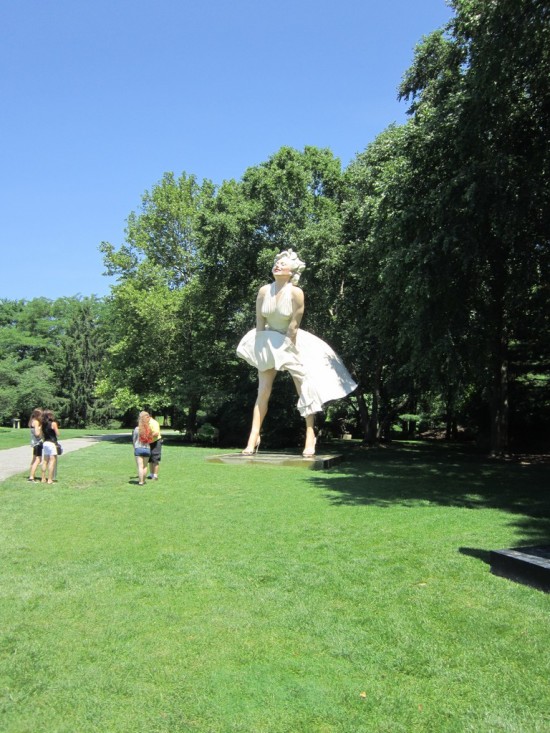 At least one side of the museum borders the water.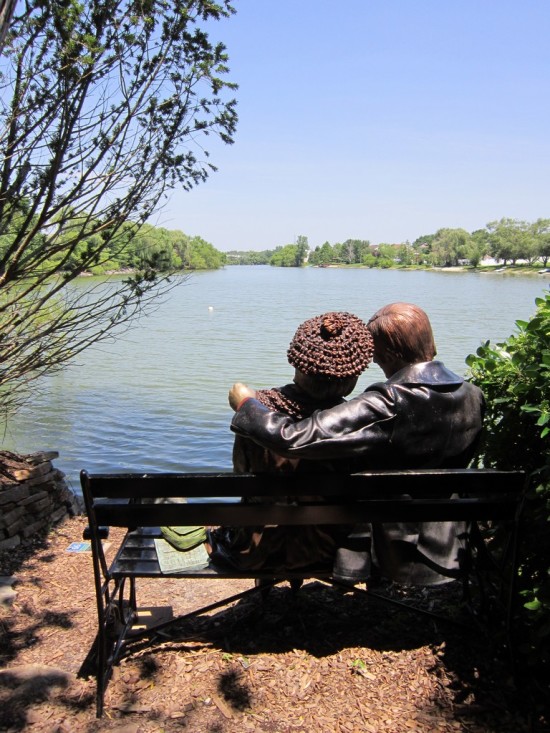 If you look closely at the sculptures you can see that some of them tell a story.  I didn't get it in the photo, but on the bench next to the woman there is a book on pregnancy.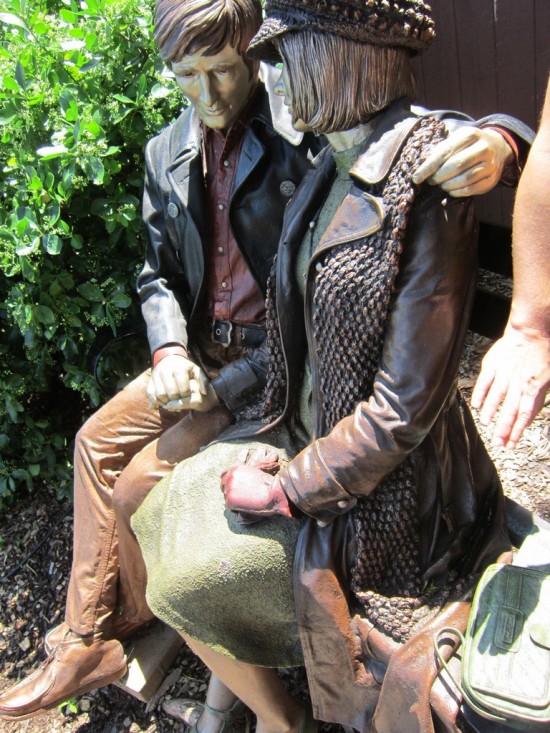 There are so many amazing trees and plants to see here!  This tree formed an umbrella in which you could sit under.
Beautiful container pots and climbing vines are everywhere.
A lake filled as far as you can see with Water Lilies.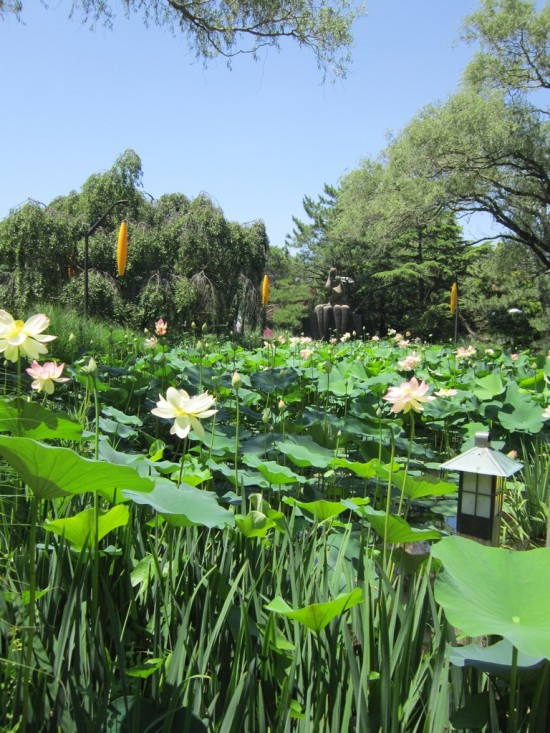 This was a stone fort you could go into with openings perfectly situated to take in the water views.
If you are ever in the area, I highly recommend Grounds for Sculpture.  It really is NJ's best kept secret.  You could visit several times and probably still not see it all!
Of course, art doesn't always have to be so serious, especially in my family!  Here are the outtakes!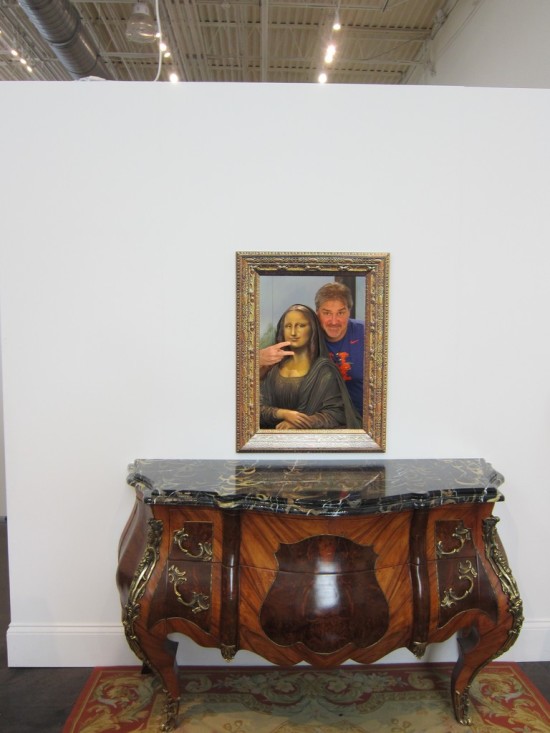 Have a great week!  Check back here on Wednesday for this month's DIY Home Depot Challenge!