January is almost over already, can you believe it?  My mind is always spinning with redecorating ideas.  For my house, and every other house I see.  I pretty much cannot shut it of.  Nor do I want to.  I'm a big fan of Wayfair when it comes to decorating and when doing design jobs.  If you can think of it, they likely have it.  They are like the Amazon of home decor.
Wayfair, has a feature on their site called idea boards.  It's kind of like Pinterest, where you name the boards and then save links to them.  It comes in handy on Wayfair because of their extensive inventory.  You can be on the site for hours, and if not for the idea boards it would be hard to go back later and find the items you were interested in.
I've been exploring Wayfair lately, looking at  bedroom decor.  I'm hoping to do a bit of redecorating in my master bedroom this year once my kitchen is finished.  I've already painted the walls my favorite, Dove White.  Of course there will be a lot of rustic elements as well.  I put together a new idea board on Wayfair called New Year, New Room with items I'd love to have for my bedroom.  I didn't look at prices or measurements, I just picked what I liked and saved it.  Kind of like brainstorming, only with home decor.
This is where I have to mention this is a sponsored post, but all opinions are my own.  Read my full disclosure policy here.  Here is my Wayfair Idea board for this room.
I do already have the headboard shown, and I love it.  I saved two night tables to the board because I couldn't decide which I liked better, same with the area rugs.   That dresser is amazing and it comes in a distressed pine finish which is really beautiful.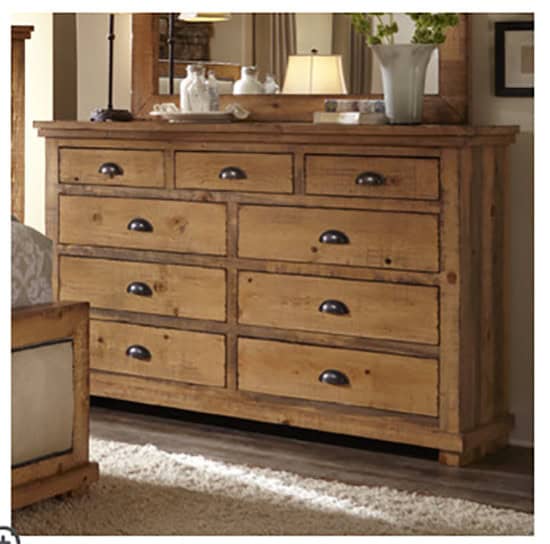 Don't you just love it?  I also put together this design board to get an even better idea of what the room would look like.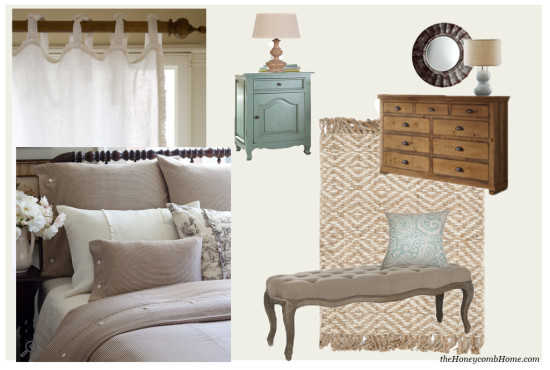 I added a second lamp and this mirror in the design board that weren't originally in my idea board.   This very neutral bedroom with a few blue accents feels very relaxing and serene to me, what do you think?