When you live in a smaller house, you know that every single inch of space matters. My kitchen is my biggest challenge as far as storage space, even after the kitchen makeover. Once trick in small spaces is to go vertical, which gave me an idea when I saw the Stoveshelf* one day on Instagram. An extra kitchen shelf was just what I needed.
The Stoveshelf is exactly what the name implies, a shelf that sits on top of your stove. I contacted the owner of Stoveshelf to find out more and was happy to find out that its magnetic! It doesn't get easier to install than that, no drilling required! I literally removed it from the box and placed it on the stove – done!
Having an extra kitchen shelf over the stove is perfect for storing spices so they're readily available when cooking. I have my salt and pepper and my measuring cup here because I store my spices in a spice rack on my wall. I am looking for 2 cruets to put here in order to keep the oil and vinegar within reach when I'm cooking. But if I'm being really honest, I wanted this shelf to display pretty decor (this shouldn't surprise you), which will be especially fun for holiday decorating and seasonal accents.
I also felt like something was missing in this spot. Prior to the kitchen reno, I had a set of measuring spoons hanging above the stove but I didn't rehang them because I didn't want to drill anything into my new backsplash.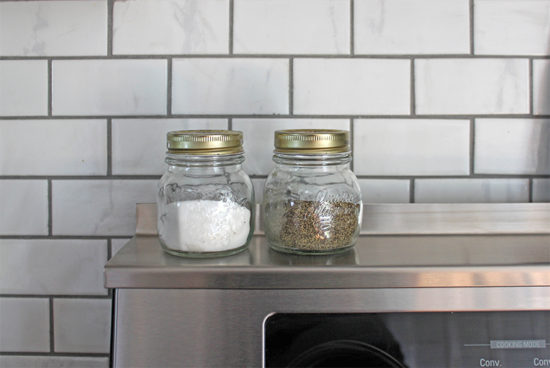 There are two other color options besides stainless steel, black and white. Now that the StoveShelf is there, it looks like it was meant to be here all along.
The good news is the owner from StoveShelf has agreed to give one away to one of my readers. Enter for a chance to win your own StoveShelf below, in your choice of color! Good luck!
*Thank you to Stoveshelf for sponsoring this post. You can read my full disclosure here.