How To Make A Custom Pillow Cover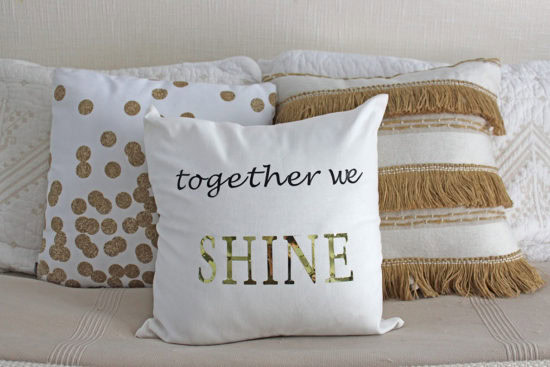 My oldest daughter graduated college last week, which is hard for me to believe. She will be moving back home soon after living at school for the last four years. While she was away I slowly began taking over her room as extra storage space. My daughter is a neat freak so I've been busy getting it decluttered before she gets home. While I was cleaning out her closet I found a plain pillow cover. I like a trio of pillows on the bed, and I was one short in her room,  so I made a custom pillow cover to round it out.
I wanted the phrase "together we shine" on this pillow so I got out my Cricut Explore Air 2* machine and got to work. I opened up the Cricut design space at Cricut.com and typed in the first part, "together we". To change the colors of the lettering in the design space you click the Layers tab and then click on the scissors icon below. For this it didn't really matter which color I used, because I would be printing it out on my black iron-on adhesive. I changed it to black anyway to get a visual of the finished outcome.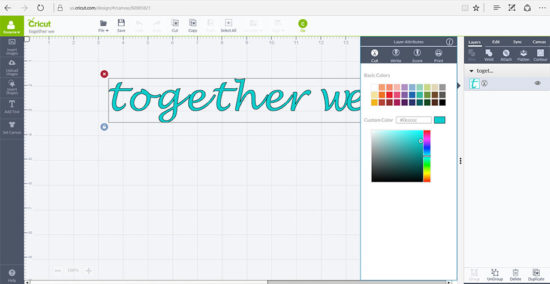 To change the font, you click on the Edit tab which will bring you more options. You can choose from a list of fonts here, I like to experiment with several to see how it looks. For the "together we" portion I used the Lucinda Handwriting font and for "Shine" I used Cricut Classics Tall Ball. You can also adjust the spacing of your letters here. I moved mine closer together for the "together we" portion so they'd be easier to transfer. If you prefer to move the letters one at a time, you can do so by isolating the layers.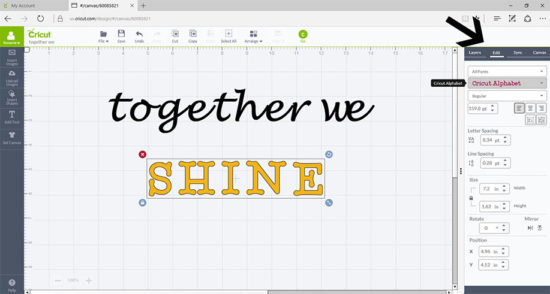 To resize a word or phrase, click on that layer and just click and hold the mouse on the arrow in the bottom right corner of the word.
I wanted to print each section separately for my custom pillow cover because I wanted the first half on my black iron-on adhesive and the second half on gold foil adhesive. To do this, I highlighted the "together we" portion and clicked the green "C" button on my toolbar. This brings you to the next screen where you need to choose what type of material you will be printing on. For iron-ons click the mirror image box so that it prints out backwards. It will be facing the right way when you apply it to your material.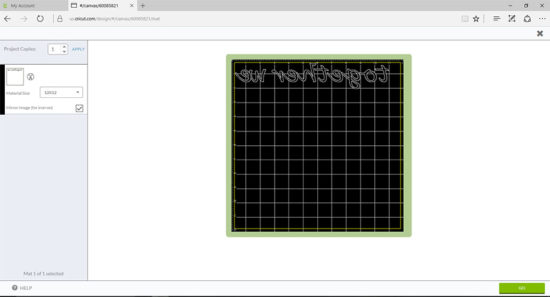 After that was printed, I highlighted the next part and did the same. changing the material to gold foil adhesive.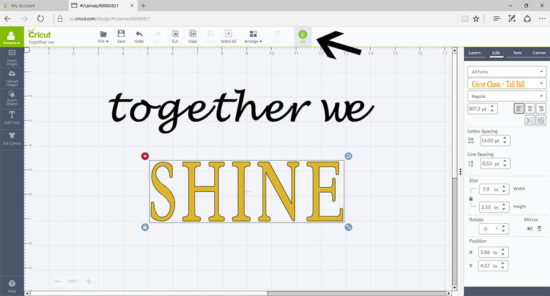 You will see the layers in this section shown on the left. Click the section you want and select your desired material.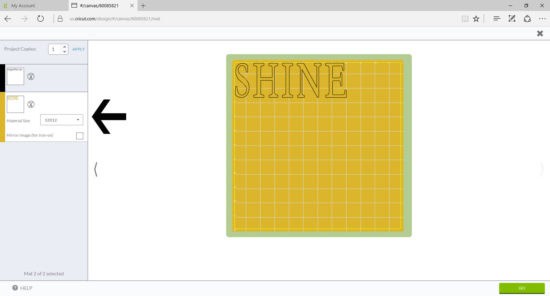 Once I had everything printed out it was time to transfer. For the iron on, I peeled off the parts I didn't want and used my scraper tool for the smaller bits. This part gets a little tedious.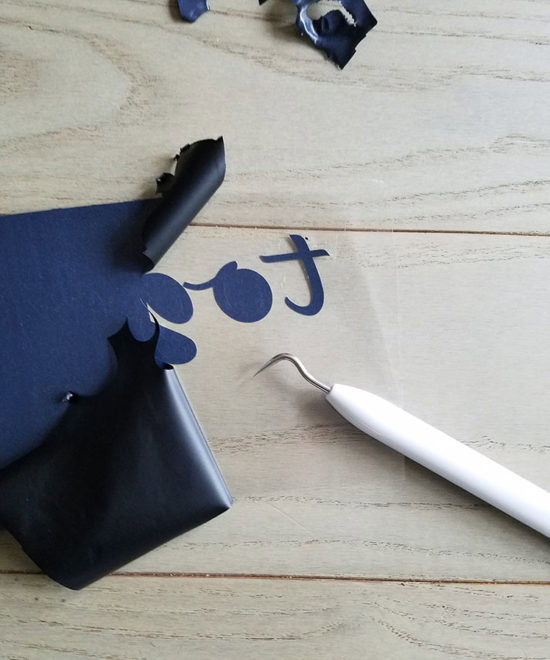 I ironed on my "together we" phrase first. I placed a piece of material over the letters before ironing. You will have to apply some pressure to get the letters to adhere to the fabric. Once that part was finished, I used the transfer tape method to apply the next section, just as I did with this project.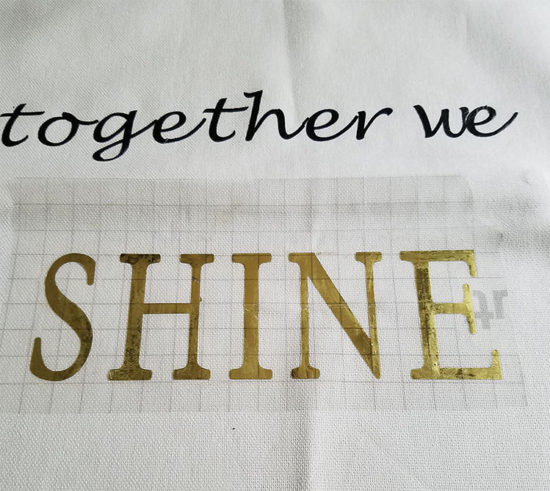 That's it, with my custom pillow cover,  I now have a super cute trio of pillows for my daughter's bed. Because I used the gold foil adhesive, I'm not going to ever put this in the washing machine. It will have to be spot-cleaned. You can find the fringe pillow here and a similar gold polka dot pillow here.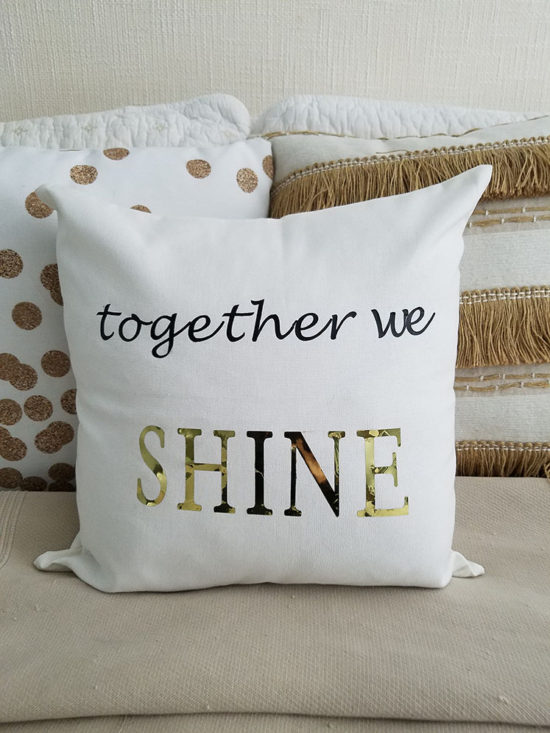 I told my family we could make our own T-shirts with our Cricut Explore Air 2 and they were pretty excited at the thought of that. But those will have to wait because I have a few more project ideas in the home decor department to make with this. The possibilities are pretty endless!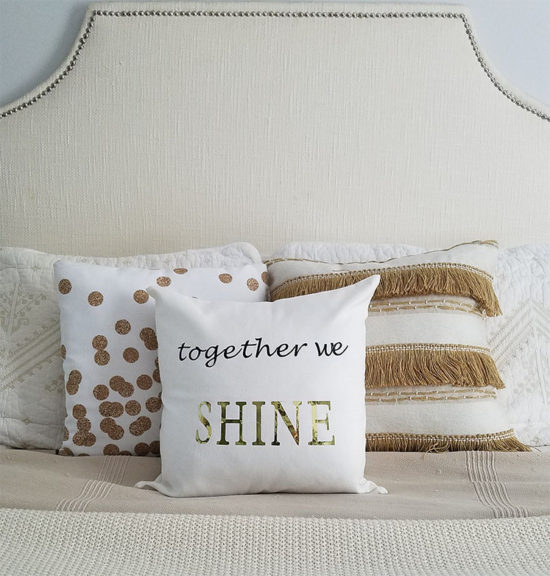 If you missed my previous Cricut projects you can see my DIY Banner here and my custom chalkboard here!
*This is a sponsored conversation written by me on behalf of Cricut. The opinions and text are all mine. This post may contain affiliate links, you can read my full disclosure here. Comments submitted may be displayed or featured on other websites owned by Cricut.